For the 88th day in a row, Lyubov Halilova packed her banners and headed to government headquarters in central Kyiv.
The elderly Halilova has spent the last four months camped outside the building in the Ukrainian capital with some 20 other protesters, banging on drums, sounding horns, and calling on Prime Minister Yulia Tymoshenko to hear their grievances.
The protesters are Crimean Tatars, the indigenous people of Crimea, and they are in Kyiv to voice their nation's longstanding demand: the return of land seized during the World War II deportation of Tatars from the Crimean peninsula, in what is today Ukraine.
So far, Ukrainian officials have largely ignored the protest on their doorstep.
"There has been no progress," sights Halilova. "Nobody is coming out, nobody is taking an interest in us."

'Please Go Home'
President Viktor Yushchenko last year set up a committee to settle the dispute. But critics accuse the new working group, which has yet to distribute a single plot of land, of deliberately dragging its feet.
Volodymyr Haptar, a spokesman for the Environment Ministry which oversees the committee, insists the issue is in capable hands.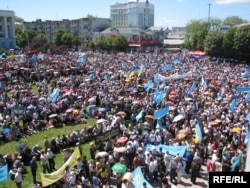 Crimean Tatars gathered in Simferopol in May to commemorate the 65th anniversary of the mass deportation.
"We're doing wearisome, difficult work trying to create a register of people who are to be allotted land. We are trying to determine the state of the land in these regions and to whom it belongs," he told RFE/RL's Ukrainian Service. "Crimean Tatars are displaying their strength of will, but not everything can be settled through force and strikes. People, please go home. Sooner or later, this issue will be settled."
Soviet dictator Josef Stalin ordered the mass deportation of Crimea's Turkic, Muslim Tatars in May 1944 on grounds that they had allegedly collaborated with Nazi Germany.
In a three-day operation, the peninsula's more than 180,000 Tatars were rounded up and loaded onto cattle trains bound for Central Asia and Siberia.
An estimated 40 percent of them died during the journey or in the first year of exile.
Although the Tatars were rehabilitated by the Kremlin and allowed to return in the late 1980s, neither the Soviet regime nor post-Soviet Ukraine has helped them resettle in their historical region.
Paradise Lost
Ismet Sheikh-Zade, a well-known Crimean Tatar artist, was born in Uzbekistan.
His parents had settled down in the Central Asian republic after being deported from Crimea as children, together with their entire families.
Today, Ismet and his parents are back in their ancestral land. But he says they are treated like intruders.
"Five Russian families now live in the house in Feodosia where my mother was born and from which she was deported. Six Russian families live in my father's house in Belogorsk," he says.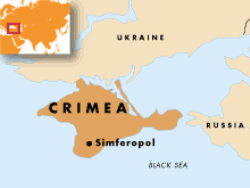 "We are not asking for these houses, because we know this would create a conflict. We'll compromise and take empty land instead. But the surrounding population doesn't understand that Crimean Tatars are making concessions by not demanding the restitution of their property," Ismet says.
Some 270,000 Crimean Tatars have returned to the peninsula over the past two decades. Many live in chaotic settlements erected in recent years, sometimes without running water.
Although they now represent just 12 percent of their homeland's total population, Crimean Tatars have been extremely vocal in lobbying for land and for recognition of the crimes perpetuated against their people.
They held the first-ever World Congress of Crimean Tatars this year on May 18, the 65th anniversary of the deportation. Some 20,000 protesters rallied in Crimea's main city of Simferopol on the congress' sidelines to renew demands for greater rights.
The Crimean Tatar community, however, is divided over how to promote its interests.
Like Mustafa Dzhemilyov, the head of the Crimean Tatars' Mejlis representative body, some disapprove of the current protest in Kyiv and say Tatars should instead seek to resolve the land dispute through diplomatic channels.
"We were against it from the start. We formed a commission, and that commission is working," he says. "There are 47 million people in this country. If everyone came to the ministers' cabinet and started beating drums, I don't think problems would get solved in our country."
Others, weary of waiting, believe only rallies, hunger strikes, and other protests can draw attention to their plight.
Mounting Resentment
In May, Yushchenko ordered the creation of a special unit to investigate the deportation of Crimean Tatars and other minorities from the peninsula.
But this has done little to soothe feelings of anger and disappointment among Crimean Tatars.
Many say Yushchenko and his former ally Tymoshenko, whom Crimean Tatars massively supported during the 2004 Orange Revolution, have not made good on promises to improve their fate.
"They've gone to extreme lengths to repatriate in a peaceful manner, but I often wonder about their patience with the amount of resistance that they've had to push through," says Dr. Greta Uehling, a U.S. anthropologist and an expert on Crimean Tatars.
I see things getting worse before they get better, because there is such intense interest and so many factions within Crimea that can be recruited onto various sides.
"I worry about that in terms of the sheer frustration level of having tried so hard for so long and to continue to meet all these barriers and obstacles, to the point where their needs simply aren't met," Uehling says.
The simmering discontent among Crimean Tatars is particularly alarming since it is playing out on the backdrop of souring relations between Moscow and Kyiv.
Many Ukrainians accuse Moscow of plotting to stoke unrest in Crimea, an increasingly disputed region that is home to Russia's Black Sea Fleet and growing pro-independence sentiment among its majority ethnic Russian population.
Russia has reportedly handed passports to thousands of Crimean residents.
"I think the region is very unstable and very vulnerable to various parties' attempts to bring it into their sphere of influence," says Uehling. "On that score, I see things getting worse before they get better, because there is such intense interest and so many factions within Crimea that can be recruited onto various sides."
The current protest in Kyiv illustrates how desperate many Crimean Tatars have become in recent years.
One month into their sit-in, seven of the protesters launched a hunger strike that lasted two weeks and resulted in the hospitalization of three participants.
The demonstrators have also accused Ukraine of genocide, and have issued a declaration threatening to disrupt the country's efforts to integrate with the West and ensure the Crimean Tatar question becomes "the main problem" in Ukraine.