Maret Maasheva first blamed her shortness of breath on pregnancy. But the symptoms only got worse when her baby was born. Two months later, she collapsed on the floor of her bedroom, gasping for air.
"I woke up in the middle of the night with the feeling that I was suffocating," she recalls. "I fell on the ground writhing -- I couldn't breathe, either in or out -- then I was coughing so hard I couldn't even talk."
The 35-year-old mother of two was rushed to a hospital in the Chechen capital, Grozny, some 40 kilometers away from her village. There, she was finally diagnosed with tuberculosis.
Three years later, Maret is back in the hospital. She has spent a total of 15 months at Grozny's tuberculosis dispensary, and doctors believe she will need to stay at least another five months before she is well enough to go home.
Tuberculosis, she says, has devastated the lives of those in her family.
The first time she was checked into the dispensary, her daughter was one year old and her son just two months old.
"Now my daughter resents me for not coming home -- she says I've forgotten her," Maret says. "When I visit the children, I can't stay with them. Doctors let me go on the condition that I say hi quickly before going back to the hospital, just enough time for them not to forget their mother's face."

Unchecked Epidemic
Stories like Maret's are increasingly common in Chechnya.
Tuberculosis, after years of decline, is making a comeback in many countries. Conflict zones like Chechnya, where the local population is weakened by prolonged stress and malnourishment, provide a fertile breeding ground for the potentially fatal disease.
Chechnya's war-battered medical infrastructure and a long-standing stigma associated with tuberculosis further fuel what experts say has grown into a major health crisis.
"This is an epidemic; the situation in Chechnya is unprecedented," says Simon Rasin from International Medical Corps, a U.S. group that has been fighting tuberculosis in the North Caucasus for the past decade. "The 20 years that followed the breakup of the Soviet Union and the 15 years of war have brought tuberculosis back to the scene."
There are 325 registered TB sufferers for every 100,000 residents in Chechnya, and the real number could be much higher. In comparison, Moscow has 77 cases per every 100,000 people; in European countries, the number drops to a dozen.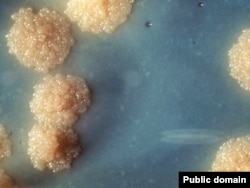 The average TB sufferer is thought to infect 15-20 people a year.
Considering that the average tuberculosis sufferer is thought to contaminate 15 to 20 people every year, a timely response to the disease could save hundreds of lives.
Authorities are aware of the problem. The Chechen Health Ministry and the Akhmad Kadyrov foundation, a charity overseen by the republic's powerful president, Ramzan Kadyrov, have sponsored the construction of Grozny's tuberculosis dispensary.
But doctors say that with just 70 beds, the facility is unable to cope with the outbreak.
They have been pleading with authorities to reopen the capital's former tuberculosis hospital, a vast structure that was damaged and mined during the Chechen wars.

Hospital In Ruins
The Russian government earmarked more than $9 million to rebuild the hospital two years ago as part of Grozny's vast reconstruction program. But work cannot start until the territory is demined, a painstaking chore that local authorities appear in no rush to perform.
Arbi Saidullayev, the head of the smaller, functioning tuberculosis dispensary, says the district's military department has refused to proceed with the demining.
"They said demining had to be done deep under the surface," he says. "They said they could not do it themselves, that special German equipment was needed."
Saidullayev was told to turn to the Russian Interior Ministry, which operates a large military base in the Chechen city of Khankala, but authorities there have been equally unreceptive.
Both the Interior Ministry department in Khankala and the Chechen Emergencies Ministry refused to comment for this story.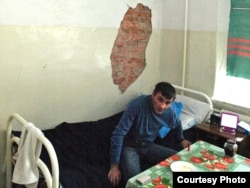 A tuberculosis dispensary in Shelkovskaya, Chechnya (photo by Simon Rasin of the IMC)
Chechnya's own Interior Ministry, in turn, says it is not aware of the situation.
"The Emergency Situations Ministry and the commandant's office are in charge of demining, not the Interior Ministry," says spokesman Magomed Deniyev. "And how come they haven't been able to demine for two years? It's very strange."
The hospital's stalled reconstruction is just part of the problem.
Chechnya is sorely lacking in trained medical staff, and the poor security situation and low salaries have combined to deter foreign specialists from taking up jobs here.
Low public awareness about the disease also means that even when medicine is available, many patients abandon their treatment prematurely without realizing they are putting themselves at risk of developing an even more aggressive strain of TB.
Maret herself developed drug-resistant tuberculosis after leaving the hospital early to be with her children.
"Patients with tuberculosis tend to stop taking medication because they feel nauseous and sick after taking these drugs," says TB expert Rasin. "That's how multidrug-resistant tuberculosis develops. Then it becomes pretty much incurable, because access to the multidrug-resistant tuberculosis medication is very limited, it's extremely expensive."
A Stigmatized Disease
Perhaps even more challenging is the social stigma associated with the disease, which is often seen as being linked to poverty and poor hygienic conditions, and is widespread in Russian prisons.
The disease is so contagious that patients must endure long periods of isolation. Many sufferers, ashamed to seek medical help, prefer to hide the disease or opt for traditional remedies that experts say allow the disease to progress unchecked.
"Some eat dog fat, others eat dried-up crickets that they grind into powder," says Nura Daurbekova, a nurse at a tuberculosis dispensary in the republic's south. "Many of those people are brought to us on stretchers when they are already beyond help. As a rule, that's how things end for those who treat tuberculosis with traditional remedies."
Health experts say more than half of the patients reporting to Chechnya's tuberculosis hospitals already have severe, often irreversible lung damage.
The disease killed as many as 139 people last year in Chechnya, with a population of just over 1 million.
Back at the Grozny dispensary, Maret is desperately clinging to life and to the hope of being reunited with her family. She is heartbroken that her children are growing up without a mother. But this time, she is determined to stay away from home until she is completely cured.
"What right does a tuberculosis sufferer have to live among healthy people, just because he doesn't want others to find out?" she says. "Maybe that's what happened to me: Someone was ashamed of contracting tuberculosis, didn't seek treatment, and ended up contaminating me. People simply have no right to do that."
RFE/RL's Russian Service contributed to this report