When Cuban dissident and independent journalist Jose Luis Garcia Paneque was released from prison in July he weighed only 48 kilograms. After being incarcerated for seven years, he was one of the 52 political prisoners the Cuban government agreed to release in early July through a deal brokered between Spain and the Roman Catholic Church. Now living in Spain, he continues to suffer from a chronic intestinal illness.
Garcia Paneque was in Prague earlier this week to speak at
Forum 2000
, an annual gathering of Nobel laureates, dissidents, and human rights activists. He spoke to RFE/RL correspondents Courtney Rose Brooks and Golnaz Esfandiari about life as a dissident, Cuba's future, and the bewildering choice of rice in Spain.
RFE/RL: You were in prison in Cuba for seven years, and were released in July, and since then have been living in exile in Spain. How does it feel to be free, and to be living in a country like Spain after spending your whole life in such a closed society?

Jose Luis Garcia Paneque:
Look, mankind is born free, but not everyone is allowed to be free. In reality, for me to recover my freedom feels very good, but I can't tell you that I am happy, or that I have triumphed. No one who lacks freedom or the ability to vote in their country can feel content or happy, or feel pleasure, or say that "I have triumphed. I am free, I am free," no. In reality, although we are no longer under pressure, it is not welcome, and therefore we can't sing, triumph, or say that we have earned anything. We were simply deported to another country, we were sent to Spain, we were put here in this new year. There is work here to continue fighting for the liberation of my country, for democratic changes on the island.
RFE/RL: During your time spent in prison you were in solitary confinement for 17 months. What was it like? What was the most difficult experience you had in jail?

Garcia Paneque:
The pressure scarred us, and really, all the moments in prison were hard, but the time spent in silence was much harder. They confined us to isolation cells. This was a system of punishment where you lose all links of social interaction. When a person no longer has those bonds they come apart in a vicious cycle. It's as if time doesn't exist. This devastates the bodies of human beings. But I have to carry this cross, and I am actually also very proud of that.
Really, I feel proud of what I have done, because the pressure is gone, I don't feel any shame, and I feel content. What is more, I give the most thanks to God because I am free from prison. Today I have been able to come to Europe without hate or resentment. I haven't come here because I hate my country; completely the opposite. I have come to Spain -- I have come to Europe -- to request solidarity. I have come to Europe so that people will listen to me, so that they will know of the suffering of more than 11 million Cubans who have been drowning in a dictatorship for more than 51 years. Really, this is what hasn't changed; [my wish] for peaceful lives, for democratic lives.
RFE/RL: You were sentenced to 24 years in jail after being arrested for publishing a magazine. Could you elaborate on your arrest and the charges against you?

Garcia Paneque:
We were the most visible. We put ourselves in a position of being antiestablishment; we made ourselves the opposition to the regime that governs my country. I was an alternative journalist. I was part of a group, an association of independent journalists that's called the Manuel Marquez Sterling Journalists' Association. We published a magazine within Cuba, and the magazine was called "De Cuba." We managed to publish first, within Cuba, three issues. By the time the third issue came out we had already been arrested. This was the primary reason for us going to prison, for our position against the regime. For opposing it; nothing else.
RFE/RL: After spending your entire life in Cuba, where food and other goods are rationed, what was it like transitioning to being surrounded by the relative abundance in Spain?

Garcia Paneque:
We went to a market, and honestly, for me it was really shocking. I'm going to give you an example. Just imagine, we went to the aisle for dairy products, and I had to choose milk. I had to choose between more than 10 different kinds of milk. In Cuba, this is not a problem. In Cuba, they made only one [kind of milk], in a bottle, and when children turn seven years old they stop giving it to them. Here, for me, it was a big problem, to have to choose milk -- if it is full-fat or skim, or soy, or, I don't know, there are so many things that it's impossible.
You know Cubans are great consumers of rice. It's the staple of the Cuban diet. The same rice, two times a day, at lunch and at dinner; that is what we do in Cuba. And really, to arrive here, and look at, I don't know, 15 or 20 different kinds of rice and say, okay, which is the one? In Cuba this is also not a problem. In Cuba it's a little bit bigger, or in little balls, or it's more or less sticky. [It can be] rice that is cultivated in Cuba, or imported and brought from China. But here it's more complicated. Here you must choose between the different brands. Look, I can tell you, when I finished with this task, I had a headache and I told the person that accompanied me: I'm finished with this because I don't know how to do this. Really. And still, I don't go to the store. I don't go. Because honestly, it hurts me.
Life Under Raul

RFE/RL: What is your view on the trade embargo the United States has enforced on Cuba? Would you like to see more pressure, or the removal of some or all of the restrictions?

Garcia Paneque:
Cuba's problem is neither the U.S. embargo nor its relations with Europe. We need the relations we have with Europe because the idea is to put pressure on the regime, not on the Cuban people. [Pressure] on the regime so that it begins to make democratic changes, so that it begins to bring about structural changes to the country. The structural changes mean transforming to a democracy, to having free elections, being free from pressure, [allowing] freedom of association so that the political parties can function, so that civil society can express itself freely, and [freedom of expression] among Cubans. But by Cubans I mean Cubans on the island as well as Cubans like me who are in the diaspora, because I am still Cuban and the moment that the island changes and lets me return, I would return and would help in any way I can.
RFE/RL: The Cuban government recently decided to lay off 500,000 state employees in order to cut costs and restructure the economy to allow more people to work in the private sector. What do you think of this move?

Garcia Paneque:
Look, this is a shame. This is a shame. Really, after 51 years of a regime that says it will offer more than a million jobs in the labor force, employed [by the state] -- the only employer. Look, the government is the employer. The employer and the judge. If only the whole world knew. When [the government says] one person is missing [a salary] there are really four [people missing their salaries]. They are distributing the salary of this person among four people. Therefore, no one works, no one produces anything, the productivity is in the dirt. We have a saying: Cubans pretend to work and the government pretends to pay them. When a Cuban goes to work, it is to see if he can to steal something. This is what you are seeing. It is always like this in times of crisis. It isn't the first time they have done it, and it is the first time we are seeing them let go of some office [governmental] professionals.
RFE/RL: Have there been any major changes in Cuba since Raul Castro became president in 2003?

Garcia Paneque:
It's a very difficult situation. It's very hard when a dictator is still living, and there is also a successor. Raul Castro is not really president, and Fidel Castro is not yet really ex-president. To put it simply, this creates a totalitarian system governed by the [Communist] Party structure. And supporting it is a system that disseminates information based on the state's own interests and security. And you saw the result of this over the last few months. This is a sign that Raul Castro is not the true president and Fidel Castro is not the ex-president. Each time, in fact, they make it appear that we have more control in society than we actually do…. Remember that in Cuba the culture of fear prevails. [It is] a chronic situation for more than 51 years. There is not a single Cuban that doesn't feel like there are police following them, including here in Spain. I see them, I feel that they are still there, and it will be years before we stop looking over our shoulders before talking, because we are afraid.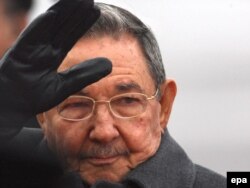 Cuban President Raul Castro
RFE/RL: To what extent are young people in Cuba politically active? We have both been to Cuba, and we got the feeling that economic survival is the main focus of youths' lives.

Garcia Paneque:
Look, the youth have always been part of the changes in every country. The recent appearance of Fidel Castro on the staircase in the University of Havana [in full military dress] is a clear sign of this, that he is worried about the students. The students were having in that moment a small debate within the university, which was rebellious, and something very interesting happened. Ricardo Alarcon, the president of the Cuban parliament, went to the next debate, at the university's information sciences. He was about to leave but the students stopped him and asked him why there was no freedom to travel, why there was no freedom to demonstrate. They wouldn't leave him alone. And well, it cost some students their positions, but it was worth it to take the risk.
RFE/RL: What do you think Cuba will look like in 10 years?

Garcia Paneque:
Look, you can't say when the changes are going to come, but they're coming whether or not the regime wants them to. They will come. Now we can't deny them. The changes are the responsibility of the Cuban people. I speak of Cuba to you and all of Cuban civil society, all those who are inside it as well as those who are outside, but, really, we still need [help] -- we ask the international community for help, to keep supporting us. I believe that Europe is doing this very well and I believe that North America, at this moment, is in a very constructive position.
It depends on the Cubans to decide what kind of society we want. We have programs that work, but we don't want to support the regime. We [also] don't want abrupt changes in Cuba. We don't want a violent change. We want a democratic change, because [otherwise] we are running the risk of a violent change that brings a new dictator -- with generals controlling the government. What we want is a real democracy. It would be a great fatality for the Cubans, and it would also be our responsibility, as Cubans. We would seize it. We would seize it ourselves for the future of our children.