Today Russia marks the 10th anniversary of the tragic sinking of the "Kursk" nuclear submarine. One hundred eighteen crew members lost their lives, many of them after being trapped for days hundreds of meters below the surface of the Barents Sea. RFE/RL Russian Service correspondent Viktor Rezunkov asked submarine Captain Igor Kurdin, chairman of the St. Petersburg Club of Submariners, how the catastrophe has affected the Russian Navy.
RFE/RL: What has changed over the decade since the "Kursk" disaster?

Igor Kurdin:
Of course, a lot has changed in the navy over the last 10 years, and, as always, some of it has been good and some of it not so much. Any catastrophe -- and particularly the catastrophe of the "Kursk," where 118 crew members perished -- not only summons an eruption of emotion but also should produce fundamental changes in the navy. Has this happened? I don't think so.
The experience of those days convinced everyone that we do not have adequate rescue equipment. We thought for a long time about whether to accept foreign offers of assistance. Now we have invited Geoffrey McCready, the former British naval attache to Russia, to mark the 10th anniversary of the tragedy. I remember how he called me back then and said, "Igor, I don't understand. We are offering help, but no one wants to talk to us." After someone from our group appeared on live television, they finally met and talked with him. And what happened? Our delegation flew to Brussels and began to compare the docking diameters of their rescue vehicle with our emergency hatch.
Now the Russian Navy regularly participates in joint naval exercises to train rescuing sunken submarines. And here is the clearest example: Exactly five years ago, you'll recall, there was the catastrophe with the AS-28 bathyscaphe in the Pacific Ocean. A rescue craft was brought to the Pacific coast by airplane and the operation was carried out. The crew was saved.
But we talked then [after the "Kursk" tragedy] about developing our own multifunctional rescue apparatuses, rescue vehicles. Also five years ago, at the Petersburg shipyard Admiralteiskye verfy, they began construction of the modern rescue submarine "Igor Belousov." I was there for the ceremony. Today that vessel is just a little more than 10 percent completed. Three other rescue vessels that were promised for each of the fleets [the Northern Fleet, the Pacific Fleet, and the Black Sea Flotilla] were not even started.
Just recently, at the Zvyozdochka factory in Severodvinsk, our leadership proudly demonstrated a new rescue tugboat. But a rescue tugboat is not a rescue ship. The only thing we really have is the "Pantera+" mobile rescue complex. The fact that we have that is great, wonderful. But I would mention that it was purchased from Great Britain. And it was handed over to us because they consider it to be outmoded.
RFE/RL: In general, how has the "Kursk" accident affected the safety of submariners? I mean, have new safety systems been introduced? Are there new protection schemes for submarines?

Kurdin:
Definitely, some things have been done and some systems have been improved. They are incorporated into new vessels -- fourth-generation vessels. Such accidents do not pass unnoticed by ship designers. I know for a fact that the designers of the Malakhit and Rubin design bureaus are developing new, modern vessels taking into account what happened on the "Kursk."
As for social protection...I would remind you that one of the wives of the drowned seamen, on live television, said to the then President [Vladimir Putin]: "I want to get my husband's salary for the next 10 years. I have to raise two children." And the president asked: "How much do submariners get?" He was a little confused when they told him 6,000 rubles a month, which was about $250 at that time. They were telling him the salary of a submarine commander, not an ordinary crewmember. If you multiply 6,000 rubles by 10 years, you get the sum of 720,000 rubles, which the family of every crewman who died on the "Kursk" was given by the state.
At that time, we talked a lot about distributing the money differently. After all, there are different kinds of families. Some have mothers, fathers, younger brothers and sisters and a wife with two children. But they all received identical sums. We don't always do things in the smartest way.
As for wages...the commander of a nuclear submarine is paid about 90,000 rubles per month. You figure how much that is in dollars [$3,000]. If a commander who is getting such a salary is sent to the academy for additional training, his salary becomes about 15,000 to 18,000 rubles. That is, he goes to improve his qualifications and his salary gets cut by two-thirds. That's why no commanders want to move from their posts. They just want to be commanders.
RFE/RL: What has been the effect of the reaction of the authorities and Vladimir Putin in particular? You remember his famous phrase, when asked what had happened to the "Kursk" -- "It sank," he said.

Kurdin:
If Putin was told that all was under control and that the rescue operation was proceeding normally and no help was needed, then it is clear that -- to put it mildly -- he was deceived. But most likely the authorities have another system of control to check things and they don't rely blindly on what the military tells them.
Our military people, as soon as something happens...Well, recently a military base burned down. And what did they say? "It wasn't me and it wasn't my base." But a couple of days later it turns out it was their base. This is very similar to the situation with the "Kursk." In this regard, not much has changed in 10 years.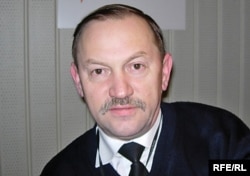 Igor Kurdin

RFE/RL: The relatives of the seamen who died have filed a case with the European Court of Human Rights in Strasbourg. How is that going now?

Kurdin:
Back when the investigation was finished, it concluded that no one in particular was to blame and the matter was closed without any criminal finding since it was not possible to determine any individual or group of individuals whose actions or inactions led to the sinking of the vessel. Then we turned to the well-known attorney Boris Kuznetsov. He, representing the interests of 55 families of dead seamen, went through the entire legal process, and it ended with the complete rejection of all of his complaints.
So he then, in the name of one relative of a crewmember, filed a case in Strasbourg. The case was accepted and exactly one year ago a hearing was held and the complaint was upheld. This gave rise to the expectation that there would be a final ruling. But as soon as that one relative was informed of this development, he or she soon withdrew the complaint. No one knows why. Even Kuznetsov. I don't think it is ethical to ask this person why. It was withdrawn and that's it. This has a legal consequence that no court, including Strasbourg, will take up the case again. So, from the legal point of view, the "Kursk" case is closed.
But knowing our legal practice, I can say that there is such a phrase as "because of newly discovered circumstances..." For instance, such circumstances emerged in late 2001, when the prosecutor-general laid an independent report on the president's desk. Now we know who wrote the report -- it was Vice Admiral [Valery] Ryazantsev, who was a member of the government commission but who nonetheless acted as an independent expert and conducted his own investigation. No one asked him to, but he was an active-duty admiral and he was given access to all the commission's materials. And he wrote his report.
I remember -- it was Saturday, November 25, when [Prosecutor-General Vladimir] Ustinov placed the report on Putin's desk. Three hours later, an order had been signed dismissing 17 admirals and senior officers of the Northern Fleet and naval command. The order merely cited "for dereliction in the organization of military readiness." The word "Kursk" was not mentioned. Yes, it sank. Maybe to some people that sounds like a cynical response.
RFE/RL: Over the years there have been many theories about the "Kursk"…

Kurdin:
Books about the "Kursk" have been coming out and will keep coming out. I have a whole table covered with the latest "Kursk" books. Admirals have written [them]. Engineers have written [them]. Ordinary people have written [them]. Each one has its own theory.
Today there are only two remaining versions. Everyone understands what happened aboard the "Kursk" after the explosion of the torpedo and the dynamics that led to the sinking of the vessel. Only one question remains -- why did the torpedo explode? Either there was some external force -- to put it simply, either there was an unexpected collision with a foreign submarine or a torpedo attack by a foreign submarine -- or there was a technical failure.
That is why Prosecutor-General Ustinov, in his book, writes about how he asked the United States to provide information about the location of its submarines the "U.S.S. Memphis" and the "U.S.S. Toledo" at the moment the "Kursk" sank. The Americans didn't even respond. So I, at the request of the relatives, asked U.S. President George Bush. And he answered me. Maybe the prosecutor-general didn't know whom to ask. Or he didn't know the address or he made some mistake like writing "Yellow House" instead of "White House."
We wrote and received an answer from the president in which, first of all, he expressed his deepest sympathies for the families of those who died aboard the "Kursk." And second, he stated that no American submarine played any role in the sinking of the "Kursk." I am not saying that just because the American president said something, we should take his word. We don't take anyone's word.
We have conducted an objective investigation for 10 years. Believe me, we have seen many documents and heard the opinions of many people. There are no traces of an accident. No foreign metal or paint was found on the hull of the "Kursk." Say an American submarine struck the "Kursk" and after 2 1/2 minutes there was an explosion -- it would be lying on the seabed right next to the "Kursk." It would not have survived.
Theoretically, there could have been a torpedo attack. But when a torpedo moves through the water, it makes a characteristic sound that all the vessels in the area -- surface ships and submarines -- would have heard. But no one heard anything.
It is very convenient to blame the Americans for this -- not proving anything but simply pointing in their direction. It makes our guilt a lot less, practically inconsequential. "It isn't our fault, boys; the enemy is to blame."
RFE/RL: What would you like to say to the authorities on the occasion of the 10th anniversary of the tragedy?

Kurdin:
There is no need to publicize any documents. The materials from the criminal case and the expert opinions that we have are not secret. They have been presented to the relatives as they should have been. We have them. All that is needed is to read them carefully. And all the questions that we posed to officials have been answered. I'm not saying that our opinion is the absolute truth and that we are God and tsar and military experts in this matter and that we are the only ones who know why the "Kursk" sank. But we want to say that the investigation was conducted objectively and correctly. But the conclusions that were drawn from it are simply amazing.
I remember one page from the criminal case where it was written that the "Kursk" had an emergency buoy. In the event of an accident, it was supposed to detach automatically from the stricken vessel, make its way to the surface, and emit a distress signal and its coordinates. And from this it would have been quick and easy to locate the "Kursk." But when the "Kursk" was built, this buoy was blocked. And every time the vessel went to sea, people were assigned -- some to unblock it, some to check that work and some to check that the work had been checked. And so it goes on up through the division headquarters, the flotilla, the fleet -- they also come and check everything.
I'm telling you, though -- it is ordinary Russian chaos and sloppiness. For several years, no one checked anything. And do you know what conclusions were drawn? "The commander of the military unit aboard the 'Kursk' was to blame and he paid for his guilt with his life." And those who signed off, those who were obligated to check that buoy, those who were obligated to check that torpedo, and those who were obligated to check lots of other things, what about them? Yes, some of them were disciplined a year later.
I hope that as far as organizational-technical matters are concerned, everything has been put in order. But as a commander, I can tell you that we have so many instructions, advisories, directives, and telegrams that it is not possible to serve without violating something. It is impossible to fulfill all the obligations.
But I can tell you that as a commander, responsible for my crew, I made the correct conclusions earlier, following the disaster with the "K-219" [in October 1986]. I invited people from that vessel to come to my submarine and we conducted survival exercises. They were present and gave their conclusions and opinions. We learned from them. A vessel was lost, and the price of that loss was never to repeat those mistakes. For three straight years my vessel held first place in the Northern Fleet for safety. I think that in peace time, safety is the top priority. I hope that today's commanders feel the same way.