One year ago, a court in Azerbaijan sentenced youth activists Emin Milli and Adnan Hajizada to jail terms of 2 1/2 and two years, respectively, in a case that has generated interest far beyond the Caucasus.
Dubbed the "donkey bloggers," the two men had posted a
satirical video
shortly before their arrest in which a person dressed as a donkey led a government press conference.
The sentences, handed down on charges of hooliganism, were condemned by rights groups, who say Milli and Hajizada were victimized for crossing the regime of President Ilham Aliyev.
On the anniversary of the bloggers' imprisonment, RFE/RL correspondent Richard Solash spoke with Leyla Karimli, the New York-based wife of Emin Milli, about her husband's case, the campaign to release him, and the state of civil rights in Azerbaijan.
RFE/RL: When was the last time you were able to see your husband?

Leyla Karimli:
I was in Azerbaijan for the whole summer, from June up until September. I was able to visit Emin once a week. I wasn't scrutinized in any way that was harsher than any other person visiting him.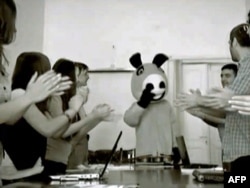 In this video, an Azerbaijani blogger dressed in a donkey suit gives a press conference.
Then Emin's father died while I was there. Emin was allowed to participate in the funeral process and I was also there in the funeral process, and so it was an additional opportunity for me to communicate with Emin -- which is quite sad and ironic, right? Somebody needed to die so that I could talk to Emin.
RFE/RL: What has he told you about the conditions he faces in prison?

Karimli:
He's actually describing very little. I assume he talks very little because he doesn't want to make me or his mom upset. But from what I could grasp, he is living in a room -- in a barrack. He is sharing it with more than 100 people and all of them are smokers. Emin is a nonsmoking person and in addition he has breathing problems. I could see that he has [more] breathing problems because of this. [Also], you have no privacy when you use the bathroom. You are sharing it with six or seven people who simultaneously use it and you don't even get to have a wall between you. [In summer], it's beyond extremely hot. When we were visiting, we were sitting there literally covered with sweat. You are sweating as if you are in a sauna. It's that hot.
My personal strongest fear is about Emin's health. So I just really pray to God that he doesn't get tuberculosis, because the rate of TB in jail is extremely high. But I don't want to deliver the wrong message, that these are the conditions specifically for Emin. No, he is sharing similar conditions with everyone else who is in jail.
Pressure From Obama Administration

RFE/RL: In September, U.S. President Barack Obama met with Azerbaijani President Ilham Aliyev on the sidelines of the UN General Assembly in New York. Ahead of the meeting, you and other family members of the bloggers wrote to U.S. President Barack Obama asking him to push Aliyev on the case, which he did. What else have you done to work for his release from your home in New York City?

Karimli:
Last summer, immediately after they were arrested, we involved ourselves in a campaign to raise awareness and to make sure that the international community reacts to the case. It's not just me. It's a number of people -- Emin's friends, Adnan's friends, people in New York, people in Washington, D.C., people in other states -- people who knew Emin and people who believe in the values that Emin and Adnan were acting on. The letter [to Obama] was drafted by Hikmet Hajizada, Adnan's father, and then we sat down together, discussed it, and signed it. [It was] a brilliant idea.
RFE/RL: The United States has interests in maintaining good relations with Azerbaijan, especially as a key supply line to troops in Afghanistan passes through the country. Do you feel that the Obama administration has done enough to push for improved conditions for civil society in Azerbaijan, and in particular, for the release of your husband?

Karimli:
I've studied political science and international relations, and [so] I kind of understand the logic. I understand that Obama's administration, just as any other administration in the United States -- their primary goal is not to save bloggers in Azerbaijan and it's not to fight for freedom [and] rights in Azerbaijan. Their primary goal is to protect national interests, however they are defined.
I do understand that there is a very cold rationale and logic to the international system. However, in terms of feelings and heart, I feel fundamentally hopeless and helpless.
So given this, they did a lot, and I sincerely appreciate it. I appreciate that Secretary [of State] Clinton made a statement on this. I really appreciate that President Obama raised the issue. But as you see, [in terms of] the simple impact, [Milli and Hajizada] are still in jail. I don't think they could have been released immediately after the statement by Obama's administration.
So what I'm trying to say is that it's not that Obama's administration is not doing enough, it's just the way the international system works. Apparently our government is pretty immune. It seems to be pretty immune to all kinds of pressure from different facets of the international community. My brain and my mind try to understand: I do understand that there is a very cold rationale and logic to the international system. However, in terms of feelings and heart, I feel fundamentally hopeless and helpless. And I see that our government is pretty immune. They have their own internal logic and they follow only that internal logic.
RFE/RL: What, in your view, is needed to pressure the Azerbaijani government to change its decision regarding the bloggers?

Karimli:
What is probably needed now -- probably we need to move out from the political dimension into another dimension. Let's say art. If people who are not necessarily in the administration, but they are very prominent people -- they are prominent in the social sciences, they are prominent in art, they are prominent as visionaries in the United States or internationally, globally -- if these types of people make statements constantly.... I do understand that this may not necessarily lead to the release, but at least it will make the Azerbaijani government feel uncomfortable.
Punished For Believing

RFE/RL: When your husband's case garnered international attention, he became known as one of the "donkey bloggers." He participated in social activism long before the well-known video, however. How would you describe his motivations and activities?

Karimli:
Emin is actually a pretty classic case of a civic activist -- classic in terms of the literature, not classic in terms of Azerbaijan. Actually, on the contrary, he's very unique for Azerbaijan, because unlike many other people, Emin doesn't have political aspirations. He's not a member of any political party and he doesn't plan to be a member of a political party. So this personal is purely driven by his passion and by his belief, which makes him extraordinarily strong and extremely attractive for everyone else.
In a country where power rests on ignorance, when you are trying to lift the ignorance, then the power-holder would be upset, wouldn't he?
So he's pretty much a believer. He believes unconditionally that social change is possible in Azerbaijan. He was doing all types of networking projects. A whole bunch of people would get together and would talk about issues. They would talk about developing education in Azerbaijan, they would talk about developing information technology in Azerbaijan, they would talk about developing anything that could possibly lead to prosperity. What he and his friends were doing is called empowerment.
RFE/RL: Do you think the donkey video led directly to the arrest, as some have said, or do you see other reasons behind your husband's sentencing?

Karimli:
In a country where power rests on ignorance, when you are trying to lift the ignorance, then the power-holder would be upset, wouldn't he?
I don't know why it's specifically Emin and specifically Adnan who got arrested. There is lots of different speculation about that. One [possible reason] is the donkey video, which actually portrays the complete absurdity and illogicality of decision-making. If this is really the reasons why these guys were arrested, then it just perfectly portrays how absurd and illogical the [government's] decision-making is.
Another thing is that Emin and Adnan were two of the people on the forefront, and they were [perhaps] arrested to teach a lesson to the rest of the youth -- that if you continue being free in your thinking, then you may live through these consequences.
RFE/RL: Why do you think the case of your husband and of Adnan Hajizada has generated the media attention that it has?

Karimli:
Maybe because their arrest was so blunt -- so bluntly fabricated -- and maybe because they are so young and they're absolutely not corrupt and they're purely apolitical. So maybe the reason why it created so much international attention is that oppression expands. So you don't really need to be political to be punished, apparently, in Azerbaijan. It's enough to be any kind of social actor. It's enough to just have free thinking to get punished.