An Afghan child, injured during a battle in Farah Province last week between Taliban and U.S. troops, cries in pain in the burn ward of a hospital in Herat.
Dr. Jalali, who works in the burn ward, says the child is one of several brought in from a village of Farah Province that came under bombardment by U.S. aircraft during a nearby battle with Taliban militants.
"The burns on their bodies might be from a gas explosion or may be from the bombardment," Jalali says. "The burns clearly show that there was some kind of fire."
The cases have sparked suspicion that highly flammable white phosphorus was used in the fighting. Nader Nadiry, of the Afghan Independent Human Rights Commission, says that more than a dozen villagers received "deep burn" injuries from the battle, and that of the 130 civilians killed, many suffered severe burns.
"A preliminary finding does show that there is a large number of wounded civilians -- especially children and women -- and that they have burns, deep burns, in their bodies," Nadiry says.
"That has raised some suspicion that white phosphorus may have been used by some party of that fighting. We are not sure yet. This is not confirmed," he adds. "But suspicion around this has prompted us to launch a further investigation."
U.S. and NATO forces acknowledge that they use white-phosphorus shells to create smokescreens, or to jam the targeting systems of some weapons -- like the infrared tracking devices on antitank missiles.
Such use of white phosphorus is permitted under international law. Using it in densely populated civilian areas is not, and a number of humanitarian organizations say the indiscriminate use of white phosphorus in civilian areas is a war crime.
Western forces deny using white phosphorus over populated areas in Afghanistan. And they say specifically that they did not use any phosphorus ammunition during last week's battle in Farah Province.
'Propaganda War'
U.S. and NATO officials also say they have documented 44 cases since 2007 in which militants in Afghanistan used white phosphorus in attacks, or where the ammunition has been found in Taliban weapons caches. Most of the rounds were Soviet-made 122 mm artillery shells taken from old Soviet-era stockpiles.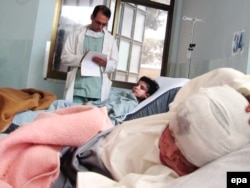 Children injured in the Farah fighting at a local hospital
Afghanistan's Taliban rejects the accusations that they are increasingly using white-phosphorus ammunition.
Marc Garlasco is a weapons expert at Human Rights Watch (HRW) who documented the use of white phosphorus by Israeli forces in Gaza last January. He says that global awareness of Israel's use of white phosphorus in Gaza -- and awareness that its use in populated areas could constitute a war crime -- may have inspired a "propaganda war" in Afghanistan.
"White phosphorus is completely legal to use as long as the guidelines are followed. If it is used to mask troop movements, if it is used in the open, there is no problem with it. It is not like cluster bombs -- which are inherently indiscriminate and disproportionate in certain instances," Garlasco says.
"With white phosphorus, it is the misuse that we are reporting on here [with regard to Afghanistan], and that others are talking about. And I think that the U.S. and others are trying to distance themselves from white phosphorus because it does have a stigma attached to it now -- particularly after the widespread use by Israel in Gaza."
Garlasco and HRW have called on NATO to clarify their use of white phosphorus in Afghanistan after he was alerted by U.S. military doctors about a girl from Kapisa Province who had suffered burns from the chemical -- the first confirmed case of a civilian injured by phosphorus ammunition in Afghanistan since the collapse of the Taliban regime in late 2001.
Continuing Investigation
Garlasco says it remains unclear who fired the white-phosphorus shell that injured the girl. But given the Taliban's history of using acid and poison gas to attack schoolgirls in Afghanistan, Garlasco says he wouldn't be surprised if the Taliban was also attacking civilian areas with white phosphorus.
"As far as the U.S. [military] goes, at this point we have no reason to believe that they are not telling the truth. We don't have incidents in the past where they have told us that they were not using a weapon and had [been]," Garlasco says.
"Clearly, there is always that concern of a disconnect between forces in the field and the higher-ups -- or even the people who deal with the press, who may not have the full picture on it," he adds. "That's why we need to have an investigation. This is something that desperately requires an on-the-ground investigation."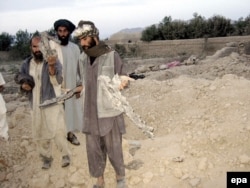 Men from the village show pieces of what they say are missiles from a U.S. air strike.
Ubaidullah Hilali is a lawmaker in the lower house of the Afghan parliament from Farah Province and is a member of the Afghan team investigating civilian casualties there. He spoke to RFE/RL after visiting areas in Farah Province damaged by last week's fighting.
"We have not investigated this question [of white phosphorus] specifically because it needs particular expertise," Hilali said. "But we saw a lot of evidence of burning at the sites that were bombed. Although most of the victims were already buried when we reached there, some of the human remains that were dug up were badly burned. In the immediate surroundings, trees and the wheat crop also were burned."
However, Garlasco says that it would "be very, very clear for anyone on the ground whether or not white phosphorus was used. You're going to find the remnants of the actual shells that fired the phosphorus."
"You're also going to find lumps of phosphorus laying around. Those phosphorus wedges burn down -- and they are made of felt because felt burns slowly and they are soaked in phosphorus. Once those wedges burn down into a small clump, you still have a little bit of phosphorus in the center.
Facts On The Ground
"So if anyone kicks these, they are clearly going to reignite. If people are in there, they can find the remnants of the phosphorus. They can find the orange burning streaks that phosphorus leaves behind. The reality is, we just need to find the actual evidence of the shells. And if we find them, it is really a clear-cut case."
Garlasco also says that he has yet to see any evidence supporting allegations that those burned in Farah Province were victims of a white-phosphorus attack. "That doesn't mean it was not used there. We are still investigating that," he adds. "But one thing we have to understand, a lot of things cause fire in warfare. A lot of things burn."
Indeed, many of those who allege that U.S. forces used white phosphorus in Farah Province have been describing attacks carried out by aircraft. But Garlasco points out that the phosphorus used by NATO and the United States are fired from ground artillery -- not dropped as bombs from aircraft:
"White phosphorus is used as an indirect-fire weapon -- artillery and mortars. Not aerial bombs. So it is clearly possible that the Taliban has it. It is uncertain yet, however, to what extent that they are actually using it," Garlasco says.
"Looking at what could possibly be used in Afghanistan -- if the Taliban got a hold of old Soviet stockpiles, clearly they could be firing mortar rounds. Or they could have [adapted] some artillery shells to be used as improvised explosive devices," he adds.
Certainly, the burned corpses and injured children at the burn ward in Herat Hospital are irrefutable evidence of the pain that fighting in Farah Province has caused to civilians. But Afghan officials and independent human rights advocates agree that the truth about whether white phosphorus was used in Farah Province last week -- and if so, by whom -- can only be determined by further investigation.
RFE/RL's Radio Free Afghanistan contributed to this report from Farah Province, Kabul, and Prague