Iran Charges Iranian-American With Spying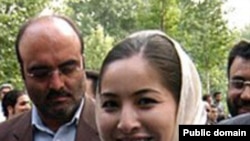 Iran's judiciary has charged detained Iranian-American journalist Roxana Saberi with espionage, a news agency has said, a move likely to disappoint Washington as it tries to reach out to Tehran.
Iran's ISNA news agency, quoting a judge who is the deputy head of Iran's Prosecutor's Office, said Saberi had "accepted" the accusation.
Her lawyer, Abdolsamad Khorramshahi, told Reuters: "As they have announced, they have accused her of espionage."
Read the full Reuters story
here
.
About This Blog
"Watchdog" is a blog with a singular mission -- to monitor the latest developments concerning human rights, civil society, and press freedom. We'll pay particular attention to reports concerning countries in RFE/RL's broadcast region.
Journalists In Trouble
RFE/RL journalists take risks, face threats, and make sacrifices every day in an effort to gather the news. Our "Journalists In Trouble" page recognizes their courage and conviction, and documents the high price that many have paid simply for doing their jobs. More