Mohammed Reza Heydari (aka Heidari) resigned his post as consul at the Iranian Embassy in Norway earlier this month to protest Tehran's crackdown on pro-reform demonstrators and to show his solidarity with the goals of the opposition Green Movement. In an interview with RFE/RL Radio Farda's Sharham Mirian, Heidari says he expects other Iranian diplomats to follow his example.
RFE/RL: What was the main reason you resigned your diplomatic post?Mohammad Reza Heydari:
As I have said repeatedly, the main reason for my decision was to announce to the Iranian people and those who are with the Green Movement that I am on their side, and that I want to help them with my action. And also to denounce the killings and the crackdown on my fellow citizens by agents inside the country. The whole world is saddened by [what is happening].
Radio Farda: The spokesperson for Iran's Foreign Ministry [Ramin Mehmanparast] has characterized your resignation as [the government's] termination of your service in Norway. He has also talked about a man he says is your brother, a Morteza Heidari. What do you think he's talking about?Heydari:
I have no brother named Morteza Heidari. This person is a reporter at Iranian TV's Channel 2 in Iran, and I have no relationship whatsoever with him. These are rumors [generated by the government].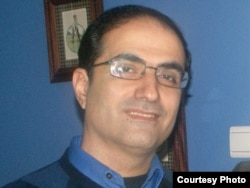 A screen grab from Norwegian NRK television of Mohammad Reza Heidari (courtesy of the Norwegian-Iranian Support Committee)
With regard to my [diplomatic posting], in fact, it would have been terminated next year. But for reasons that Iran's Foreign Ministry knows -- and because of my support for [opposition leader] Mr. [Mir Hossein] Musavi and the Green Movement, [my posting ended prematurely]. So my position has not been terminated.
My child is still enrolled in high school [in Norway] and is not going to college anytime soon, so that's not the reason why I'm remaining here.
Because of my support [for the opposition] after the election, [Foreign] ministry people decided that anyone who was allegedly close to the Green Movement would be summoned to Iran [to be replaced].
Radio Farda: Apparently a delegation of three government officials came from Iran to convince you to return home. What happened?Heydari:
Before they left Iran, these people contacted some of my friends, who got in touch with me, and explained why they were coming and their intentions. The first thing they wanted was for me to deny everything I've said, and only after I denied everything could I return to Iran.
Iran belongs to all Iranians, no matter their political inclinations.
I told my friends that, from the beginning, I do not regret what I have done. I did it for the people of Iran, not to gain anything myself. I have lost many things I had because of what I have done.
Radio Farda: You issued a statement in Oslo saying that only when Iranians of all views stand united will they be able to secure their freedom. You also asked the international community to tell the Iranian regime to stop killing and arresting peaceful demonstrators. How effective do you think this outside pressure can be?Heydari:
The support of the international community for Iranian freedom seekers will prevent some of the extreme acts of violence. The condemnation of killings by the outside world has [already led authorities to curb violence].
But Iran belongs to all Iranians, no matter their political inclinations. [Only] our own unity, both inside and outside the country, will stop the violence.
Radio Farda: In your statement you also asked your former colleagues at the Iranian Foreign Ministry not to cooperate with the regime. Have you heard whether anyone has left the ministry as a result?Heydari:
Many of my friends [posted outside Iran] have been in touch and say they are thinking of doing so. I have seen some reports that say they have done so already. But as of yet, their names have not been leaked [to the media].
If our goal is to serve the people in times like these, we must stay on the people's side, and resist dictatorship and despotism.
In my statement, I also told my friends that we must protect the interests of the Iranian people. If our goal is to serve the people in times like these, we must stay on the people's side, and resist dictatorship and despotism.
Radio Farda: Are you planning to apply for political asylum [ in Norway]?Heydari:
I haven't done anything in this regard and hope during the next several months, with what is happening in Iran, we will succeed, which will enable us to return to Iran, to all live together with all our different beliefs.
Radio Farda: Are you concerned about consequences to you and your family as a result of what you've done?Heydari:
When anybody does something like this, they have surely thought about the consequences. My family, inside or outside Iran, have been threatened and will face difficulties. But I hope nothing will happen [to them] and hope my decision to play a positive role in the Green Movement will help the Iranian people continue their efforts with more determination.
Radio Farda: Have you been personally threatened?Heydari:
Since [Iran's leadership] was still hopeful that I would surrender, they have not done anything so far. I hope they are wise enough not to hurt people who had no role in my decision.
Translation by Mohsen Vakili