Opposition leaders in Iran have applied for Interior Ministry permission to hold a mourning ceremony for Iranians killed since protests broke out over last month's disputed presidential election.
The move is seen by many as a new challenge to President Mahmud Ahmadinejad's government, which along with local allies banned public gatherings after the unrest began.
Officials acknowledge that 20 people have been killed amid protests against alleged fraud in the June 12 vote that officials say produced a runaway victory for President Mahmud Ahmadinejad.
Critics of the administration suggest the death toll could be higher, and say many more have been wounded and thousands arrested as authorities battle resentment over perceived shortcomings in the election.
Shi'ite Muslims mark the death of loved ones at three prescribed times, including 40 days after their passing.
Silent Ceremony?
Mir Hossein Musavi and Mehdi Karrubi, two reformist candidates in the June presidential vote, reportedly pledged in a letter to the Interior Ministry that there would be no slogans or speeches during the memorial service but only recitation from the Koran.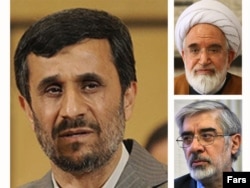 Have Karrubi and Musavi issued a fresh challenge to Ahmadinejad? (clockwise from top right)?
They requested a simple 90-minute ceremony on July 30 in Tehran's "Grand Mosalla," an open prayer venue where religious ceremonies are regularly held.
Musavi and Karrubi have led denunciations of the new government as "illegitimate."
The highest estimates put the number of protesters at the height of the public demonstrations in the millions, and shouts of "God is great!" continue to ring out from windows and rooftops at night in a protest gesture with roots in Iran's 1979 revolution to oust Shah Mohammad Reza Pahlavi.
One of those killed was 27-year-old Neda Agha Soltan, whose dying moments after her shooting during a Tehran demonstration were caught on video and posted to YouTube. The footage of has been viewed by millions, and she has since become an
iconic image
of the Iranian opposition struggle.
Neda's mother recently
broke her silence
to accuse officials of blocking displays of mourning for victims of the violence, according to the "Campaign for Equality" website.
Mounting Questions
The request for a memorial service comes one day after the two former presidential contenders joined ex-President Mohammad Khatami in condemning interrogation methods thought to have been used against detained protesters.
Iran's reformist media say two protesters have died in custody.
Unofficial Iranian sources have reported that Mohsen Rouholamini, the son of a senior campaign adviser to former Revolutionary Guards commander and presidential candidate Mohsen Rezai,
died at Tehran's Evin prison
after his detention during protests. The family was reportedly informed of his death by prison officials weeks after his arrest on July 9.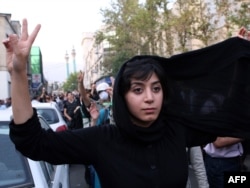 Mourners near Ghoba Mosque on June 28
Khatami, along with Musavi and Karrubi, called on Iran's religious leaders to intervene to prevent what they called "oppression" against the detainees.
The Interior Ministry has so far rejected opposition requests to hold public gatherings, although Musavi supporters have regularly attended small-scale rallies despite the danger of official reprisals.
Gatherings were organized in many major cities around the world on July 25 to express solidarity with Iranians caught up in the conflict over the June vote and over efforts to reform their clerically dominated system.
Iranian Supreme Leader Ayatollah Ali Khamenei and the powerful Guardians Council have insisted the results are final.
Khamenei endorsed Ahmadinejad's election victory within hours of the polls closing.
compiled from agency and RFE/RL reports
Iran Election Special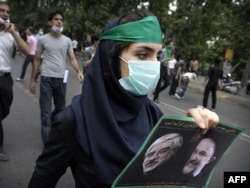 RFE/RL's Full Coverage
Following the disputed reelection of Iranian President Mahmud Ahmadinejad, supporters of Mir Hossein Musavi have taken to the streets to protest.
Click here
for news, blogs, and analysis of the presidential election and aftermath.