TEHRAN (Reuters) -- Iran has detained several local British embassy staff, sparking a new row with Britain on June 28 that underscored the hardline leadership's effort to blame post-election unrest on foreign powers, not popular anger.
British Foreign Secretary David Miliband demanded the release of all the staff still held and said his European Union colleagues had agreed to a "strong, collective response" to any such "harassment and intimidation" against EU missions.
Supreme Leader Ayatollah Ali Khamenei denounced what he called "interfering statements" by Western officials following the disputed presidential election on June 12.
"If the [Iranian] nation and officials are unanimous and united, then the temptations of international ill-wishers and interfering and cruel politicians will no longer have an impact," state radio quoted him as saying.
The West is at odds with Iran over its nuclear program, as well as its handling of the unrest.
The United States, Britain, and their allies have long urged Tehran to quit uranium enrichment, which they suspect is aimed at bomb-making. Iran says its program is wholly peaceful.
The streets of Tehran have sunk back into a sullen calm since riot police and religious Basij militia crushed huge demonstrations in which at least 20 people were killed.
"Everybody is depressed, everybody is afraid," said one Musavi voter in his 20s in northern Tehran.
The authorities, while taking tough action to snuff out any embers of protest, have repeatedly accused Britain and the United States of inciting the turmoil. Both countries deny it.
"Eight local employees at the British embassy who had a considerable role in recent unrest were taken into custody," the semi-official Fars news agency said, without saying when.
Intelligence Minister Gholamhossein Mohseni-Ejei confirmed several British embassy staff had been detained and some had been released, state radio reported, giving no details. He said the embassy had played a role in the unrest.
Miliband said about nine employees had been detained, but some had been freed. "The idea that the British Embassy is somehow behind the demonstrations and protests that have been taking place in Tehran in recent weeks is wholly without foundation," he told reporters at a conference in Corfu.
Iran Election Diary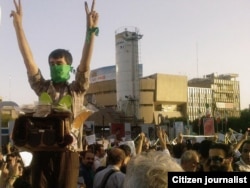 Disputed Presidential Vote
There have been protests and clashes with police on the streets of Tehran following the disputed reelection of Mahmud Ahmadinejad. RFE/RL collects videos, photos, and messages on social-networking sites coming out of Iran to attempt to get a picture of what is happening inside the country.
Click here
Iran Election Special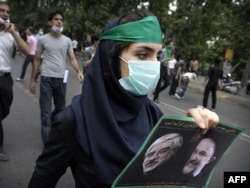 RFE/RL's Full Coverage
Following the disputed reelection of Iranian President Mahmud Ahmadinejad, supporters of Mir Hossein Musavi have taken to the streets to protest.
Click here
for news, blogs, and analysis of the presidential election and aftermath.