It is the friendship Western policymakers wish they could have prevented: Turkey -- secular, Western-leaning, and a key member of NATO -- drawing close to a resurgent theocratic Iran whose nuclear program and geopolitical ambitions present a full-frontal challenge to the established international order.
Suspicions that Turkey is abandoning the Western orbit for a closer alignment with its Muslim Middle Eastern neighbors were reinforced last month when the Turkish prime minister, Recep Tayyip Erdogan, flew to Tehran to sign a nuclear fuel-swap deal -- brokered along with the Brazilian president, Luiz Inacio Lula da Silva -- aimed at blocking further UN sanctions against Iran's uranium enrichment program.
Coming on the back of flourishing trade ties, the move -- ultimately unsuccessful -- was seen as a manifestation of Erdogan's growing affinity for Iran and its president, Mahmud Ahmadinejad, whom he had previously described as "a very good friend." The image of a new Tehran-Ankara axis was further enhanced by Israel's deadly interception of a Gaza-bound Turkish aid flotilla on May 31, which led to the deaths of nine Turks and drew international condemnation. The incident created the impression of a united Turkish-Iranian front against Israel and in support of Hamas, the Islamist group that runs Gaza.
The growing warmth is a far cry from the frosty, mutually suspicious relations that endured for years between the two neighbors following the 1979 Islamic Revolution which ousted the Western-backed shah from power in Iran.
Yet, according to some analysts, there may be a sting in the tail.
Trigger Suspicions
Far from being the gateway to a long-standing alliance, Turkey's new engagement with the Middle East and vocal support for the Palestinians could trigger Iranian suspicions and eventually restore the formerly competitive relationship between the two countries.
Meir Javedanfar, an Iranian-born analyst with the MEEPAS think tank in Israel, believes Turkey's new Middle East-centered foreign policy -- which includes rapprochement with Iran's close ally, Syria -- is a threat to Tehran's desire to be the Islamic world's dominant power.
"Both countries are rivals for the same title, which is leader of the Islamic world," Javedanfar says. "And the Iranians have a set of economic and political advantages to offer any country who wants to side with them, and the Turks have another set of advantages which are far more than the Iranian ones.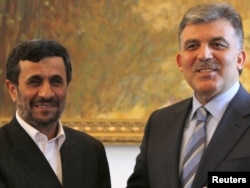 Turkish President Abdullah Gul (right) meets with Ahmadinejad in Istanbul on June 7.
"I can best describe it as the Turkish government being able to offer business class seats to any potential customer who wants to ally itself with Turkey, and the Iranians can offer a coach or economic class. I think the majority of people are going to be attracted to the business class rather than the other one, unless they have to."
If that assessment comes as a relief to Western diplomats fretting over Turkey's supposed defection, there may be a sobering corollary. Javedanfar fears the results of any renewed Iranian-Turkish rivalry will be greater efforts by the leadership in Tehran to acquire a nuclear-weapons capability.
"When it comes to economic power, when it comes to military power, when it comes to diplomatic position, Iran is inferior to Turkey," Javedanfar says. "So they are going to look at areas where they are superior and the only other one where they can gain an edge over the Turks, one of the very few areas, is the nuclear program.
"Turkey is not a nuclear power. Therefore, Iran would have even more of a reason and an excuse to become a nuclear power in order to gain an edge over their Turkish rivals."
Likely Launch Pad
The prediction may seem far-fetched, yet hardly more so than an article published earlier this year by the Jahan News website -- believed to be linked to the Iranian intelligence services -- that identified Turkey as the likely launch pad for a future war against Iran. Written by Farid Al Din Hadad Adel, grandson of Iran's supreme leader, Ayatollah Ali Khamenei, the article asked: "Which country can hope for the entry of its European and American friends into the arena of war, if it enters into war against us? The answer is clear. Turkey is the only option for the advancement of the West's ambitions."
The Islamic regime has a history of suspiciousness towards Turkey. In 2005, the Revolutionary Guards closed Tehran's newly built Imam Khomeini Airport for "security reasons" because a Turkish company had been awarded the contract to run it. The airport was only reopened after the contract was canceled and awarded to an Iranian consortium. In the same year, the Turkish mobile-phone operator Turkcell was stripped of a $2 billion contract giving it a stake in a private Iranian mobile network.
Murat Bilhan, vice chairman of the Istanbul-based think tank TASAM and who served as a Turkish diplomat in Iran, believes continuing Iranian disquiet over its Western neighbor has recently surfaced in its rejection of Ankara's offer of mediation in relations with the United States. Even the recent nuclear swap deal may have been accepted only because of Brazil's role, he suggests.
"Iran feels itself a little split off from the Western connections because it's in the hands of Turkey," says Bilhan. "They feel rivalry, as a competitor, and they would not like Turkey to be stronger than Iran. That's the feeling in Iran, in Iranian statesmen, in Iranian decision makers, policy planners, and such.
"So Turkey, for Iran, is, in a way, not a threat but something to get along [with], to share the same geography, not to create any problems, but not to be overwhelmed by."
Afraid Of Iran
A further source of potential friction could be Turkey's increasing closeness to Arab states in the Persian Gulf, most of which fear Tehran's nuclear activities, Bilhan says.
"There are some contradictions in the Turkish position in the sense that Turkey should be aware that the Arab nations in the Persian are too much afraid of Iran and they just feel threatened by the Iranian existence and Iranian ambitions in the region, especially their nuclear ambitions," Bilhan says. "So when Turkey supports the Iranian position, it might contradict its own Arab policy because the Arabs have enmity towards Iran."
Turkish officials argue that Turkey's geography and shared Muslim heritage make it uniquely qualified in the Western alliance to win Iran's trust. In private, they admit that negotiations with the Islamic regime can be fraught -- citing the Iranian political system's diverse power centers. They also say the two countries still have important differences, notably over Iraq.
"We are not defending Iran, we are looking after our own interests" one Turkish official, speaking on condition of anonymity, told RFERL. "We don't want to see a nuclear Iran in the military sense at all. Our aim in that is the same as other countries. It's just our approach that's different."
He added: "On Iraq, we don't see eye-to-eye with Iran at all. We want an all-inclusive government in Iraq made up Shi'ites, Sunnis, and Kurds, whereas Iran only wants a Shi'ite government. We are not always in parallel with Iran on many issues.
"But I don't think they should see us as a rival. The fact that we can talk to almost everyone, in contrast to them, means Iran should use us to try and get back into the international community. That's what we are trying to do."