Iranian Blogger, Activist Freed From Prison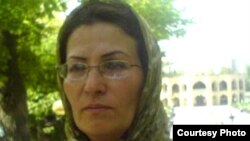 Iranian activist Shahnaz Gholami, the editor of the "Azerzan" blog, has been freed on bail in Tabriz after spending more than two months in prison, Radio Farda reported.

Gholami is accused of "spreading lies" in the writings on her blog. She had gone on a hunger strike in prison to protest against the conditions of her detention.

Gholami was sentenced to six months in prison, but her lawyer, Naghi Mahmud, appealed the sentence. Mahmud told Radio Farda that a date for her appeal hearing has not been set.

Gholami is an active defender of the rights of the Azeri minority and women in Iran.


About This Blog
"Watchdog" is a blog with a singular mission -- to monitor the latest developments concerning human rights, civil society, and press freedom. We'll pay particular attention to reports concerning countries in RFE/RL's broadcast region.
Journalists In Trouble
RFE/RL journalists take risks, face threats, and make sacrifices every day in an effort to gather the news. Our "Journalists In Trouble" page recognizes their courage and conviction, and documents the high price that many have paid simply for doing their jobs. More