As campaigning in Iran's presidential election officially came to an end, its tone grew increasingly sharp.
And the toughest language of all was reserved for what most Iranians see as the critical issue of the election: the country's economic performance.
Incumbent President Mahmud Ahmadinejad spent much of the campaign, which ended on the morning of June 11, praising the strength of Iran's economy amid the global recession.
In public debates with his challengers, he holds up charts and quotes figures to show the economy has held steady or improved during his four years in office.
He also charges his opponents of using reports from Western NGOs, which he says are Zionist influenced, to discredit his administration's performance.
"You, by forging documents and resorting to Zionists institutions, try to cast doubt upon the economic success of the government," Ahmadinejad said on television on June 10, holding up an unidentified report from Transparency International.
But his arguments that the economy is in good shape outrage both of the reformist candidates in the race, as well as his single conservative rival.
Bitter Clashes
The clashes between Ahmadinejad and his leading reformist opponent, former Prime Minister Mir Hossein Musavi, have been particularly bitter.
On June 6, Ahmadinejad stated in a debate that Iran's inflation rate is 15 percent. Musavi countered with a report released by the Central Bank of Iran indicating inflation stands at 25 percent.
A day later, Musavi publicly accused the president of lying about the country's economic health.
What kind of management is this? Not only did people's livelihoods not improve when oil prices were $140 in comparison to when they were $16, they worsened.
"So why do you lie to people? Why do you give disinformation to people? Does it benefit the country?" Musavi asked. "Is it worth [more time] in office or obtaining a position or gaining an advantage over your competitor?"
The reformists charge Ahmadinejad with stoking inflation by pursuing a populist economics policy based upon his promises to distribute more of Iran's oil wealth to the poor.
That policy, which Ahmadinejad himself refers to as "bringing the oil money to the people's dinner table," has focused on big government spending to increase pensions and government workers' wages.
The strategy has seen Ahhmadinejad take his entire cabinet on 60 trips around the country during his presidency. As his caravan has visited each of Iran's provinces, he has initiated the building of schools and sports complexes. At times, he has even handed out cash in unprecedented displays intended to show him directly addressing local problems.
At the same time, he has ordered the provision of low-interest loans to young married couples and entrepreneurs. And he has put more than 22 million Iranians in a government-sponsored health-care system.


'Charity Economics'
But Ahmadinejad's critics deride much of his direct action approach as "charity economics." They say his spontaneous efforts to redistribute wealth come at the expense of more considered investments to create wealth. They would like the government to spend more money on improving Iran's infrastructure and buying equipment and machinery that can generate new jobs.
In the absence of such capital investments, the reformists say, Ahmadinejad's largesse merely fuels inflation by putting more money into a stagnant economy. And this, they argue, reduces everyone's spending power, including that of the people directly receiving the presidential handouts.
The reformists are particularly bitter that the official unemployment figure has risen from 10.5 percent when Ahmadinejad took office to 17 percent today. And this has happened despite what has been a huge increase in Iran's oil revenues.
The reformist newspaper "Sarmayeh" recently quoted Central Bank figures as showing Iran earned more than $272 billion in oil and gas revenues during the past four years, thanks in part to oil prices reaching highs of around $147 a barrel before plunging to current levels around $70 a barrel.
By comparison, the paper said, Iran's energy earnings during the eight-year presidency of Ahmadinejad's predecessor, reformist Muhammad Khatami, were about $172 billion.
Even Conservatives Angry
Public anger over figures like these extends beyond the reformist camp and into the ranks of the conservatives, too.
Tehran's conservative mayor, Mohammad Baqer Qalibaf, has been quoted as saying, "What kind of management is this? Not only did people's livelihoods not improve when oil prices were $140 in comparison to when they were $16, they worsened."
Disagreements over the president's spending policies have even divided his own administration. In September, Ahmadinejad replaced the governor of the Central Bank, Tahmasb Mazaheri, over the bank's efforts to tighten the money supply. That would have helped bring down inflation but also interfered with his administration's spending program.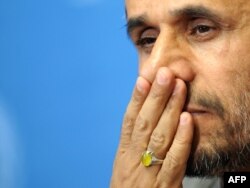 Ahmadinejad has been accused by his rivals of engaging in "charity economics."
As Iranians vote on June 12, they know that giving Ahmadinejad a second term would mean more of his populist economics.
The government wants to encourage Iranians to be more frugal in using energy and utilities and envisions doing so by ending state subsidies that currently keep prices artificially low.
Ahmadinejad has proposed a dramatic solution: turning the subsidy money over to ordinary Iranians in the form of direct payments. This would increase incomes to help cover the rise in energy costs.
But the spontaneity of Ahmadinejad's proposal has shocked even the conservative parliament, which must approve the measure. The parliament rejected it in March for fear it would send inflation out of control.
Ahmadinejad's rivals have found it easy to attack him over this and other examples of rash planning. Musavi has proposed targeting subsidies gradually in a more classical application of economic laws.
But the president's reformist opponents have yet to present detailed economic programs of their own.
Musavi, who is widely credited with having successfully steered Iran's economy through the turmoil of the 1980s, including an eight-year war with Iraq, says he favors liberalization of the state-dominated economy to make it grow.
Candidate Mehdi Karrubi, a former parliament speaker, says he favors greater privatization to reach the same goal.
And conservative challenger Mohsen Rezai, the ex-chief of the Revolutionary Guard Corps, promises to tackle poverty, high prices, and unemployment, which he says are the main problems facing Iran.
Repeating His 2005 Tactics
A big question now is whether anger over Ahmadinejad's stewardship of the Iranian economy will triumph over the uncertainty about the alternatives.
Ahmadinejad was swept to office in 2005 with 62 percent of a second-round vote because of his appeal for poorer voters. He emphasized his humble background, his contempt for technocrats, and promised to share Iran's oil wealth with the poor -- all things he is again doing now. His support base is reported to remain large and many say they will vote for him a second time.
But Ahmadinejad's critics, who tend to be better off and better educated, accuse him of squandering the epic bounty of high oil prices and, with it, Iran's opportunity for a better life.
The extent to which either side now can persuade the other will determine whether Ahmadinejad gets a renewed mandate or, instead, must step down after just one term in office.
Mazyar Mokfi contributed to this report.
Iran Election Diary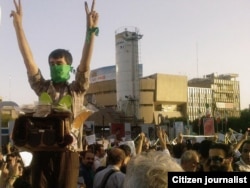 Disputed Presidential Vote
There have been protests and clashes with police on the streets of Tehran following the disputed reelection of Mahmud Ahmadinejad. RFE/RL collects videos, photos, and messages on social-networking sites coming out of Iran to attempt to get a picture of what is happening inside the country.
Click here