To some, they are "election clowns."
They have no political background, no experience, and zero chance of being allowed to run in Iran's upcoming presidential election.
But every four years, they appear out of nowhere and register their candidacies for president. Overnight, their unusual appearances, bizarre promises, or both, gain them stardom before they are banned from running and once again disappear into obscurity.
Most of this year's 475 applicants from various walks of life -- including a truck driver, a dentist, an unemployed woman, and one 12-year-old -- will have been disqualified well before the ballots are cast on June 12.
The Guardians Council is due to release its final list of approved candidates this week. The list is likely to exclude the vast majority of candidates -- particularly eccentrics and many issue-based independents -- leaving voters a handful of "serious" candidates from which to choose.
It is a spectacle that is regarded with amusement by those who see it as a testament to openness of Iran's electoral system, and with suspicion by detractors who see it as a meaningless sideshow to a clerically dominated race among insiders.
Promises, Promises
Among this year's notable presidential wannabes is 28-year-old Shahram Mehrabi, whose tattooed nose, Bogart-esque hat, and string-bead necklace bearing a large Zoroastrian symbol set him apart from other potential candidates.
"My aim is to serve the people, 7,000 years of [history] must be revived," Mehrabi says. "We must have the first say in the world -- 7,000 years."
Another aspirant, Ali Akbar Nasiri, who wears a flowing white dress adorned with his name and political slogans as he carries a large Iranian flag, was also an immediate success.
"It's clear, I've come at the order of Imam [Ruhollah] Khomeini and Ayatollah [Ali] Khamenei and upon the order of God, His Prophet, and the first Imam," Nasiri says. "We obey their orders until eternity to save this country from [colonizing ] governments, so that you can stay alive."
Other unique entries include an 86-year-old man who unabashedly promises, if elected, to appoint his son as housing minister. A 12-year-old boy has outlined his plans to transfer Israel to Hawaii. Then there is the 75-year-old farmer who has pledged to build four hotels in every city in Iran, so people can stay there for free. Or the physician, who has claimed to have traveled to many countries -- including England, where he saw the Eiffel Tower.
'Making Statements'
All registered -- or at least attempted to register -- their candidacies last week in Tehran during the official five-day registration period.
Since then, Iranian state television has devoted a lot of airtime to the eccentric and bizarre characters, and their stories have been covered widely in the press, complete with colorful pictures.
But less than 1 percent of those who register as candidates will be approved by the Guardians Council, the 12-member body that is tasked with interpreting Iran's constitution and has the final say over who will actually be allowed to run for elected office.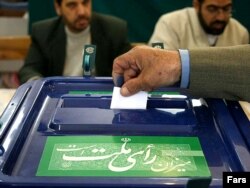 The field will have been thoroughly vetted by the time ballots are cast on June 12.
Detractors argue that the power of the clerically dominated Guardians Council to vet candidates is one of the main obstacles to free and fair elections in Iran.
The requirements for registering for Iran's elections are fairly straightforward. Potential candidates must be 18 or older; the Iranian Constitution says candidates must also be among the "religious and political personalities," hold Iranian citizenship, and believe in the principles of the Islamic Republic and the official religion of the country.
Nemat Ahmadi, a political analyst and lawyer in Tehran, says the lack of conditions for registration is one of the reasons for the abundance of "election clowns" in Iran.
He also says, however, that the high number of potential candidates does not mean they should be dismissed out of hand. Some register their candidacies in order to make valid political statements or to highlight societal problems such as unemployment, housing shortages, and the lack of freedoms.
"Honestly, this part of it is an expression of the pain and hopes of the people and the things the government hasn't done," Ahmadi says.
Passed Over
One potential candidate -- wearing a suit and tie, which is seen by many as a sign of dissent following the 1979 revolution and the establishment of the Islamic Republic -- says freedom of speech, expression, and dress will be among his priorities.
One woman arrived to register her candidacy while holding a book wrote about discrimination against women in Iran.
However, such real-issue candidates and other independent figures are unlikely to get the same level of exposure on state television as their more bizarre counterparts.
Ahmadi suggests to RFE/RL that the Guardians Council tolerates the eccentrics in order to justify the disqualification of the independent candidates and the dissenters.
"Our television mischievously shows the [eccentric] candidates but doesn't show the dissenting figure who could get a portion of the votes," Ahmadi says. "When in the past the parliament has passed a bill setting conditions for presidential candidates, the Guardian Council has rejected it."
Iranian media refer to just four candidates as "serious" contenders.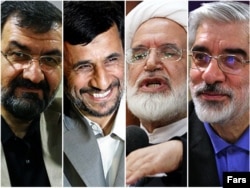 'Serious' contenders Rezai, Ahmadinejad, Karrubi, and Musavi (left to right)
They include incumbent President Mahmud Ahmadinejad and former Revolutionary Guards commander Mohsen Rezai, both of whom hail from the conservative camp of the Iranian establishment. The reformist camp is represented in this election by former Prime Minister Mir Hossein Musavi and former parliament speaker Mehdi Karrubi.
Well-known independent and secular candidates -- including former lawmaker Akbar Alami and university professor Ghasem Sholeh Sadi -- stand some chance of making the final list but have so far gone nearly unmentioned in the media.
A conservative female lawmaker, Rafat Bayat, is among some 40 women who have registered their candidacies. But history will be against her: While a Guardians Council spokesman said recently that there are no restrictions preventing women from running for presidency, women have not been allowed on any final lists since the Islamic Revolution.
Tehran-based journalist Abbas Safayifard tells Radio Farda that while independent candidates are at a disadvantage compared to the darlings of state media or political parties, they can still have an impact on the election.
"They can be a voice among the voices and help make the election process more democratic," Safayifard says.
In the last presidential election, in 2005, eight candidates were allowed to run out of the 1,000 who registered.
The Guardians Council has a record of disqualifying independent candidates and those who have been critical of the establishment.
Reformists have accused the powerful conservative body of being motivated by factional interests.