Iran's Election In Pictures
Iran's government has declared President Mahmud Ahmadinejad the decisive winner in the June 12 vote, described as one of the most important elections in the Islamic republic's history. The election reportedly drew a turnout of more than 85 percent.

After the announcement of Ahmadinejad's victory, thousands of supporters of opposition candidate Mir Hossein Musavi took to the streets, angrily protesting what they said was massive election fraud.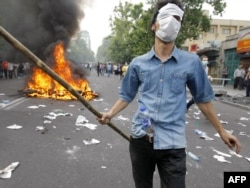 Photo Gallery: Iran's Election