The former empress of Iran, Farah Pahlavi, is the subject of a newly released documentary from an unlikely source -- Iranian-born filmmaker Nahid Persson, a former communist who took part in the 1979 revolution.
"The Queen And I" follows the former empress and her onetime opponent as they share ideas and concerns about the country they were both forced to leave. Farah Pahlavi speaks to RFE/RL correspondent Golnaz Esfandiari about her decision to participate in the documentary, screened at the Sundance Film Festival in January.
RFE/RL: Why did you agree to take part in "The Queen And I" -- the documentary by Nahid Persson, in which you are the subject?

Farah Pahlavi:
I always have a positive view and affection toward my countrymen, especially those young artists who have been successful inside and outside Iran.
So, when Nahid Persson asked to do this -- since I had seen two of her documentaries, including one about prostitution in Iran, which was very painful but she had done it with courage, and also another one about a man in Iran who has four wives and wants to marry a fifth -- because of that I accepted to work with her and participate in the documentary.
RFE/RL: Were there any moments when you regretted your decision?

Pahlavi:
Yes, this comes also in the movie. After some time [working together], I received several e-mails informing me that she was a communist in her youth, she was a member of a communist group that I hadn't heard of. Naturally I started having doubts, and I thought to myself, "All these 30 years, with all the problems, all the attacks against me by the Islamic republic or negative articles by opponents, all these years I did my best to tell, in hundreds of interviews with TV networks, press and other media, what I see as the truth and realities of the monarchy and also the realities of today's Iran."
I had doubts because the person who makes a documentary is in charge of the camera, filming, and also editing, so I was a bit concerned. I thought to myself, "This lady was young and was unfortunately from a [low-income family] and at that age and that time, they would think that communist ideas would bring justice and equality." And all the slogans at that time were about freedom. But I have traveled to [former] communist countries and there was no sign of social justice or freedom.
RFE/RL: What would you describe as the biggest highlight? The most interesting part of the documentary?

Pahlavi:
For me, the interesting thing about this documentary is that two people in different positions and with different political ideas can talk to each other. In the documentary we don't have an official meeting, we talk to each other, we tell each other our problems.
I think in that sense it is interesting, but I leave it to the audience. Everyone might see a different thing in the documentary.
RFE/RL: How was your first meeting with Persson? Did you feel you were meeting someone from another world?

Pahlavi:
Even in the past, during the monarchy, some of our ministers had a communist or leftist past, so it wasn't the first time for me. At first when we met, we didn't know each other. Aside from the differing political views, it takes time to get used to a new character and personal behavior. When we slowly got to know each other, it was easier to talk.
It's been 30 years that I haven't had the status I once had, yet I still have a special feeling for my countrymen.
RFE/RL: Have you seen the final version of the documentary? What did you think about it?

Pahlavi:
I've seen the final version. Certain things are said there; there are certain issues that I don't agree with. To a certain degree she was free to do this, but I wished she had given me the same opportunity as she had given to herself to express her views when she was by herself, so that I could have also expressed my views. And I think it would have made the documentary more interesting and it would have been more fair.
RFE/RL: Could you give us an example?

Pahlavi:
Well, for example, the notion that were no political freedoms in the past. I've said it myself in many places that the conditions of the country were such that, at the time, it was not possible to guarantee those freedoms and the late Shah [Mohammad Reza Pahlavi] always used to say that after him, his son, the prince, would rule differently.
And there were scenes that didn't make me happy, but one cannot be content about everything. I have given many interviews during these years, but I never knew what the results would be. I always express my views -- but a journalist, a filmmaker, also adds his or her view.
RFE/RL: What is the message of the documentary in your view?

Pahlavi:
For me, the most important thing is that we're two people who have or had different political philosophies or views -- maybe we became closer. We have to think about Iran's tomorrow, we have to think about Iran's today, and we have to put the issues we had in the past behind us. I think this is the documentary's most important message.
I am sure that what may be an issue for some of us is not an issue anymore inside Iran. For the women of Iran, for Iran's young people, for Iranians from different classes and groups -- they want to have a better life, they want to be able to make a living, have jobs and a comfortable life, they want to be able to live freely, have better health care. You know, these are more important for Iranians inside the country than ideas and differences that we had 50 years ago.
RFE/RL: The 30th anniversary of the Iranian Revolution is being celebrated these days. What are your thoughts on this?

Pahlavi:
Sometimes I can't believe that 30 years have passed, because I still live everyday with the thought of Iran and Iranians on my mind. I naturally think, like [many] Iranians, that if this horrible revolution hadn't happened, our country with its immense national wealth, natural resources, and its human richness, what a place it could have had in that region. It's really regrettable after what happened to the security of Iran, and the region is threatened, and its threat has reached the world.
I am really hopeful and I will not give up hope for the freedom of Iran, for the improvement of Iran's situation. I hope that Iran will regain the respected place it had in the international community -- and I greet all the women and young people; workers and intellectuals and villagers; and all Iranians who, despite all the problems and pressure, are still fighting to have a better life and for the future of their country. I always believe that light will win over darkness.
Iran's Revolution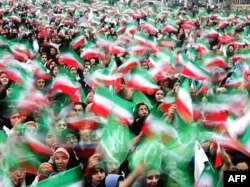 Iran's Revolution
As Iran celebrates the 30th anniversary of its Islamic Revolution, RFE/RL looks at the legacy of the revolution and its effect on Iran and the world. More
Images Of The Iranian Revolution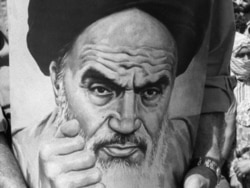 Images Of Revolution
An audio slide show of Reza Deghati's iconic photos of the Iranian Revolution and the hostage crisis that followed. Play