With just days remaining before the presidential election on June 12, the issues of Iran's myriad ethnic groups are being addressed as never before.
Seeing that ethnic minorities combine to make up about 50 percent of Iran's population, the candidates are courting Azeris, Kurds, Arabs, and Turkmen, among others, to secure their backing.
Three of the four presidential candidates themselves have minority backgrounds: reformist candidate Mir Hossein Musavi is Azeri; and fellow reformist Mehdi Karrubi and conservative candidate Mohsen Rezai are Lurs, a small minority in the southwest.
For his part, incumbent Mahmud Ahmadinejad has touted his skills in the language spoken by Iran's largest minority group.
Of the presidential hopefuls, Musavi and Karrubi have been the most outspoken when it comes to the situation of ethnic minorities. They have both promised to give greater rights to non-Persians, such as the right to be educated in their native tongue, and to expand media in their languages.
Ahmadinejad 'Fluent In Azeri
'
Speaking on June 7 in the northwestern town of Tabriz, located in Iran's East Azerbaijan Province, President Ahmadinejad claimed he fluently speaks what he called "one the best and most complete languages -- Azeri."
Making up 24 percent of Iran's population, Azeris are considered to be the most prominent ethnic minority group in the country. Azeris occupy many high-ranking posts and can count Supreme Leader Ayatollah Ali Khamenei among their numbers.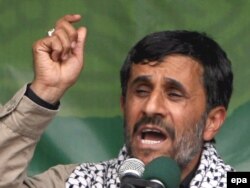 President Mahmud Ahmadinejad -- fluent in Azeri?
It is not very common for other non-Persians, such as Kurds, Turkmen, or Arabs to hold high posts in the Islamic republic.
But according to Masud Safiri, an independent Iranian expert, Iran's ethnic minorities as a whole are increasingly making their presence known in the country's political scene.
"Ethnic groups in Iran are eventually turning into a power to reckon with," Safiri says.
"The reason is that the suppression and restriction of ethnic groups and their activities has increased in past years. There is a widespread belief among some ethnic minorities that a group of Persians are holding all the political power in their own hands and to do not share the power with other ethnic groups."

Treated With Suspicion
The Islamic republic's constitution clearly stipulates that all Iranians, regardless of their ethnic background, are equal. And according to Iranian law, minority ethnic groups have the right to be educated in their native language.
But the reality for many minorities is different, and results in suspicion of the government, rooted in the belief that it restricts their media and political activities.
Azeri, Kurdish, and other activists have been arrested and convicted of jeopardizing national security or promoting separatist ideas, for example.
And despite laws protecting language rights, formal education is for the most part only available in Persian. Only very recently has the government ordered schools to give non-Persians a choice to receive education in their native language.
"Since lessons in all schools are conducted in Persian, minority groups want their mother tongues to be included in teaching programs," says Azadeh Kian, a Paris-based Iranian expert.
"They also have other demands, such as cultural demands, development issues, they want to be treated as equals, and they don't want Persians to be dominant in the country."
While describing these demands as "rightful," Kian notes that Ahmadinejad's government has deemed them to be "a security issue and suppresses them. Such treatment of ethnic movements leads to the radicalization of some of these movements."
Ahmadinejad's rivals appear to be conscious of the government's perception of ethnic minorities as a potential security threat.
Musavi, for example, has criticized the government for what he called the "securitization of minorities." But at the same time, both he and Karrubi have made clear during the campaign period that they strongly back Iran's territorial integrity and do not support any separatist or pro-independence ideas.
Iran Election Diary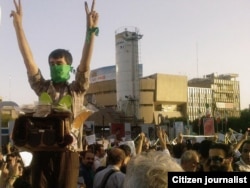 Disputed Presidential Vote
There have been protests and clashes with police on the streets of Tehran following the disputed reelection of Mahmud Ahmadinejad. RFE/RL collects videos, photos, and messages on social-networking sites coming out of Iran to attempt to get a picture of what is happening inside the country.
Click here