TEHRAN (Reuters) -- Iran's influential former President Ali Akbar Hashemi Rafsanjani will not lead Friday prayers this week to avoid possible unrest over the country's disputed presidential vote, newspapers have reported.
Challenging the authority of Iran's most powerful figure, Supreme Leader Ayatollah Ali Khamenei, Rafsanjani declared the Islamic republic in crisis during his last Friday prayer sermon in July and demanded an end to arrests of moderates.
After Rafsanjani's sermon on July 17, clashes erupted between police and followers of opposition leader Mir Hossein Musavi, who says the June vote was rigged to secure the reelection of hard-line President Mahmud Ahmadinejad.
"To avoid any possible clashes at Friday prayers, he will not lead the prayers this week," the office of Rafsanjani, also the head of the Assembly of Experts, said in a statement, the "Etemad" daily reported.
The June 12 presidential vote plunged Iran into its biggest internal crisis since the 1979 Islamic revolution and exposed deepening divisions in its ruling elite.
Rights groups say hundreds of people, including senior pro-reform politicians, journalists, activists, and lawyers, have been detained by the authorities since the election.
Iranian official media have said at least 26 people died in violence after the poll.
Rafsanjani, an architect of the Islamic revolution, has warned the postelection power struggle would harm the establishment.
Reformist former President Mohammad Khatami, defeated candidates Mehdi Karrubi and Musavi have denounced Ahmadinejad's new government as "illegitimate." Ahmadinejad was officially sworn in on August 5.
In an attempt to uproot the opposition and to end street protests, Iran held two mass trials of moderates, including several prominent figures, charged with offenses that included acting against national security by fomenting unrest.
An Iranian Revolutionary Court on August 8 charged a French woman, two Iranians working for the British and French embassies in Tehran, and dozens of others with spying and aiding a Western plot to overthrow the clerical rule.
Espionage and acting against national security are punishable by death under Iran's Islamic law.
Rafsanjani is one of the four rotating Friday prayer leaders in Tehran.
Iran Election Special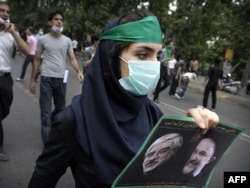 RFE/RL's Full Coverage
Following the disputed reelection of Iranian President Mahmud Ahmadinejad, supporters of Mir Hossein Musavi have taken to the streets to protest.
Click here
for news, blogs, and analysis of the presidential election and aftermath.