The leader of Iraq's Kurds has invited the heads of rival political groupings to a summit aimed at reaching a deal to give the rudderless country a power-sharing government after a seven-month impasse.
The move by Masud Barzani, president of Iraqi Kurdistan, is intended to create an administration representing the country's main religious and ethnic groups, according to his chief of staff, Fuad Hussein.
"He is going to try to bring the leaders of the four lists together in a roundtable meeting, we hope, in the near future, so that they can discuss this matter seriously," Hussein says. "Otherwise the Iraqi society will be very much divided and it is very dangerous to marginalize the Sunni or, the Shi'a, or the Kurds. [The] Iraqi government, we think, must be based on an agreement of consensus."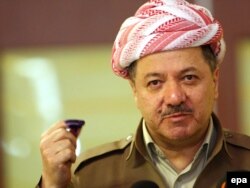 Masud Barzani, president of Iraqi Kurdistan
The initiative comes as a Kurdish delegation prepares to report back on the outcome of one-on-one discussions with the various blocs in Baghdad.
It reflects the Kurds' pivotal role as kingmakers, a status that could affect the outcome of an Iran-brokered deal among Shi'ite factions intended to pave the way for a new Tehran-backed government under Nuri al-Maliki, the current prime minister.
Maliki Receptive
Maliki was endorsed by Tehran for a second term this week when he traveled to Qom, home of the Iranian religious establishment. He is believed to have met there with the self-exiled radical Shi'ite cleric Muqtada al-Sadr and Iranian Supreme Leader Ayatollah Ali Khamenei and won their approval to form a new government.
But that agreement, involving an alliance between Maliki and Sadr, is widely thought to be untenable without the support of the Kurdish bloc, which won 57 seats in March's inconclusive parliamentary elections.
Now Maliki, whose pro-Shi'ite State of Law coalition finished second in the elections behind Iyad Allawi's Sunni-based Al-Iraqiyah grouping, is trying to woo the Kurds by agreeing to most of the conditions spelled out in a paper setting out their terms for a new government.
Kurdish officials say he has appeared receptive to a list of demands that includes a broad-based government and the implementation of constitutional measures that the Kurds hope would give them control of the disputed oil-rich area around the city of Kirkuk.
However, Joost Hiltermann, deputy Middle East and North Africa program director at the International Crisis Group, says the Kurds would be unlikely to agree to a Maliki government that excluded Allawi's faction. And, he adds, no government can be formed at this stage without Kurdish support.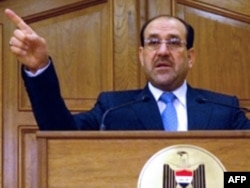 Iraqi Prime Minister Nuri al-Maliki (file photo)
"This makes the Kurds kingmakers and that's a role they very much like to play because that affords them an opportunity to press for their key demands," Hiltermann says. "No government can be formed without that, and so some accommodation has to be found to bring in the Kurds. But the Kurds have both demands on issues that they deeply care about -- such as Kirkuk -- and also about their own long-term security. And for that they need to be in government and they need their friends to be in government, and they cannot afford to go in bed with Mr. Maliki alone because that will not give them any long-term security."
U.S. Just A Bystander?
The formation of a pro-Iranian government would be a blow to the United States, which -- having previously urged an end to Iraq's political stalemate -- has reportedly changed tack by appealing to the Kurds to avoid rushing into any political deals that might favor Tehran.
On a visit to Anbar province on October 16, U.S. Ambassador to Iraq James Jeffrey called for the formation of the "right" government without "outside interference," an apparent reference to Iran. He also said any new arrangement must include Allawi, who has accused Tehran of trying to impose its will in Iraq.
"We want to see an inclusive, representative, accountable government set up as quickly as possible. 'Inclusive' means representing all the main political groupings in Iraq including the Iraqiyah grouping that did so well in this province," Jeffrey said.
He added that while "everybody wants to see a government as soon as possible,... it is important we see the right government carried out in a process that will not see interference from outside and that will represent the will of the Iraqi people."
"We, as non-Iraqis, of course, have no right to -- nor do we -- support any particular individual for any position," Jeffrey said. "But we urge all Iraqis and all your neighbors to respect this independent and democratic process."
But Mahmud Othman, a prominent Kurdish parliament member, is dismissive of such appeals and says U.S. influence has waned dramatically in favor of Iran since the
withdrawal of U.S. combat troops
from Iraq in August.
"I don't care what they [the Americans] say. I don't depend on the role of the Americans. The Americans are giving in to Iran inside Iraq. They have no role. They are not important," Othman says.
The U.S. role in Iraq, he adds, is "decreasing by the day."
"Iran has the upper hand and Iran is winning. I think the Obama administration, they want to get out of Iraq. They want to have less and less obligation to Iraq and they don't care what happens in Iraq. They always say Iraqis should form their government, they don't interfere. So nobody cares much [about] their role."
'Iraqi Agenda'
However, Hussein, Barzani's chief of staff, insists the Kurdish leader's roundtable proposal has U.S. backing and the Kurds are in contact "on a daily basis with the Americans."
"In fact, this evening we will receive the ambassador here. Yesterday, Vice President [Joe] Biden phoned President Barzani," Hussein says to underscore the point. "So we are in contact with the Americans, Americans who are in Baghdad but also the administration in Washington, D.C., and I think they are supporting the idea of President Barzani to invite the leaders of the four lists for discussion in Kurdistan."
Hussein says the Kurds are determined to use their key role to ensure that Al-Iraqiyah -- widely seen as allies of the Kurdish bloc -- is included. "We will stay part of the solution," he says. "We are not going to be part of a conflict between the Shi'a and the Sunni. We don't want that, and, in fact, we will try to bring them together."
Meanwhile, Al-Iraqiyah, says it too is reaching out to Maliki and Sadr. The bloc's spokesman, Maysoon al-Damaloogi, denies it is following a U.S. game plan.
"We are working according to the Iraqi agenda, not the American one," Damaloogi says. "Our goal is not to satisfy the Americans. Our goal is to build Iraq. In any case, we are going to meet with all the other parties, including the State of Law and the Sadrists. Our goal is not to exclude any party or bloc but to form a government with the participation of all in the process of decision making."
In the end, an all-inclusive coalition with ties to the United States may suit Maliki by providing a counterweight to Iranian dominance, believes Paul Rogers of the Institute of Peace Studies at Bradford University in England.
"Mr. Maliki does not want to see the country completely overshadowed by Iran, and from his perspective, even though he may be beholden to the Iranians to ensure a reasonably secure government, he will also want to try and retain some American involvement," Rogers says. "It would be a setback for the United States, but the nature of the public politics in Iraq is that it's not at all clear that the United Sates would be completely excluded. In fact, I would really strongly doubt that."
Rogers predicts that "the Iranians will continue to play it very strong in terms of trying to maintain their influence." But he adds: "Maliki is a very streetwise politician. He will want to have more than one source of potential power and for that reason alone, I think he will continue to want to deal with the United States."
RFE/RL's Radio Free Iraq contributed to this report