Just two years since his inauguration as Chechen Republic head, the chances that Ramzan Kadyrov will still occupy that post one year from now appear to be dwindling fast. Informed observers believe the Russian leadership has finally realized that Kadyrov constitutes both an embarrassment and a potential threat.
Russian President Dmitry Medvedev has pointedly restricted his contacts with Kadyrov to the bare minimum, while during a meeting in late March, Kadyrov's erstwhile patron, Vladimir Putin, subjected him to tough questions about the use of federal funds. Just days later, a source in the Russian presidential administration rejected as premature Kadyrov's March 24 claim that on March 31 the Kremlin would formally announce the end of the "counterterrorism operation" in Chechnya.
Since his inauguration as Putin's successor in last May, Medvedev has met one-on-one just once with Kadyrov, in late July. On that occasion, their discussion reportedly focused on postconflict reconstruction, unresolved social problems, and preparations for the October elections to a new Chechen parliament. Kadyrov assured Medvedev that equal conditions would be created for all political parties participating in that ballot.
In the event, however, only the pro-Kremlin Unified Russia and A Just Russia won parliamentary representation in a ballot in which many objective observers concluded the turnout figure had been wildly overstated. When Medvedev traveled to Ingushetia one month later for two hours of talks with newly appointed President Yunus-Bek Yevkurov, he did not combine that trip with a visit to Grozny to assess firsthand the reconstruction of which Kadyrov habitually boasts, an omission that some observers have construed as a deliberate snub to Kadyrov.
Putin, for his part, met with Kadyrov in Moscow in August to discuss the economic situation in Chechnya, and then traveled to Grozny in mid-October to attend the formal inauguration of the grandiose Heart of Chechnya Mosque. The preference shown to Putin over Medvedev in the reporting of their respective activities by the official Chechen website chechnyatoday.com may reflect Kadyrov's desire to retain Putin's support.
Cracks In The Facade
Few would dispute the magnitude of what Kadyrov has achieved in terms of postconflict reconstruction both in Grozny and in other towns and villages. But much of the reconstruction work is of poor quality; and it has been financed by virtually unlimited subsidies from the federal center, augmented by supposedly "voluntary" monthly contributions from budget-sector employees.
And it is impossible to estimate what proportion of the funds allocated by Moscow for reconstruction, or for the various federal programs for education and housing, or as compensation for those whose homes were destroyed and relatives killed during the fighting of the past 14 years, was diverted for other purposes either there or by Chechen government officials. Nor has anyone dared to ask where Kadyrov finds the money to maintain a stable of thoroughbred racehorses and indulge his taste in luxury sports cars.
There have recently been signs, however, that Moscow is now looking more closely at how budget funds are spent. Chechnya's new prosecutor, Mikhail Savchin, said on March 23 that his office registered 10,000 violations of budget law in 2008 alone; one week later, on March 31, he estimated the number of violations of anticorruption legislation over the same time period at 1,500, regnum.ru reported.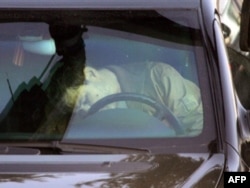 Ruslan Yamadayev was the first of the brothers to meet his end.
The second accomplishment of which Kadyrov regularly boasts is the alleged neutralization of the resistance as a political and military force. He has repeatedly claimed that only a handful of resistance fighters are still holding out in the mountains, a claim at odds with his regular threats to hold responsible the parents of young people -- both men and women -- who still flock to join the resistance ranks.
That the resistance is now more active in neighboring Ingushetia and Daghestan than in Chechnya is primarily due to the psychological exhaustion of the older generation of Chechens and the atmosphere of terror that surrounds Kadyrov and his thousands of armed guards.
In addition to sidelining the armed resistance, Kadyrov also claims credit for the return to Chechnya of several prominent ministers in, or supporters of, the Chechen Republic-Ichkeria leadership in exile. But at least some of those who have returned acknowledge off the record that they did so only in response to blackmail or threats. And the most prominent leader in exile, Akhmed Zakayev, remains in London despite repeated announcements by Kadyrov over the past year of his imminent return to Grozny.
Other former Kadyrov allies who broke with him and left Russia
have been killed
. The former commander of the Gorets (Mountaineer) battalion, Movladi Baysarov, and former State Duma Deputy Ruslan Yamadayev were shot dead in broad daylight in Moscow in November 2006 and September 2008, respectively, and resistance fighter Umar Israilov, who joined Kadyrov's bodyguard under pressure, was gunned down in Vienna in January 2009.
A further weakness that could be held against Kadyrov is his inventive rhetoric. In a recent interview with regnum.ru, for example, he affirmed that "Chechnya saved Russia" by taking upon itself the brunt of "Islamic terrorism," and that Chechnya not only serves as a moral beacon for the rest of the Russian Federation -- which is plagued by prostitution, drug abuse, and other social evils -- but that it serves as a catalyst for reviving and promoting patriotism.
Those commentators who still consider Kadyrov's position vis-a-vis the Kremlin unassailable point to the systematic removal of any political figure in Chechnya who could serve as a potential challenge, including Sulim Yamadayev, former commander of the Vostok battalion of the Russian Defense Ministry's 42nd Motorized Rifle Division.
But that argument misses two crucial and interrelated points. First, if the Kremlin decides that Kadyrov is a liability and should be physically removed, it could easily blackmail a member of his entourage to do so. And second, there are several potential leadership candidates currently based elsewhere in Russia who, in contrast to Kadyrov, are not tarnished by the use of arbitrary violence against the Chechen population, and who are far better qualified for the position of republic head in terms of their political savvy and management skills.
Medvedev has already set a precedent for bringing in new and untainted leaders from outside when he proposed Yevkurov as president of Ingushetia last October, and then when he brought in Dmitry Dmitrienko, former deputy head of the State Fisheries Agency, as governor of Murmansk Oblast two weeks ago.
Liz Fuller is co-editor of RFE/RL's commentary and analysis desk. The views expressed in this commentary are the author's own, and do not necessarily reflect those of RFE/RL