Could the recent political upheaval that brought down Kyrgyz President Kurmanbek Bakiev have a domino effect on other countries in Central Asia?
It's a question that is being asked in the region in the wake of Kyrgyzstan's bloody antigovernment demonstrations earlier this month.
The events have been portrayed as a wake-up call to other Central Asian leaders, lest their citizens follow the example set in neighboring Kyrgyzstan. And there are ample similarities between Kyrgyzstan and its fellow Central Asian states to give credence to the suggestion.
The five Central Asian countries all come under criticism in varying degrees over constraints on political freedoms, government pressure on independent media, and free speech. Nepotism and corruption, two key ingredients behind the Kyrgyz unrest, are common complaints across the region.
In Kyrgyzstan, the wave of discontent over Bakiev's appointment of his children, siblings, and other relatives to key official posts eventually swept his government away. In an ironic twist, it was virtually the same wave Bakiev himself rode to power five years before, when his predecessor, Askar Akaev, was ousted as a result of the Tulip Revolution.
Family Factor
Elsewhere in Central Asia -- with the exception of Turkmenistan, where tribal politics reign -- members of presidential families control major businesses, banks, and wield enormous influence in politics.
In Uzbekistan, Gulnara Karimova is often touted as a potential successor to her president father, Islam Karimov. The first daughter enjoys a life of fame as a European-based fashion designer, and riches due to her reputed control of the company Zeromax, which oversees a wide range of oil and gas businesses in Uzbekistan.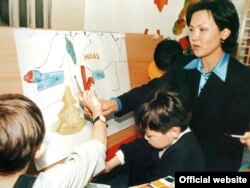 Kazakh leader Nursultan Nazarbaev's daughter Dinara -- next in line to the throne?
In Kazakhstan, President Nursultan Nazarbaev's second daughter, Dinara Kulibaeva, has immense influence over the resource-rich country's energy sphere along with her husband, Timur Kulibaev, one of the country's richest men.
In Tajikistan, Rustam Emomali, President Emomali Rahmon's eldest son, recently made his political debut by gaining a seat on Dushanbe city council, sparking speculation that he is being groomed for the presidency.
In the weeks leading up to the Kyrgyz uprising, citizens became increasing vocal in expressing their belief that the presidential family was expanding its influence and wealth as a result of corruption, while the rest of the country struggled with poverty.
Such sentiments can also be found among ordinary people throughout Central Asia, who often feel their respective governments leave them to deal with poverty, unemployment, and lack of opportunities on their own.
Lack Of Organized Opposition
Many analyses and commentaries published after the Kyrgyz unrest predicted it wouldn't be long before people would be demonstrating against their leaders in Uzbekistan, Tajikistan, and elsewhere in the region.
"The poverty, corruption, and harsh economic conditions that bred resentment in Kyrgyzstan are also present in abundance in neighboring states," read a passage from an article posted on eurasia.net on April 21. "None of [Central Asian leaders] can rule out turmoil at home."
But while a number of similar ingredients can be found in Kyrgyzstan and its neighbors, this doesn't mean they will bring about the same result.
While Kyrgyzstan exhibited signs of a nascent democracy for years -- for example, it is the only country in the region in which the opposition has a parliamentary faction -- the powers that be in the other Central Asian states have maintained a much tighter grip.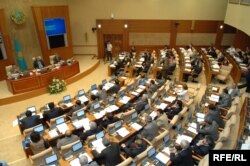 Kazakhstan's parliament has no members of the opposition.
The parliament in Uzbekistan, for example, is filled by ruling party members and their colleagues from other pro-government groups. Turkmenistan still practices a one-party system. In Kazakhstan, all parliamentary seats belong to the pro-presidential Nur Otan party.
Tajikistan's opposition Islamic Renaissance Party officially held onto its two parliamentary seats following a February election. But for years, even though one of its two legislators was terminally ill and bed-ridden, it wasn't allowed to replace him with another candidate.
Tajik political analyst Sabur Vahhob says that, compared to Kyrgyzstan, the other Central Asian states lack strong opposition figures. "There aren't experienced political [opposition] leaders, capable of gathering people around themselves," he says. "People need a leader whom they can trust, but we can't see such personalities yet."
Loyal Security Teams
In addition, while Bakiev's government in recent years took steps to clamp down on independent media and imprison opposition leaders, it remained the only country in the region where people enjoyed relative freedom to hold antigovernment protests. Bakiev himself, speaking from exile in Minsk last week, implied he didn't see anything wrong in demonstrations taking place.
Governments across Central Asia have been criticized for restricting political freedom and persecuting their political opponents.
Perhaps the harshest example in recent years came in Uzbekistan, when a rare public demonstration in the eastern town of Andijon in 2005 was brutally suppressed by government forces who fired into the crowd. The government claims 187 people, including police, were killed in the violence, but rights groups say several hundred protesters were killed. Hundreds fled the country following the crackdown, fearing imprisonment.
A key difference between Bakiev and other Central Asian leaders can be found in the people surrounding them. Most of regional leaders have taken firm control over key ministries -- security, defense, and interior -- by appointing close allies. Even at the level of middle management in the security and law enforcement agencies, only those most loyal to the presidential office can be found.
Bakiev, on the other hand, placed a sibling in charge of the elite presidential guard, but was at odds with his defense minister and onetime ally, Ismail Isakov, whom he eventually imprisoned.
Nervous Silence
The minimal coverage of Kyrgyz events by state-run media in Central Asia is indicative of the efforts taken in the region to prevent any carryover effect. Official media in all Central Asian countries have downplayed the scope and significance of the Kyrgyz events, while the Turkmen media has completely ignored them.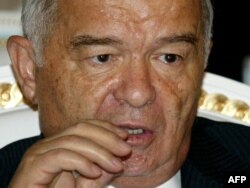 Uzbekistan's Islam Karimov -- keeping a nervous eye on Kyrgyzstan?
No Central Asian leader has officially recognized the interim government in Bishkek. But that does not mean the events have gone unnoticed by the governments of Central Asia.
When the unrest in Kyrgyz began to unfold, Kazakh President Nazarbaev was vocal in predicting that similar events would not take place in Kazakhstan. According to Nazarbaev, people in his oil-rich country are content with their living standards.
Speaking during the Eurasian Media Forum in Almaty on April 27, Nazarbaev described the situation in Kyrgyzstan as a mere "fight for power." He added: "It was not a revolution. It was complete banditry."

'Preventative Measures'
Others in the region appear to have taken steps designed to ensure a Kyrgyz-like political scenario does not unfold on their territory. Tajikistan appears to be taking the soft approach, while Uzbekistan is reportedly taking a hard line.
In an April 24 address to the nation, Tajik President Rahmon instructed all local government heads to have "open doors" every Saturday to meet with people and listen to their opinions, problems, and complaints.
The Uzbek response has been starkly different. According to RFE/RL's Uzbek Service, law enforcement officials along with neighborhood committees in the southeastern Ferghana Province are asking people to sign "loyalty letters," promising they will not agitate against the government. Such letters reportedly appeared shortly after the Kyrgyz unrest, and mainly target relatives of dissidents, political activists, and conservative religious people.
If history is any indication, the chances of any export of the revolutionary spirit seen in Kyrgyzstan depend largely on how successful the uprising is at bringing about real democratic change.
The Tulip Revolution five years ago initially brought hope of such change, and was widely welcomed by younger people in Central Asia. But those hopes faded as many expected reforms failed to materialize. This, Kyrgyz say today, merely demonstrated that the 2005 revolution wasn't about democracy, but simply replaced once corrupt strongman with another.
Likewise, if Kyrgyz hopes once again turn into disenchantment, their neighbors' criticisms of the "chronic revolutions" in Kyrgyzstan that lead to nothing will only be strengthened.