In a region where almost daily shootings and bombings have taken place for years, an attack in Ingushetia earlier this week caught the authorities by surprise.
A suicide bomber rammed a van packed with explosives through the gates of a police station in the city of Nazran, just as officers were showing up for work. The August 17 blast killed at least 21 people and wounded more than 130.

Since then, a roadside bomb in neighboring Daghestan killed a police officer and wounded three others. A second explosion in Daghestan injured four people on August 18.
The recent attacks are the latest in an unrelenting wave of violence gripping the volatile North Caucasus. They're fueling widespread speculation that Moscow is losing control of a region mired in poverty, corruption, and a culture of clan warfare. But some believe that, far from a sign of defeat, the violence is actually a result of the Kremlin's effective fight against a handful of remaining Islamist rebels, forcing them to commit desperate acts.
'Radically' Alter The Situation


It was the suicide blast in Ingushetia that prompted many to believe that long-simmering tensions are bubbling over.
Kaloi Akhilgov, spokesman for Ingushetia's President Yunus-Bek Yevkurov, told RFE/RL's Russian Service it was the biggest attack in the region since 2004.
"This terrorist act really stands out from the rest taking place in the region," he said, "even though Ingushetia is considered a 'difficult' region."
On August 19, Russian President Dmitry Medvedev said the latest violence shows new measures must be taken to "radically" alter the situation in the North Caucasus.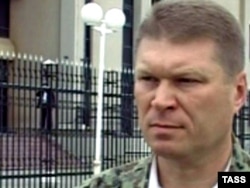 Viktor Zhirnov, Ingushetia's acting interior minister
"The battle against terrorists must be pursued unceremoniously," he said in language reminiscent of his hard-line predecessor, Vladimir Putin. "They must be liquidated without emotion or hesitation, or else we will not succeed."
The authorities admitted police had been tipped off about preparations for an attack by a van. The revelation prompted Medvedev to lash out against sloppy police work.
"This terrorist attack could have been prevented," he said. "You know that the car that was used in the attack had been reported stolen. In general, this situation is unacceptable. The police should protect the people and the police should be able to protect themselves."
Medvedev fired Ingushetia's interior minister and reinforced police forces in Ingushetia. But experts say instead of helping, the Kremlin's crackdowns are helping fuel popular resentment.
Moscow has sent thousands of troops into Ingushetia over the past several years. Critics say arbitrary arrests, beatings, and murders of local men accused of extremism by military and police forces are antagonizing the local population.
Undermining Hope
At the same time, critics say Moscow's neglect of grinding poverty and rampant corruption among the authorities is undermining hope of stabilizing the region. Djabrail Gabachiyev of the Georgian-Ossetian Civil Forum told RFE/RL's Russian Service he blames the recent violence on misrule by Moscow.
"Russia's policies toward the Caucasus are unclear and unloved," he said. "People in the Caucasus desire only two main things: fairness, and for their honor not to be insulted."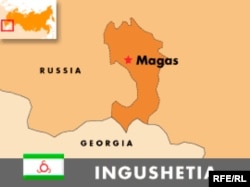 In Moscow, politicians have blamed the unrest in the Caucasus on the West. Ingush President Yevkurov accused the United States, Britain, and Israel of fomenting violence in a bid to destabilize the country. Speaking on Russian radio, he said, "The West will try to prevent Russia from restoring its Soviet-era might."
Yevkurov was appointed in October promising to calm simmering tensions by changing tack from his deeply unpopular predecessor. He said he would crack down on corruption and adopt a more conciliatory tone toward opposition and militant leaders. But his tactics were seriously undermined when he was critically injured in a suicide bomb attack in June.
Instead, the Kremlin has sanctioned forces under the leader of neighboring Chechnya, Ramzan Kadyrov, to conduct counterinsurgency operations in Ingushetia. The 32-year-old strongman has waged a brutal campaign against the several hundred rebels who remain in his own republic, which, compared to Ingushetia, is now relatively calm.
Orchestrated By Umarov
RFE/RL journalist and Caucasus expert Andrei Babitsky says desperation is driving militants toward extremism.
"The worse life becomes for those living underground, the shorter the time they feel they'll survive," he says, "the more they feel chosen [to conduct jihad], and more justified attacking all those they consider unbelievers."
Babitsky believes the recent attacks across the North Caucasus are being orchestrated by Chechen separatist leader Doku Umarov. Earlier this year, Umarov announced the revival of Riyadus Salikhin, an extremist militant group once led by Shamil Basayev, the Chechen warlord killed in 2006.
Babitsky says the violence shows Kadyrov is conducting an effective campaign against rebels who realize they can't possibly prevail.
"Either Kadyrov's ruthless methods will break the rebel group," he says, "or it will eventually die by itself."
If Kadyrov fails in the near term, Babitsky says, the wave of violence will continue for the foreseeable future.