ISTANBUL -- In 1993, Turkey closed its border and broke off diplomatic relations with Yerevan to protest Armenia's war with Azerbaijan.
Ever since, Turkey has kept the border closed to give teeth to Baku's demands that Armenia withdraw its troops from Azerbaijan's Nagorno-Karabakh enclave and other areas it took in the fighting.
The Turkish bite has been sharp. Blocking the border has cut Armenia off from its shortest trade route to Europe and driven up the cost of both its imports and exports.
But now, Ankara appears to be considering releasing Armenia from its grip.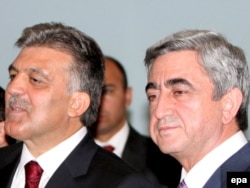 Armenian President Serzh Sarkisian (right) and his Turkish counterpart Abdullah Gul engaged in some "football diplomacy" in Yerevan in September 2008.
In September, Turkish President Abdullah Gul engaged in some "football diplomacy" by attending a World Cup qualifier match in Yerevan. And there also have been some low-profile meetings between the two countries' foreign ministers.
Now, as U.S. President Barack Obama's visits Ankara, signs of an impending deal are growing stronger still. Turkish Prime Minister Recep Tayyip Erdogan said before meeting with Obama in Ankara on April 6 that they would discuss Armenia as well as other Caucasus questions such as Russia and Georgia.
Positive Mood
Here in Turkey, the public mood around a possible reconciliation with Armenia is generally positive. Journalists say the subject is not a front-page topic -- that space has been taken in recent weeks by Turkey's own municipal elections and now Obama's state visit -- but there has been enough speculation that the public is anticipating that a deal will be reached.
And that has made at least one Turkish ally unhappy.
"There has been a little bit of an exaggerated euphoria in the Turkish press about a possible reconciliation and that has a bit overshadowed the concerns of the Azeri government," says Barcin Yinanc, managing editor of "The Hurriyet Daily News." "Now we know that the Azeri government is upset about that, but honestly in the Turkish press and political circles there hasn't been enough discussion about what will be the cost of normalizing relations with Armenia as far as relations with Azerbaijan are concerned."
Yinanc calls this surprising because both Ankara and the Turkish public usually care a lot about what Azerbaijan thinks. She says there is a Turkish slogan that traditionally sums up relations between the two states: "One nation, two countries."
But now Ankara appears to be moving ahead faster than Baku wants.
Hard Bargaining
"The Hurriyet Daily News" on April 6 reported that Azerbaijan's President Ilham Aliyev is so worried about the possibility Turkey might open its border without a solution to the Nagorno-Karabakh problem that he has balked at attending the Alliance of Civilizations forum in Istanbul on April 7.
An open border would return the Turkish and Armenian people to a peaceful and prosperous coexistence that would serve both of your nations.
The paper says that is despite Gul calling Aliyev on April 3, asking him to come to the summit. And diplomatic sources told the paper privately that it is also despite a call from U.S. Secretary of State Hillary Clinton, who promised a meeting with Obama on the summit's sidelines.
There is no public confirmation of the reports from any of the governments involved. But if correct they suggest that some hard bargaining still lies ahead before any accord can be reached.
Baku holds plenty of cards in the bidding. The EU and the United States want Azerbaijan -- and ultimately Central Asian states as well -- to provide oil for the planned Nabucco pipeline. The pipeline is intended to help free Europe of its current overdependence on energy from Russia.
And Turkey wants the same thing because the pipeline will pass through it, making the country a still more important and profitable corridor for energy moving West. That is in addition to the current Baku-Ceyhan gas pipeline and oil pipelines from Iraq.
In an address to the Turkish parliament on April 6, Obama said the United States "strongly supports the full normalization" of ties between Turkey and Armenia, including the opening of their border.
"An open border would return the Turkish and Armenian people to a peaceful and prosperous coexistence that would serve both of your nations," he said.
'Zero Problems'
A major question now is whether Ankara would actually risk worsening relations with one neighbor -- Azerbaijan -- to improve relations with another -- Armenia.
Ismail Kapan, a columnist with the daily newspaper "Turkiye," doesn't believe so.
"We cannot say now that the border is about to open between the two countries," Kapan says. "Without solving the problem, it is impossible -- I mean, the relations between Azerbaijan and Armenia. Still, Turkey wants a policy of zero problems with its neighbors, so there is a good beginning."
Why, then, is Ankara moving ahead so resolutely?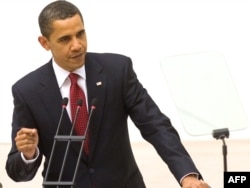 Obama addresses the Turkish parliament.
The motives are multiple but appear to all be converging around the present moment.
Erdogan's government has made "zero problems" with neighboring states its foreign policy priority, deepening a trend that began before it took office. Over the past 10 years, Turkey has improved its relations with Syria and the Middle East and now is focused on doing the same with the new Iraqi government and in the Caucasus. The drive has been dubbed by some in Turkey as "neo-Ottomanism" because it means becoming a peace-broker in many areas that once belonged to that empire.
Analysts say the drive aims at making Turkey a major regional diplomatic power in line with its regional economic influence. At times, the policy has even gone as far afield as brokering talks between Israel and Syria and between Afghanistan and Pakistan.
Unique Motives
At the same time, the Russian-Georgian war in August has alarmed NATO and underlined the instability in the Caucasus. Turkey, a NATO member, suddenly finds its regional peacemaking coinciding with Western strategic goals of keeping the region from being pulled sharply back into Moscow's orbit.
And then there are motives unique to Turkey's relationship with Armenia itself and, perhaps more importantly, with the Armenian diaspora.
Yinanc says that Ankara is concerned by the Armenian diaspora's success in lobbying Western countries to condemn as genocide the mass killings of Armenians in the Ottoman Empire during the World War I era. Particularly worrying is a campaign pledge by Obama to support a U.S. Congressional resolution to do so.
In a January 2008 statement on his campaign site, Obama noted: "The Armenian genocide is not an allegation, a personal opinion, or a point of view, but rather a widely documented fact supported by an overwhelming body of historical evidence." Obama added: "America deserves a leader who speaks truthfully about the Armenian genocide and responds forcefully to all genocides. I intend to be that president."
Speaking at a news conference
in Ankara on April 6 with Turkish President Abdullah Gul, Obama put it this way:
"My views are on the record, and I have not changed views," he said. "What I have been very encouraged by is news that under President Gul's leadership, we are seeing a series of negotiations and a process in place between Armenia and Turkey to resolve a whole host of long-standing issues, including this one."
'Sword Of Damocles'
Barcin Yinanc says the Turkish government is becoming particularly nervous as the year 2015 approaches. That's when the Armenian diaspora will mark the centenary of the killings.
"The Turkish government has been concerned that as this date approaches the Armenian diaspora will increase its effort to make its claims recognized by different governments," Yinanc says. "And for years now the Turkish side has been frustrated to have this issue as a sword of Damocles. So, this is one of the motivations behind a wish to reconcile with Armenia, because reconciliation with Yerevan will no doubt have its effect on the Armenian diaspora's lobbying activities all over the world."
Even sooner than that comes April 24, the annual Armenian Remembrance Day, which the White House traditionally marks with a statement.
Turkey does not want this year's April 24 to be the moment when Obama fulfills his campaign pledge.
And so the race is on in earnest now to try to resolve the Turkish-Armenian question soon -- or at to least make enough progress on the issue so that Obama holds his fire on that date.
The alternative -- Obama fulfilling his pledge -- is what both Turkey and the United States want least. That is, a major crisis in Ankara-Washington relations at the time when Turkey's policy of regional diplomacy seems particularly needed to help stabilize the Caucasus.
Barred From The Border
Barred From The Border
The closed border with Turkey makes life difficult for residents of the Armenian village of Margara. But as speculation grows about the border reopening, the villagers have high hopes for new opportunities. Play