As the world watches the ongoing conflict between Moscow and Tbilisi, many eyes have turned to Ukraine -- a country which, like Georgia, has struggled to break free of Russia's post-Soviet embrace.
Throughout the weeklong conflict, Ukraine -- to the Kremlin's evident displeasure -- has offered strong vocal support for Georgia in its conflict with Russia over its breakaway regions of South Ossetia and Abkhazia.
On August 10, the Ukrainian Foreign Ministry warned Moscow that Kyiv might prevent Russian Black Sea Fleet vessels from returning to their base in the Crimean port of Sevastopol if they became involved in combat operations against Georgia.
The Russian Foreign Ministry criticized the warning as a "hostile" action toward Russia. But that didn't prevent Ukrainian President Viktor Yushchenko -- fresh from a show of solidarity with the Georgian leadership in Tbilisi -- from issuing an August 13 regulation requiring Russian naval ships and aircraft from the Black Sea Fleet to request permission 72 hours ahead of any movement. The Russian side shot back that the measure was a "new serious anti-Russian step."
No Mention Of Russia
So is Kyiv actually ready to stand by its tough position in Moscow?
While speaking at a rally of support for Georgia and Georgian President Mikhail Saakashvili in Tbilisi on August 12, Yushchenko was more cautious in choosing his words than, for example, his Polish counterpart Lech Kaczynski, who openly called for counteracting Russia's renewed imperial ambitions.
Yushchenko, by contrast, avoided any mention of Russia in his speech.
"We have came here today to tell you that Georgia is our friend. Georgians are our friends," he said. "Today, during the most difficult times for Georgia, we want to say that you have the right to be free and independent."
After Yushchenko came to power in 2004, he and Saakashvili -- both brought to power by colored revolutions -- have developed very close ties based on their common desire to join NATO and find alternative sources of oil and gas through the GUAM (Georgia, Ukraine, Azerbaijan, Moldova) regional alliance in order to lessen both countries' dependence on Russia.
But neither of these two strategic goals has been achieved so far. NATO has not offered a Membership Action Plan to either Kyiv or Tbilisi, while the GUAM grouping, which initially also included Armenia, seems to be standing idle, if not falling apart.
Therefore, it may be unrealistic to expect that Kyiv's resolutely formulated warnings against Russia will be followed by equally resolute deeds.

'This Will Mean War'
Former Ukrainian President Leonid Kravchuk told RFE/RL's Ukrainian Service that he does not believe Ukraine could prevent Russian ships from returning to Sevastopol even if their use in aggressive actions against Georgia was proved beyond any doubt.
In Kravchuk's opinion, Kyiv should have limited itself to a "strongly worded" statement without including any specific threat to the Russian Navy.
"How to block the [Russian] ships from coming in? I don't know of any such mechanisms," Kravchuk says. "If we continue to stick to the point of view of 'not letting them in,' this will mean a war between Ukraine and Russia."
Former Ukrainian Defense Minister Anatoliy Hrytsenko, who is currently the head of the parliamentary commission for national security and defense, told RFE/RL's Ukrainian Service that there are possible ways for Ukraine to prevent Russian ships from returning to their base in Sevastopol.
But, like Kravchuk, Hrytsenko said he does not believe that Yushchenko would actually risk ordering a blockade of the Russian naval base in Sevastopol.
According to Hrytsenko, the Russian-Georgian conflict over South Ossetia and Abkhazia should spur Ukraine to conduct its relations with Russia -- including policy issues like the scheduled deployment of the Black Sea Fleet in Crimea until 2017 -- on a purely pragmatic basis.
Hrytsenko argues that in accordance with the 1997 agreement on the Russian Black Sea Fleet, Ukraine has the right to demand a market price for the lease of the naval base in Sevastopol to Russia as of 2008.
Hrytsenko says that in order to make Moscow pay the market price for the lease, which is estimated at $1 billion annually, the Ukrainian government would have to repay its current debt to Russia.
Unpalatable Option?
"Ukraine needs to make just one step for this purpose -- to pay off its debt to Russia. It currently stands at just $1.3 billion," Hrytsenko says. "I have proposed and will insist that the government introduce changes to the budget in September. [Prime Minister] Yuliya Volodymyrovna [Tymoshenko] says there is more than $20 billion [in the budget]. [It is necessary] to repay this debt to Russia immediately and make Russia -- in negotiations, according to the signed agreements -- pay us $1 billion every year."
But this option may also prove unpalatable to the Ukrainian government because Moscow, if persuaded to pay $1 billion annually for the naval base in Crimea, will most likely retaliate with increasing its gas price for Ukraine, which currently stands at a relatively low $180 per 1,000 cubic meters.
However, there is an even more dangerous risk in store for Kyiv if it continues to irritate Moscow with "hostile" statements, let alone actions.
The Russian-Ukrainian Treaty on Friendship, Cooperation, and Partnership -- which both sides signed in 1997 and ratified in 1998 -- expires in December 2008. The document, apart from establishing mutual relations on good-neighborly terms, recognizes the current borders of Ukraine, effectively legalizing the handover of Crimea by Russian leader Nikita Khrushchev to Ukraine in 1954.
If the treaty is not renewed, Russian politicians could once again raise the issue of returning the peninsula to Russia -- as they did during the treaty ratification process in 1998. Any potential ethnic unrest in Crimea and an ensuing military action by Russia in connection with this issue would have incomparably graver consequences for the region and the world than the current Russian intervention in Georgia.
Leaders Rally In Tbilisi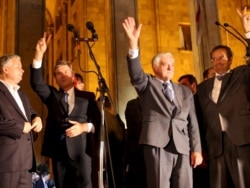 Rally In Tbilisi
Leaders from Georgia, Poland, Ukraine, Estonia, Latvia, and Lithuania speak to thousands in the Georgia capital on August 12 (Reuters video). Play


For RFE/RL's full coverage of the clashes in South Ossetia, Abkhazia, and Georgia proper,
click here
.
Clashes In Georgia: Chronology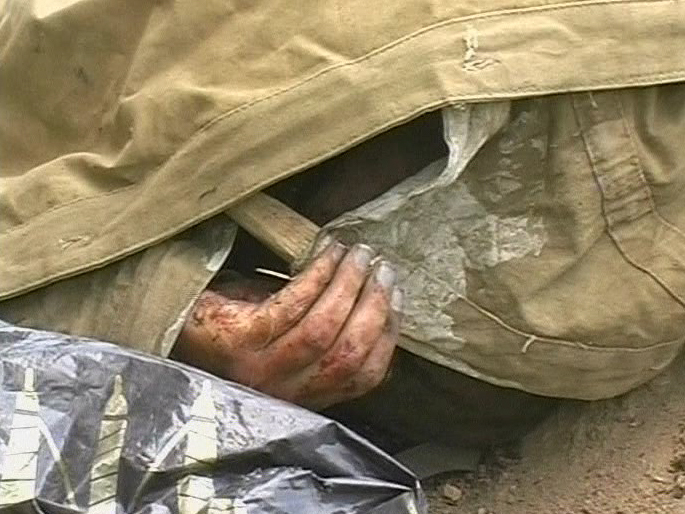 Clashes In Georgia: Chronology
Video of the fighting in Georgia's breakaway regions, and the latest efforts to end the conflict (Reuters video). Play


For full coverage of the clashes in South Ossetia, Abkhazia, and Georgia proper,
click here
.