KYIV -- President Viktor Yushchenko, back from a visit to Georgia to offer support in its confrontation with Moscow, has introduced tougher regulations on the movements of Russian warships based in his ex-Soviet state.
Long at odds with Moscow over its campaign to seek NATO membership, Ukraine's pro-Western leadership has issued statements backing Georgia's position and urging Russia to withdraw from the country's territory.
The Foreign Ministry this week reserved the right to prevent ships from the Black Sea Fleet returning to base in Ukraine's Crimea Peninsula if they had taken part in military action.
On August 13, the president issued a decree ordering Russia to advise 72 hours in advance of any movement by its ships, aircraft, and personnel based in Ukraine. Ukrainian authorities would be empowered to alter its travel plans.
A statement issued after a meeting of the National Security Council said the presence of foreign warships "poses a potential threat to Ukraine's national security, particularly if parts of Russia's Black Sea fleet are used against third countries".
In Moscow, the Interfax news agency quoted Russian Foreign Ministry sources as saying that the new regulations were "politically motivated" and "lacking a serious nature. They contradict all the agreements between Russia and Ukraine concerning the Black Sea Fleet."
Yushchenko attended a mass rally in Tbilisi on August 12 in support of Georgian President Mikheil Saakashvili, along with the leaders of other countries once in the Soviet orbit -- the Baltic states of Estonia, Latvia, and Lithuania and Poland.
Under a 1997 agreement, Ukraine agreed to lease harbor space in the Crimean base of Sevastopol until 2017 -- as an exception to a provision in the post-Soviet constitution barring foreign bases from the country.
Yushchenko and other officials say Ukraine has no intention of extending the lease and have called for negotiations to ensure for an orderly departure of the fleet by 2017 -- a position strongly criticized by the Kremlin.
Russia has in the past two weeks also accused Ukraine of encouraging Georgia to engage in "ethnic cleansing" in the separatist region of South Ossetia by selling weapons to Tbilisi. Ukraine denied the allegation.
Leaders Rally In Tbilisi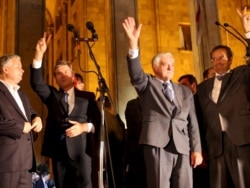 Rally In Tbilisi
Leaders from Georgia, Poland, Ukraine, Estonia, Latvia, and Lithuania speak to thousands in the Georgia capital on August 12 (Reuters video). Play


For RFE/RL's full coverage of the clashes in South Ossetia, Abkhazia, and Georgia proper,
click here
.