The mass rally gave popular expression to the message leaders across Georgia's political spectrum have been sending since fighting erupted on August 7.
That is, in the face of Russian troops, there is no question of a crisis of government in Tbilisi. The country stands united behind its president.
Saakashvili appeared buoyed by that solidarity as he appeared before the crowd of tens of thousands waving Georgian flags and holding icons -- the twin symbols of Georgia's nationhood. And he welcomed the support of four presidents and one prime minister from former communist states who flew in to stand beside him.
"Today, when the occupier is on our soil, they think that Tbilisi will be broken, subdued, and will surrender to their tanks, as it had happened several times in the past in other European countries," Saakashvili said. "It will not happen now. And you are standing here with us and supporting us."
Saakashvili To Blame?
But even as the Georgian nation rallies behind its president, Saakashvili now finds himself in a highly vulnerable position.
Doubts -- quietly, but increasingly insistent -- are beginning to be raised both in Georgia and the West over whether he rashly allowed Moscow to goad him into a war with a vastly superior foe.
Behind the doubts is Georgians' expressed disappointment with the West for what they see as only verbal support in a hot war. Many ordinary Georgians fully expected Western powers to help their forces roll back the Russian tanks that pushed far beyond the separatist areas and into Georgia's heartland.
"I also understand the disappointment that many of our citizens feel at the lack of tangible support from the West. That includes military support -- I know that many Georgians expected the West would intervene," Irakli Alasania, Georgia's ambassador to the UN, told RFE/RL's Georgian Service.
"I think we should take this into consideration. From now on, any policy decision we make must be carefully thought through, with a cool head. Only then will we be able to really achieve the Georgian government's goals," he added. "We should never raise the expectations of the Georgian people -- or our own expectations -- too high, by thinking that the West is going to intervene militarily to resolve this conflict."
Alasania's caution about excessive expectations suggests where public discussion of Saakashvili's leadership might go after the immediate crisis eases. That is, did Saakashvili exaggerate the West's support for his actions? Or, to put it another way, if he did not have firm Western pledges to support him militarily, did he react wisely to Russia's provocations?
Tornike Sharashenidze, a political analyst in Tbilisi, describes the Georgian government's decision to send troops into South Ossetia to suppress cross-border artillery fire as a mistake.
"I don't have a particularly good opinion about some high-ranking individuals in the government, and I doubt they really had envisaged things that were to come. It seems like Saakashvili, at that moment, was under others' influence, unfortunately," Sharashenidze says.
"We, in fact, responded to [South Ossetia leader Eduard) Kokoity's provocation. Whether Kokoity was driven by stupidity or deviousness, the fact remains that they attacked our positions -- and we responded," Sharashenidze adds. "We were not able to contain ourselves, and began the attack on Tskhinvali -- which was a mistake of course."
Western Encouragement?
The debate is likely to focus upon whether the mistake was willful or misinformed. That is, whether Saakashvili knew he did not have Western military support but went ahead anyway, or whether he believed he had it but was as disappointed as his countrymen.
It's still too early to fully reconstruct what Saakashvili did or did not know. But early pieces to the puzzle are already providing fuel for a heated discussion.
"The New York Times" reported on August 13 that Washington warned Saakashvili early last month not to get into a military conflict with Russia that Georgia could not win.
The paper quoted a senior administration official as saying U.S. Secretary of State Condoleezza Rice told Saakashvili at a dinner in Tbilisi on July 9 that "he had to put a non-use-of-force pledge on the table" in negotiations over the separatist enclaves.
"The New York Times" added that "right up until the hours before Georgia launched its attack late last week in South Ossetia, Washington's top envoy for the region, Assistant Secretary of State Daniel Fried and other administration officials were warning the Georgians not to allow the conflict to escalate."
The eventual debate in Georgia over Saakashvili's leadership is likely to be mirrored by a debate in the West over whether it took too many steps to embolden him and whether he is the West's best choice for a partner. Over the years, the United States has sent advisers to strengthen Georgia's military, sent troops to participate in joint military exercises, and championed Georgia's eventual membership in NATO.
Western policymakers now are asking themselves whether they went too slow, or too fast in this effort to nourish and protect Georgia's fledgling democracy against a Russia intent on reasserting its dominance in the Caucasus.
Would Saakashvili have been more cautious if the West had moved slower? Did Saakashvili overestimate the resources the West was handing him? Or should the West have moved faster to bring Georgia into NATO precisely to avoid Russia's mauling of its protege?
All the questions tie together and promise a bruising political battle for Saakashvili as soon as the current crisis subsides.
Leaders Rally In Tbilisi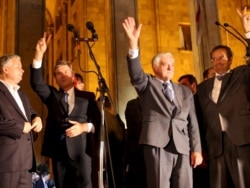 Rally In Tbilisi
Leaders from Georgia, Poland, Ukraine, Estonia, Latvia, and Lithuania speak to thousands in the Georgia capital on August 12 (Reuters video). Play


For RFE/RL's full coverage of the clashes in South Ossetia, Abkhazia, and Georgia proper,
click here
.