The agreement drafted in Moscow on August 12 by the presidents of Russia and France, and which was amended overnight in Tbilisi by French President Nicolas Sarkozy and Georgian President Mikheil Saakashvili, constitutes a framework for the further de-escalation of tensions between Russia and Georgia. It came after Russian President Dmitry Medvedev's announcement earlier that day that he had ordered the Russian peacekeeping contingent in South Ossetia to end its "peace-enforcement" operation.
Sarkozy was quoted by regnum.ru as describing the draft document, which remains unsigned, as "a statement of principles" that will form the basis for a formal and binding legal agreement. But it leaves open the future status of the unrecognized republics of Abkhazia and South Ossetia, which some observers believe Georgia has now lost irrevocably.
The draft document endorsed by Medvedev and Sarkozy comprised six points and was clearly a more detailed version of one that Finnish Foreign Minister and OSCE Chairman in Office Alexander Stubb and his French counterpart Bernard Kouchner discussed with Saakashvili in Tbilisi on August 10 and with Russian Foreign Minister Sergei Lavrov in Moscow the following day. Speaking at a joint press conference with Lavrov on August 12, Stubb said the original draft was predicated on Georgia's territorial integrity and outlined its four essential points.
"Point No. 1 is an immediate and unconditional cessation of hostilities, i.e. a cease-fire," Stubb said. "Point No. 2 is access for the provisions of humanitarian relief. Point No. 3 is the commitment not to use forces and to refrain from inflammatory rhetoric. Point No. 4 is the withdrawal of all armed personnel to positions prevailing before the start of the current hostilities."
The version endorsed by Sarkozy and Medvedev covered the same ground, but listed the key points in a different order: first, a formal pledge not to resort to military force; second, a definitive end to hostilities, implying a formal cease-fire agreement; third, free access for the delivery of humanitarian aid to the victims of the conflict; fourth, the withdrawal of Georgian armed forces to wherever they were permanently based prior to the beginning of hostilities during the night of August 7-8 (early reports also quoted Medvedev as calling for the "partial demilitarization" of those forces); fifth, the Russian armed forces will retreat to a line that precludes the resumption of hostilities (whether that means they will leave Georgian territory is unclear), and the original Russian peacekeeping force in South Ossetia will take unspecified "additional measures," pending the deployment of an international peacekeeping force; and sixth, the start of an international discussion on the future status of the unrecognized republics of Abkhazia and South Ossetia and ways to guarantee their security.
The sixth point, however, was shelved during the talks in Tbilisi between Sarkozy and Saakashvili, who was quoted by lenta.ru as saying "there are details that need to be clarified, specifically with regard to the role of the international community in seeking to resolve the conflict." Saakashvili reportedly also insisted that Abkhazia and South Ossetia should not be equated, as Abkhazia "is a separate issue," according to regnum.ru. Sarkozy told journalists in Tbilisi on August 13 that on two occasions during his discussion of the draft with Saakashvili, he telephoned Medvedev to solicit his consent to Saakashvili's proposed changes, according to the Georgian website civil.ge.

Problematic Agreement
While on paper the truncated five-point plan gives grounds for cautious optimism, several of its provisions may prove difficult to implement, and thus delay the signing of a formal settlement. The observation of a cease-fire agreement is already proving problematic: the Georgian government claims that Russian attacks on Georgian towns and villages both within and outside South Ossetia are continuing. Medvedev, for his part, warned on August 12 when announcing that he had ordered a halt to hostilities that "if there are little pockets of opposition and other aggressive manifestations, we will make a decision to liquidate them."
Saakashvili was quoted by the Georgian website civil.ge as telling journalists on August 13 that the "additional security measures" referred to in the fifth point of the agreement imply a commitment by the international community to participate in the peacekeeping operation. "Although there should be a temporary arrangement for now, later it should be replaced by an international process with the participation of the EU and the UN," Saakashvili said. "What we have clearly obtained at this stage is a cessation of hostilities and the withdrawal of the occupying forces. We have a temporary arrangement with the [Russian] peacekeepers -- fine; but then there should be internationalization of the process and we have the commitment of all sides."
"Of course this is a political document, but general principles are there. We need legal details; we need a Security Council resolution; and we need more international observers on the ground and more internationalization of the entire process," Saakashvili added.
Colonel General Anatoly Nogovitsyn, deputy chief of the Russian Armed Forces General Staff, was similarly quoted by lenta.ru as telling journalists on August 12 that it is imperative to deploy international "observers" in South Ossetia, possibly signaling that Moscow would veto an international peacekeeping force from which Georgia would almost certainly insist it was excluded.
Speaking on August 12 in Moscow at a press conference with Lavrov, Finnish Foreign Minister Stubb said that as the only international organization with the relevant infrastructure, experience, and personnel on the ground in Georgia, the OSCE can clearly play a key role in any further mediation, monitoring, and any humanitarian work, and will deploy more military-monitoring officers to supplement the nine already in South Ossetia.
Final Status
Even though the mention of talks on the final status of Abkhazia and South Ossetia has been dropped from the draft document, the issue will inevitably overshadow any talks on how to reestablish an acceptable modus vivendi between Tbilisi, Moscow, Tskhinvali, Sukhumi, and the West. At his joint press conference with Sarkozy on August 12, Medvedev affirmed that Russia recognizes Georgia's status as a sovereign state. But he added that the concept of territorial integrity is "a separate notion," and one that reflects "the true state of affairs," and specifically "people's willingness to live [together] in one country."
"Territorial integrity is a separate notion," Medvedev said. "And while sovereignty is based on the will of the people and the constitution, territorial integrity, as a rule, represents the real state of affairs."
"Can the Ossetians and the Abkhaz -- and do they want to -- be a part of Georgia?" Medvedev asked. "This question should be put to them and they will give their own, unambiguous answer. It is not Russia or any other country that should answer this question. This should be done in strict compliance with international law, although in recent years international law too has abounded with examples of self-determination of peoples and the emergence of new states on the map. Let's recall the example of Kosovo. So, it is a question that needs to be answered by the Ossetians and the Abkhaz, taking into consideration history and what has happened in recent days."
Russian Foreign Minister Lavrov was similarly quoted on August 13 by "Vremya novostei" as saying, "the question of the future status [of Abkhazia and South Ossetia] reflects a clear understanding that the status quo is untenable."
On August 13, the Russian daily "Kommersant," which twice in recent months has printed reports that subsequently proved to be false of alleged agreements reached between Georgia and Abkhazia on resolving the Abkhaz conflict, quoted an unnamed French Foreign Ministry official as saying the EU might agree to South Ossetia and Abkhazia being "separated" from Georgia if Russia dropped its other demands, specifically for Saakashvili's replacement as Georgian president.
Some longtime observers of Georgian politics, however, are convinced that any discussion of the status issue is now academic. Writing in the "Financial Times" of August 13, analyst Anatol Lieven predicted that "Georgia will never now get South Ossetia and Abkhazia back."
Leaders Rally In Tbilisi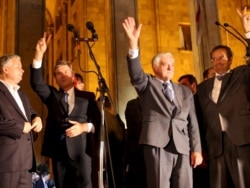 Rally In Tbilisi
Leaders from Georgia, Poland, Ukraine, Estonia, Latvia, and Lithuania speak to thousands in the Georgia capital on August 12 (Reuters video). Play


For RFE/RL's full coverage of the clashes in South Ossetia, Abkhazia, and Georgia proper,
click here
.