Oleg Panfilov, the director of the Moscow-based Center for Journalism in Extreme Situations in Moscow, is currently in Tbilisi. Panfilov spoke to Dmitry Volchek of RFE/RL's Russian Service about the difficulties of reporting the conflict both inside and outside Georgia.
RFE/RL:
You are now working in Tbilisi. I'd like to speak about the information war and about the mood of the residents of the Georgian capital. Let's start with the information war and the information blockade. Can you tell us something about that?
Oleg Panfilov:
There are considerable problems with access to information. The majority of official sites have been brought down, as well as virtually all of the Russian-language sites in Georgia -- that is, sites that distribute information in Russian but that have no connection with the government. So we've had to do without that part of the information space from the beginning.
And this was the only opportunity to disseminate information outside of Georgia because -- unlike Russia, whose television broadcasts are seen across Georgia -- since August 8 information from Georgia could only reach Russia through the Internet. As a result, various bloggers living in Georgia or outside of Georgia began using information presented by a specially created center of the Georgian Security Council. This information is being distributed as an alternative to what is being called the official propaganda being disseminated by the Russian mass media.
To a considerable extent this really is an information war. Ultimately those who are able to access information from both sides and draw their own conclusions after reading it are able to do so in this situation. It seems to me that to some extent Georgia has actually won this information war because a large number of bloggers have been distributing this alternative information.
RFE/RL:
This is probably the first time in history something like this has happened. The Georgian Foreign Ministry has been forced to transfer its work to a normal blog on the server blogspot.com.
Panfilov:
Yes, and I would point out that the Georgian section of the Russian-language blogosphere is pretty large. If you look at the geography of bloggers who have been distributing this information, it turns out to be quite surprising. First, there are a lot of Ukrainian bloggers writing both in Ukrainian and Russian. And there is a small but quite active Belarusian portion of the blogosphere. So it is possible that to some extent the independent Internet, the unofficial Internet, might be able to break through the information war.
RFE/RL:
As you know, the Russian television channels have broadcast very little information from Tbilisi. But on August 10 the lead story out of Georgia was one about how some people in camouflage allegedly attacked some Russian correspondents and took away their tapes of a demonstration. So, I have two questions. Is it really difficult for journalists to work in Tbilisi and are Russians afraid to appear on the streets? And how do you, as a Russian, feel right now in the Georgian capital?
Panfilov:
You know, this is a lie that it is impossible to even comment on. I write about this from time to time in my blog. I can only say that efforts to inflame Russians against Georgians and to tell improbable stories about how Russians are persecuted here are lies that are hard to even respond to. I walk through the city every morning and every evening. I have a large number of Georgian friends. I have not received a second look or a single comment about the fact that I am Russian, that I speak Russian. It is simply inconceivable to come across such an attitude in Georgia.
Now, what happened to the Channel One correspondents? First, I am hearing about this for the first time. Second, in my opinion, this is a provocation. To speak about it is most likely to participate in the information war itself, which is intended to inflame the viewers of Channel One against Georgians. This is so unlikely. I think that it has not been thought through very well. I cannot imagine such a situation.
RFE/RL:
On August 11, the main news on Channel One about Georgia was a report that the Georgian authorities are purportedly intent on not allowing hundreds of Russians to leave the country. It was even stated that they intend to use them as human shields. True -- and this is very revealing -- there were no interviews with anyone who wanted to leave the country. Do you know anything about this?
Panfilov:
You could make a whole list of improbable stories beginning with one that is actively circulating in the blogosphere to the effect that on the first day of the military conflict [Georgian President Mikheil] Saakashvili tried to commit suicide. They say that his bodyguard grabbed the gun at the last second. There are an enormous number of such unlikely stories.
The day before yesterday [August 10], Georgian Deputy Foreign Minister Ekaterine Zguladze said at an official briefing that this is nonsense. There are absolutely no incidents of attempts to oppress Russian citizens. My daughter is currently vacationing in Batumi and everything is perfectly normal with her. And I would repeat -- such things simply cannot be in Georgia. These tales are created so that the information war can take various unlikely forms. But, as Goebbels said, the more fantastic a lie is, the easier it is to believe.
RFE/RL:
Georgian experts have told RFE/RL that a sense of unusual unity is prevailing in a society that is normally riven with divisions. People who recently were disenchanted with Saakashvili are now supporting their president. Is this your impression?
Panfilov:
Absolutely! Russian policy and Russian propaganda are aimed at dividing Georgian society. But things have turned out just the opposite. To my mind, there have been several very important developments in recent days.
First is the consolidation of society, including of political parties. Although, I suspect that after the conflict is over, there will be a number of politicians who will say that Saakashvili made mistakes. But this is normal politics. Second, there is the professionalism of Georgian journalists, who earlier were actively participating in the political struggle, in information wars, and who were rather compromised. Now these people are united in a very important profession. They are quickly proceeding to the places where fighting or bombing erupts and make their reports. Some people are even photographing events on their mobile phones. I saw the results of the bombing -- rather, I saw the bombing itself -- of the 31st Aviation Factory several days ago and the report -- which was shown on television -- was filmed on a mobile phone.
So, although the war brought blood and victims, it also brought some good to Georgian society. For this, they can thank Russia's leaders.
Leaders Rally In Tbilisi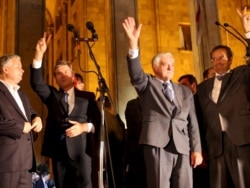 Rally In Tbilisi
Leaders from Georgia, Poland, Ukraine, Estonia, Latvia, and Lithuania speak to thousands in the Georgia capital on August 12 (Reuters video). Play


For RFE/RL's full coverage of the clashes in South Ossetia, Abkhazia, and Georgia proper,
click here
.