A U.S. guided-missile destroyer docks at the port of Batumi ahead of joint U.S.-Georgian naval exercises near the separatist Abkhazia region.
The day before, Russian President Dmitry Medvedev was given a hero's welcome when he paid his first visit as Kremlin leader to a second breakaway Georgian region, South Ossetia.
Medvedev pledged more financial and military aid to the tiny territory, which declared independence from Tbilisi following Moscow's invasion of Georgia last year. From there, Medvedev traveled on to Sochi where he announced the successful test-launch of a ballistic missile from a Russian naval submarine.
The Russian president also told assembled naval personnel that Tbilisi bears "full responsibility" for last summer's war in South Ossetia and predicted the Georgian people would one day "hand down a heavy sentence" on Mikheil Saakashvili's regime.
At first glance, the events of the past two days might indicate that Russia and Georgia might be on the brink of another conflict over the two Moscow-backed rebel regions. A number of Russia-watchers had already laid bets on a repeat summer invasion.
But as often is the case in the Caucasus, appearances can be deceiving. Georgian President Saakashvili, who has warned for months that a Russian invasion was imminent, suddenly pulled an about-face, confidently declaring that the threat of war with Moscow has been reduced.
"All of [Russia's] aggressive plans for the near term have failed," Saakashvili said on June 9 at a televised meeting with his National Security Council
"The war that they had imagined, that they had in their plans and dreams, will not happen. The planned military invasion against Georgia will not be possible to implement due to the new geopolitical reality."
That new geopolitical reality, Georgian officials are suggesting, comes in the wake of U.S. President Barack Obama's visit last week to Moscow -- and ahead of a scheduled visit to Georgia by Vice President Joseph Biden next week.
A Warning From Washington
Publicly, Obama used his Moscow trip to voice mild support for Georgia's sovereignty and territorial integrity. But senior Georgian officials have told RFE/RL that behind the scenes, Obama warned Medvedev in no uncertain terms against starting a new war.
The officials, speaking on condition of anonymity, said Tbilisi was informed by U.S. officials that Obama told Medvedev that any attack against Georgia would have "grave consequences" and that Washington "would not stand aside" in such a conflict as it did during last year's war.
A White House spokesperson declined comment, saying "we don't discuss private conversations."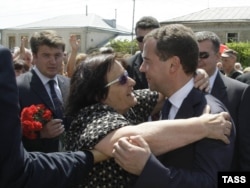 Russian President Dmitry Medvedev received a warm welcome in South Ossetia.
Analysts say there has been a noticeable change in tone among top Georgian officials since Obama's July 6-8 visit to Moscow.
"The central message was probably delivered in Moscow, no question about that and evidently it was a fairly robust one, because suddenly Georgian officials are absolutely sure that there is not going to be a war this summer," says Lawrence Sheets, head of the International Crisis Group's Tbilisi office.
Pavel Felgenhauer, a military analyst for the Russian newspaper "Novaya gazeta," correctly predicted that Russia would invade Georgia last August and has been warning for months that Moscow was preparing another military incursion this summer.
Felgenhauer is not convinced that warnings from Washington would be sufficient to deter the Kremlin, which he says is determined to remove Saakashvili from power. Russia, he says, is also seeking to prevent the Nabucco pipeline project, which Moscow views as a threat to its energy dominance, from being completed.
"Russia was warned that this was unacceptable but what unacceptable means is another question," Felgenhauer says.
"I'm not sure how strong the American warning was and how seriously it was taken in Moscow. But that was the only possibility left. This summit was the last chance to prevent a war this summer."
After Russia's recent Caucasus-2009 military exercises near Georgia's border, military commanders concluded that their troops were ready for battle, according to Felgenhauer. He adds, however, that "if there is no war by mid-September, then we are out of danger," due to the rugged Caucasus terrain and difficult climate.
"Right now we are in a dangerous time," Felgenhauer says. "We'll see rather soon. Now we just have to sit and wait and see. Militarily, everything is ready. The reason to go is there and the capability to go is there."
'An Unwashed Murderer'
War or no war, any message from Obama was clearly not enough to deter Medvedev from openly visiting South Ossetia on July 13 in the face of strenuous objections from Tbilisi.
Speaking to reporters in Tskhinvali with South Ossetia's de facto leader, Eduard Kokoity, Medvedev promised Moscow's aid and support to rebuild the economy of the "new state," which has thus far only been recognized by Russia and Nicaragua.
"Of course, I want to thank you for inviting me to this new country, the new state of South Ossetia, which came into being as a result of difficult, traumatic events, a country which the Russian people supported in its hour of need," Medvedev said.
"I think this first working visit by the Russian president today will lay the groundwork for future contacts."
Saakashvili, who was in Ankara for a summit on the Nabucco gas pipeline at the time, called Medvedev's visit an "immoral and shameful precedent" and referred to Kokoity as an "unwashed murderer and corrupt criminal."
In Washington, U.S. State Department spokesman Ian Kelly said on July 14 that the "very fact" of Medvedev's visit to South Ossetia highlights what he called the "fundamental differences" between U.S. and Russian policy.
"We continue to urge Russia to respect Georgia's sovereignty and territorial integrity and facilitate stability in the region," Kelly said, adding, "I don't think that [Medvedev's visit] was any kind of step forward" in this regard.
Meanwhile in Batumi, the "USS Stout" was greeted with wine and music after dropping anchor on July 14. The "Stout's" commander, Mark Oberly, said the joint naval exercises, scheduled to begin on July 15, "demonstrate the U.S. and Georgian commitment to work together, to cooperate, and maintain maritime security."
The exercises will be held in Georgia's territorial waters between the ports of Batumi and Poti, near breakaway Abkhazia's Black Sea coast.
RFE/RL's Georgian Service contributed to this article