Jailed Uzbek Opposition Activist Said To Be In Declining Health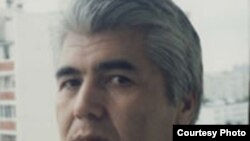 Reports from Uzbekistan say that the health of jailed opposition activist Muhammad Bekjon is deteriorating.
Bahodir Namozov, the head of the NGO Freedom for Political Prisoners Committee, says that Bekjon, 52, is suffering from a severe form of tuberculosis in prison in the southwestern town of Kasan.
He says prison officials are preventing Bekjon from receiving visitors.
Bekjon, the former editor of the opposition newspaper "Erk," was sentenced to 15 years in prison in 1999 on charges of plotting a coup.
Last year, his wife, Nina Bekjonova, who lives in the United States, visited him in prison and reported that he was being held in solitary confinement and that he was regularly being tortured.
"All his teeth had been knocked out, and he is consequently unable to eat," she said in an interview with RFE/RL's Uzbek Service.
Bekjon is the brother of the exiled opposition leader Muhammad Salih. He was arrested and tried following bomb attacks in Tashkent in February 1999, which the authorities blame on the banned Islamic Movement of Uzbekistan.
Salih's other two brothers, Rashid and Kamil Bekjon, were also arrested and sentenced to 12 and 10 years in jail, respectively.
Salih was sentenced to 15-and-a-half years in jail in abstentia in November 2000.

(by Khurmat Babadjanov of RFE/RL's Uzbek Service)

About This Blog
"Watchdog" is a blog with a singular mission -- to monitor the latest developments concerning human rights, civil society, and press freedom. We'll pay particular attention to reports concerning countries in RFE/RL's broadcast region.
Journalists In Trouble
RFE/RL journalists take risks, face threats, and make sacrifices every day in an effort to gather the news. Our "Journalists In Trouble" page recognizes their courage and conviction, and documents the high price that many have paid simply for doing their jobs. More