Kabul has cautiously returned to its everyday hustle and bustle, a day after a Taliban attack that rocked the city's center and brought the harsh realities of war perilously close to the presidential palace and key ministry buildings.
But the January 18 brazen attack, in which just seven Taliban militants managed to detonate suicide bombs that destroyed a shopping center and wage a lengthy gun battle with Afghan forces, has raised serious questions about the state of security even in areas thought to be relatively secure.
Jamal Nasir described the concerns of his fellow Kabul residents in an interview with Reuters today. "Yesterday's situation was a terrifying situation in Kabul. All people were wondering what to do," he says. "It was a situation out of our control, one of my relatives decided to leave the country after yesterday's incident."
Threat to McChrystal's Plan
The attack -- which left three Afghan soldiers and two civilians dead, and another 70 people wounded -- also exhibited the Taliban's ability to strike at the heart of a key U.S. strategy being launched by U.S. and NATO commander General Stanley McChrystal. The plan focuses on securing urban areas, with the intention of turning the Afghan public against the Taliban while raising Afghans' confidence in the ability of their own forces to protect them.
The eventual deployment of 40,000 fresh U.S. and NATO troops in populated areas of the remote southern provinces of Helmand and Kandahar, as well as eastern provinces along the Pakistan border, is a key component of McChrystal's plan. With Kabul's security handed over to Afghan troops, the capital has essentially become a litmus test for the country's own forces.
The most important thing was that this could have turned very bad. This could have turned into hijacking of people, buildings, and more killing of people. But we are fortunate that the Afghan security forces were able to neutralize and kill these seven suicide bombers.
Haroon Mir, who heads the Afghanistan Policy and Research Center, tells Reuters that there are many lessons -- many of them positive -- to take from the violence seen in central Kabul on January 18.
"If these [attackers] are able to pass these checkpoints with their guns and with their ammunition and with their explosives, it means that they are still able to bribe some of the police forces and there are still some weaknesses in the Afghan government," he says.
But Mir suggests that "the most important thing was that this could have turned very bad. This could have turned into hijacking of people, buildings, and more killing of people. But we are fortunate that the Afghan security forces were able to neutralize and kill these seven suicide bombers."
"This is a big achievement and big accomplishment," he added.
All seven Taliban attackers were killed by Afghan security forces or blew themselves up as they detonated their explosive vests. The attacks left the charred remains of a major shopping center, where several holed-up attackers fought security forces for hours.
Thomas Ruttig, the director of the Afghanistan Analysts Network and a former United Nations and European diplomat in the country, still keeps a close eye on its political and security situation. He tells RFE/RL that the Taliban sought to show that they can "attack anywhere at any time," but downplays the effect on McChrytal's plan to protect key population centers.
"It undermines [McChrystal's plan], but only to an extent," he says. "Because these Taliban operations, I think, are not designed to take over population centers. They create havoc, they kill people, and damage properties and show that there is a lot of insecurity. But protecting population centers also means to prevent it from falling into the hands of the Taliban, and I think we are not there."
Fighting Versus Reconciliation
Ruttig does suggest, however, that the mission handed to the 40,000 troops who will join the 100,000 already on the ground in Afghanistan might be misguided.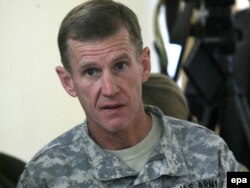 General Stanley McChrystal
"This [surge] is trying to hunt insurgents -- insurgents which are not ready to reconcile, while they hit in the back of the surge, so to say," he says.
Talking to journalists after the January 18 attack, Amrullah Salih, the head of Afghan intelligence, pointed fingers at the Taliban network headed by anti-Soviet jihad era commander Jalauddin Haqqani and his son Sirajuddin Haqqani, who the Afghans see as operating out of sanctuaries in neighboring Pakistan.
Salih said the attacks should not be viewed as victory for the enemy.
"Today's attack was in no way a success for the enemy," he claimed. "They cannot claim credit for entering a shopping mall and just blindly shooting at the civilians. That will further strengthen the will and determination of our people to know what they are and that will rally more support for the Afghan security forces."
Abdul Wahid Taqat, a former communist-era Afghan intelligence official, agrees. He tells RFE/RL's Radio Free Afghanistan that the Afghanistan government and the international forces backing it needs to be more innovative while confronting the Taliban.
He cites the successes of the Moscow-backed regime of President Mohammad Najibullah, which outlived the collapse of the Soviet Union in 1991 and survived for nearly three years after the withdrawal of the Red Army in 1989.
"They should consult our former intelligence colleagues about guerrilla warfare," he says. "They should also form guerrilla bands because only guerrilla tactics, intelligence maneuvers, and accurate intelligence information can protect in a guerrilla warfare."
Ruttig suggests that to move forward in Afghanistan, Western and Afghan leaders will have to rethink the counterinsurgency doctrine as it is being applied on ground in the country.
"In think the only way -- which will be very hard and difficult and sometime very painful way -- is to try to do a political accommodation with the insurgents to lower the level of the violence and establish peace in the long-term," he says.