U.S. and Iranian officials have taken advantage of their time in Afghanistan recently to trade mutual accusations of duplicity in the country.
U.S. Defense Secretary Robert Gates got the ball rolling on March 9, when during his visit to Afghanistan he accused Tehran of playing a "double game" in which it was trying to maintain a good relationship with Kabul as it undermined U.S. and NATO efforts to establish security by providing support to the Taliban.

Visiting Iranian President Mahmud Ahmadinejad
today responded in kind
, accusing the United States of playing a "double game" in Afghanistan by fighting terrorists it helped to create.
In Afghanistan, the back and forth has provided fodder for debate over whether Iran has Afghanistan's best interests in mind, while placing Kabul in an uncomfortable position between its two verbally jousting allies.
The Friend Of My Enemy
Kabul University law and political science professor Nasrullah Stanekzai says that while Tehran actively contributes to Afghan's rebuilding process, it also interferes in its domestic affairs and tries to use its influence in the country against the West.
"Iran's strategic enemy is the United States, which is the main strategic partner of the Afghan government. So creating problems in Afghanistan is creating problems for the United States," Stanekzai says. "I think that Iran wants to maintain its influence and his [Ahmadinejad's] visit is symbolic and will not cause a major change [in regional geopolitics]."
Wadir Safi, a professor of law and political science at Kabul University, has a different take on Ahmadinejad's visit. He tells RFE/RL's Radio Free Afghanistan that Iran is only trying to secure its own future interests in Afghanistan.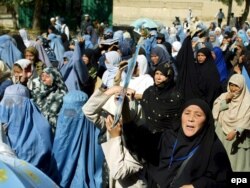 Members of the Hazara minority protest over a land dispute with tribesmen in Kabul in 2008.
"American and Western military operations here have reached a level that they want to finish off [the extremists], so security can be established and pave the way for their eventual exit," Safi says. "During this period Iran wants to make sure to protect itself from the negative fallout from Afghanistan. So he was here to emphasize Iran's friendship with Afghanistan."
Tehran's clerical regime supported and welcomed the demise of the hard-line Taliban regime in Afghanistan, but it's concerned about the long-term presence of Western forces in Afghanistan. Experts suggest that while the return of the Taliban might not be in its interests, it wants to deny a strategic victory to the West in its neighborhood.
Ahmadinejad said today he doesn't see foreign forces delivering peace in Afghanistan, while reminding Kabul that Tehran stood by its eastern neighbor during hard times. "I think the way to establish peace is Afghanistan to help and stabilize its legitimate government and its institutions -- to strengthen them to establish security," he said. "Our declared policy is to continue supporting the security and development of the Afghan people as we did in the past."
Sectarian Suspicions
While Afghans have broadly welcomed Iran's assistance in communications, education, and health care, they are suspicious of Iranian investments in certain sectarian media outlets -- satellite channels that help spread Iran's state Shi'ite religion.
Tehran's support for Afghanistan's 3 million-strong Shi'ite Hazara minority is also eyed with suspicion by many Afghans. Iran supported Hazara militias during the Soviet occupation in the 1980s and civil war in the 1990s. Since 2001, the community's representation in the Afghan government has grown, and it is seen as prospering though education and businesses bankrolled by Iran.
Afghan lawmaker Ahmad Behzad suggests that, despite periodic claims by Afghan officials to have uncovered Tehran's links with the Taliban, there is no conflict between the two neighbors.
"The real problem goes to the differences between Iran and the U.S. and its NATO allies on issues outside Afghanistan. Issues such as Iran's role in the Middle East, the Palestinian crisis, Lebanon, the Iraq problem and Iran's nuclear program are important," Behzad says. "The Iranians consider the Western presence a threat to them and look for opportunities so that NATO fails in its objectives in Afghanistan."
Kabul appears to be in a difficult spot as it tries to juggle the competing demands of its neighbors and allies. Standing alongside Ahmadinejad as the Iranian president criticized his biggest foreign backer, President Hamid Karzai took the diplomatic route -- stressing good neighborly intentions with Tehran, and making clear it had mutual interests with the West.
"We have relations with the West and America and those relations are based on [strategic] objectives," Karzai said. "One of their objectives is to establish peace and security in the region. We have repeatedly told our neighbor Iran that we will not allow Afghan soil to be ever used against its neighbors."
RFE/RL Radio Free Afghanistan correspondents Qadir Habib, Ajmal Sedeeq, Breshna Nazari, and Mojahid Jawad contributed reporting to this article