WATCH: Security precautions are tightened in Kabul ahead of the September 18 national elections. (Reuters video)
By Charles Recknagel and Muhammad Tahir
KABUL -- The Afghan capital is a city that even under normal conditions has a very visible security presence.
Police and soldiers man sandbagged posts at many major intersections and, near big government offices, their firepower is often reinforced by an armored car.
Government buildings themselves are walled by blast shields of concrete slabs, and Afghan army convoys -- heavily armed and with truckloads of soldiers -- frequently move through downtown.
It all makes Kabul one of the safer places in Afghanistan, despite occasional bombings that over the past year have been both dramatic and deadly. The biggest targeted a commercial center and the Indian embassy, to name just two incidents.
But election days still make this city particularly nervous. Ahead of them, the Taliban always intensifies its threats to attack both the government and would-be voters indiscriminately.
Well-Prepared
In the days before the voting, there were increasing signs that ordinary Kabulis were taking their own measures to stay off the streets ahead of and during the September 18 poll.
The city's normally massive traffic thinned, making commutes through the center measurably faster. And people speak of their plans to come out to vote but otherwise keep their families close to home.
"Compared to other days, on election day I personally will be careful not go to the unnecessary places," Hajji Muhammad Gul, who manages a convenience store downtown, says. "I will try to avoid going even to those places where I have to go to. Because it's possible that something bad may happen and some problem may appear."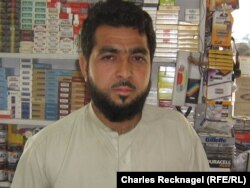 Kabul convenience-store manager Hajji Muhammad Gul
Such caution comes despite repeated assurances by government officials that the security forces are well-prepared for election day and voters will be safe from the moment they leave home.
With one day to go before the polling, Afghan President Hamid Karzai called on all Afghans to vote, although he conceded the process would have "irregularities."
But officials describe their preparations as "rings of security" that provide the heaviest protection directly around neighborhood polling stations, supported by lighter measures such as road checkpoints that successively control access to the neighborhoods themselves.
They also say they have planned for a whole range of possible terrorist attacks.
"The plan is prepared in a manner to tackle all possible threats, perhaps suicide bombings, perhaps ambushes, perhaps attacks on police and polling stations," Interior Ministry spokesman Zemarai Bashiri told RFE/RL.
Quieter Than 'Usual'
Last year, when Afghanistan held its first-round presidential election in August, a group of three Taliban fighters attacked and briefly held a state-owned bank in Kabul on election eve. They were killed after a firefight with security forces.
Attacks in the immediate run-up to that election also included the bombing of a NATO convoy in the capital and a suicide car bomb that struck just outside the NATO force's headquarters.
Ahead of this year's parliamentary poll, there had been no such violence in Kabul by the day before the vote.
Bashiri says that all police who are ordinarily in Kabul will be on high alert on election day and that no additional forces are needed.
"We have enough police in Kabul, so we did not need to increase the number of police," Bashiri says. "We have more than 15,000 police in Kabul in general, so all these police have been put on a level of high preparedness, none of them can go on leave, they should be on the job 24/7 until the end of the election period."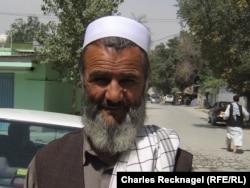 Kabul resident Atta Mohammad
Many Kabul residents say that whatever their security concerns, election day is a special day that requires them to come out and vote.
"This is a special day, because it's an election day, a day when we elect the candidate we have in our mind," Atta Mohammad pauses to say as he walks on a downtown street. "This is not a day when you go somewhere else instead, because this is an election day and we should go to the election."
Gaps In The Process
In Kabul, a total of 664 candidates are competing to fill 33 seats representing the capital's estimated population of 3 million.
Nationwide, there are a total of 2,477 candidates standing for the 249-seat legislature.
All the capital's polling stations will be open, in contrast to the more difficult security situation in other parts of the country.
Election officials said on September 16 that at least 1,019 polling centers out of a nationwide total of 6,835 would remain closed due to security problems.
No results are expected from the election before October 8. The final result is not due before October 30.