With the Afghan government and its international partners meeting in Kabul, there is likely to be a dramatic change in their relationship.
For the first time, the Afghan government is presenting its more than 70 foreign partners with its own plans for how to spend the bulk of foreign aid the country is receiving. Specifically, Afghan ministers are offering 23 programs and asking donors to direct funding that now goes to NGOs and contractors to these programs instead.
That is in line with the new buzzword in Afghan development: alignment.
Simply put, "alignment" means assuring that international money supports more Afghan national programs and fewer foreign-determined priorities. The adjustment is seen as essential for helping Kabul win greater legitimacy among the Afghan population and for setting back the Taliban.
Kabul hopes to flip the current balance in how foreign aid is spent on its head at the
Kabul conference
.
"What we are asking is that all aid that comes to Afghanistan -- whether it is through the government's national budget or outside -- that 80 percent of this over the next two years should be aligned with the priorities of the Afghan government and of the Afghan people," Afghan Finance Minister Omar Zakhilwal told RFE/RL last week.
According to the Finance Ministry, some 77 percent of the $29 billion in international aid spent in Afghanistan since 2001 has been disbursed on projects with little or no input from Afghan government officials.
Whether the international community will agree to so radically change its spending pattern remains to be seen.
Commitment Still Stands
The Kabul conference follows up on the January 28 London Conference, where all sides agreed the Afghan government should directly take control of 50 percent of spending over the next two years, contingent on Kabul's progress in creating better public financial systems and curbing corruption.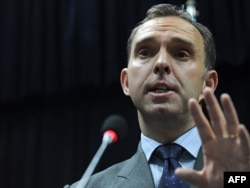 Mark Sedwill
Since then, top international officials have repeatedly said the commitment still stands.
NATO's senior civilian representative in Afghanistan, Ambassador Mark Sedwill, recently told RFE/RL's Radio Mashaal and Radio Free Afghanistan that, "At the moment, only 20 percent of the aid goes through Afghan government systems."
"We've agreed [at the London Conference] to increase that to 50 percent in the next two years, and what we want to do with the rest of it, as well, is align it with Afghan government priorities," Sedwill said.
Ahead of the conference, UN Secretary-General Ban Ki-moon urged Afghan President Hamid Karzai to unveil "concrete" steps to improve governance and promote national reconciliation. Ban, who will co-chair the high-level meeting in Kabul along with Karzai, said the future of Afghanistan remained "a high-priority agenda" for the international community and the world body.


WATCH: Afghan forces stepped up security measures in the capital, Kabul, ahead of the international aid conference on July 20-21.
But the Kabul conference also comes as concerns about the levels of corruption in Afghanistan have reached a high point. That exerts enormous pressure upon the participants at the meeting to proceed cautiously. In recent weeks, both Afghan and foreign officials have traded highly public charges blaming each other for the rampant corruption surrounding aid spending.
'Wipe Their Dirty Hands'
Afghan officials say most of the corruption is due to the fact that foreign contractors and NGOs control the aid. Afghan Justice Minister Habibullah Ghalib recently told reporters in Kabul, "The foreigners come here and wipe their dirty hands on our clean clothes."
But international officials generally defend the foreign NGOs' record and transparency. "International aid is generally well spent," Sedwill said. "There are good audit controls in place to ensure that it meets the needs of the people."
That same level of transparency, many say, is sorely lacking within the Afghan government itself. Ramazan Bashar Dost, who ran as a candidate in last year's presidential campaign, said the Afghan authorities are deeply associated with corruption.
"If the government of Afghanistan and the government offices from the presidential palace to the provinces and districts were not involved in corruption, no NGO, whether local or foreign, and no company and no organization of the United Nations would be able to misuse the assistance for Afghanistan," Dost said.
'Checks And Balances'
Both European Union officials and some U.S. lawmakers have increasingly signaled their unhappiness with delivering new aid until better anticorruption systems are in place. The EU's envoy to Afghanistan said on July 13 that the bloc would postpone delivery of a $252 million aid package until it sees the results of the July 20 conference.
Similarly, a key panel in the U.S. House of Representatives blocked $4 billion in aid to Kabul late last month, demanding that Washington investigate charges that huge amounts of foreign aid are being embezzled with the complicity of top Afghan officials.
In a bid to still the mounting criticism, the office of President Karzai announced on July 13 that the cabinet had approved a bill which would allow government ministers and senior officials accused of corruption to be put on trial before a special tribunal. Under Afghan law, ministers currently are immune from prosecution in ordinary courts.
How much aid money disappears illegally in Afghanistan is beyond anybody's ability to estimate. Finance Minister Zakhilwal sought to put at least a partial figure to it when he reported recently that some $4.2 billion has been transferred overseas from Afghanistan.
But what is clear is that anger in Afghanistan over such massive corruption has become one of the Taliban's strongest allies in the conflict.
Nathan Hoepner, chief of the Anticorruption and Stability Directorate of NATO's International Security Assistance Force (ISAF), told RFE/RL's Radio Free Afghanistan earlier this month that in surveys his organization does every quarter, "one of the things that comes out very strongly is that corruption is one of the leading reasons that causes people to join the insurgency."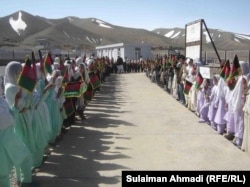 A new school, built with Japanese funds, is inaugurated in Bamiyan Province on July 14.
"It is not necessarily because of radicalization; it is because of the frustration they feel," Hoepner said.
No New Funds Pledged

Hoepner said the international community will be looking for new commitments in Kabul to make the workings of the government and how it spends money more transparent to the public.
"The Afghan government made a commitment back in the London Conference and will reaffirm that with a more specific plan here in Kabul regarding how mid- and senior-level civil-service people are, in fact, hired," Hoepner said. "They have said that they also want a transparent hiring process so people can see how it is done and people can see the merit that brings people into position, because how a person takes authority very much determines how they use that authority."
The July 20 conference will not see donor nations and organizations pledging any new funds. Instead, the focus will be on financial aid that has already been committed.
The meeting will be the first time the Afghan government meets with its international partners on Afghan soil. Among the key attendees will be UN Secretary-General Ban, NATO Secretary-General Anders Fogh Rasmussen, and U.S. Secretary of State Hillary Clinton, as well as more than 40 foreign ministers.
The conference is intended to discuss the whole range of issues facing Afghanistan, including peace and reconciliation, aid effectiveness, and regional and global cooperation.