Songs praising the beauty of Kandahar once echoed in the streets of its capital. But today's violent reality is a far cry from that fabled past.
Shah Mohammad is a 36-year-old shopkeeper in Kandahar. Like many, he is shocked by the brutality and scale of last week's suicide car-bomb attack, which killed at least 41 people and injured more than 70.
The blast occurred minutes after Kandaharis broke their daylong Ramadan fast and was so powerful that it destroyed a whole block of offices, shops, and houses.
Mohammad's shop is a couple of hundred meters away from the blast site. The explosion smashed his front windows. But he was back in his shop two days after the August 25 bombing.
Like many in the city, he is in despair and sees no way out of the current situation.
"This [bombing] means that these people are fighting against life," he says. "But life is a gift of God and we need to celebrate it and spend it in happiness, brotherly harmony, and as good Muslims."
Vying For Power
This once peaceful region of pomegranate orchards and vineyards was the seat of Afghan royalty and the elite for centuries, until the 1979 Soviet invasion radically altered local power structures.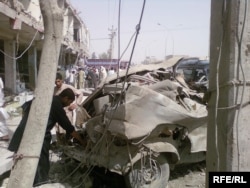 At least 41 people died in this bomb blast in Kandahar on August 25.
With the demise of the hard-line Taliban regime in late 2001, former mujahedin commanders and regional strongmen once again began vying for power, drawing on complicated tribal strategies, which alienated many locals. This has helped the Taliban stage a comeback in their former Kandahar stronghold.
The competition and uncertainty in Kandahar Province has major implications for the neighboring provinces of Zabul, Helmand, Oruzgan, and Farah, and presents a key test both for the incoming Afghan administration and for U.S. General Stanley McChrystal, the commander of U.S. and NATO forces in the country.
The current situation has raised the specter of the mid-1990s civil war among anti-Soviet mujahedin factions, who pushed the region to complete anarchy as they fought for control of political power, the drug trade, and the region's important trade route from neighboring Pakistan.
Local analysts say insecurity is now at an all-time high in Kandahar, forcing people in outlying districts, back under Taliban control, to move to Kandahar city, as richer city residents in turn move to the relative safety of Kabul and the western Afghan city of Herat.
Plenty Of Blame
The Taliban have strengthened their control over many outlying districts and are now knocking on the doors of Kandahar city.
Felix Kuehn, a young German journalist and researcher who has lived in Kandahar for many years, tells RFE/RL that the blame for Kandahar's descent into its current state is shouldered by many.
"Within the last seven to eight years of this conflict, close to everyone I know has lost somebody close to him through suicide bombings, through foreign bombardment," Kuehn says, adding that some security policies implemented by international troops have gone wrong.
"The Canadians have done a poor job in trying to maintain security. The local government is also partially to blame. There has been an influx of different governors coming and going," he says. "And the Taliban have done a very good job with taking out the middle management [among the government officials]."
The media often portray the conflict in Kandahar as being primarily driven by ideologically motivated Taliban extremists who want to once again overrun the region to impose their harsh rule. But Kuehn says the conflict on the ground is more complex. He cites the example of competing construction companies who frequently bomb each other's projects to take them over.
"The government and the foreigners have failed to include a vast part of the population, particularly the tribal leadership," Kuehn says, adding that these leaders doubt the Afghan government's survival and the staying power of its international backers.
"As long as they are not with the government and support the government structures, which are incredibly corrupt, specifically in Kandahar, as long as that is going on, there will not be a possibility for improvement," he says.

Intense Political Competition
Mohammad Yunos Fakur is a Kabul-based Afghan analyst who has a nuanced understanding of the complex tribal politics in Afghanistan's southern Pashtun heartland. He says that the root of instability in Kandahar lies in the intense political competition among leading Pashtun tribal families and clans, which the Afghan governments before the Soviet invasion avoided by appointing outsiders to run Kandahar.
Fakur says that after the fall of the Taliban, President Hamid Karzai's younger half brother and Popalzai chieftain, Ahmad Wali Karzai, outmaneuvered his local political rivals from the families of former Governor Gul Agha Sherzai and the late mujahedin commander Mullah Naqib. Through extensive alliances and deals he established himself as the undisputed leader of the region.
This, Fakur says, has had far-reaching consequences.
"This resulted in the harmony and national unity in Kandahar and the country at large being damaged," he says, adding that "the disunity and suffering of the people of Kandahar affects the whole of Afghanistan. That is why the situation is tense across Afghanistan."
Fakur claims that these three families currently control 65 out of a total of 68 senior administrative posts in the province. And this has alienated many -- particularly the Ghilzai tribes who are historical rivals of the Durranis. He claims that most senior Taliban leaders in southern Afghanistan are disgruntled Ghilzai tribesmen.
For the past 2 1/2 centuries, most Afghan kings were Durranis, as is its current president, Hamid Karzai, but Ghilzais take credit for establishing the country after defeating the Persian Safavid Empire in early 18th century.
Fakur says that resolving Kandahar's tribal rivalries is the only way to bring stability into the region.
"If we have reasonable government here, and as the Obama administration has been saying, they talk to the tribal leaders to bring them into the governments fold," Fakur says, "this will restore the regional balances and pressure those [insurgents] who are now working with foreign intelligence services. And this will do a lot to bring peace to Afghanistan."
More Troops Won't Help
But those in power in Kandahar have a different perspective.
Ahmad Wali Karzai, the region's most powerful man and head of the Kandahar provincial council, rejects the assertions that the government's failures are contributing to increasing Taliban strength.
Karzai, whom critics blame for what is going wrong in Kandahar, says that sending more Western troops won't help and only including more locals can effectively counter the Taliban tactics of targeted assassinations, suicide attacks, and ambushes.
"They need to make one change, which is that more Afghans, more people from this region, should participate in their battles," he says. "Whether you call them Arbakis [tribal volunteer militia] or local patriotic forces, they should be formed. And they can fight their enemies and, inshallah, will control this situation."
But such views increasingly have few buyers in the West.
Julian Lindley-French, a professor of military operational science at the Royal Military Academy of the Netherlands who closely follows developments in southern Afghanistan, says the British, U.S., and Afghan military operations in neighboring Helmand Province have forced the Taliban to configure a new supply route through Kandahar to the southwestern Pakistani city of Quetta, where the Taliban leadership is believed to be hiding. And this might explain the recent surge in violence around Kandahar.
Lindley-French says he expects the United States to put Afghan reconciliation front and center in its updated strategy and will encourage the addressing of genuine local grievances in the southern and eastern Pashtun heartland. But Washington will expect the Afghan government to meet it halfway.
"The coalition has a right to expect better governance, better performance, and a willingness to be less factional in the way governance is applied across the country," Lindley-French says. "If that does not change, then we are at a critical point. I cannot see how the coalition could sustain its effort if there is no chance of reasonable progress."
If Karzai is reelected, Kandahar will be his critical first test. If he loses control there, many believe he will have lost the country.
RFE/RL's Radio Free Afghanistan Correspondent Salih Muhammad Salih contributed to this report