BELGRADE -- Bosnian Serb wartime leader Radovan Karadzic, wanted for planning and ordering Europe's worst atrocities since the Holocaust, has been arrested after more than a decade on the run.
He now faces extradition to the UN war crimes tribunal in The Hague.
In a brief announcement on July 21, Serbian President Boris Tadic said the 63-year-old Karadzic had been "located and arrested."
Speaking to RFE/RL's South Slavic and Albanian Languages Service, Haris Silajdzic, chairman of Bosnia-Herzegovina's tripartite presidency, hailed the arrest.
"Justice was very slow, but has finally been achieved," Silajdzic said. Bosnian wartime military commander Ratko "Mladic is still at large. I was very skeptical about the arrest of Karadzic and Mladic. But I have to say that I am sure that Mladic will be arrested, as well. He has to be tried for the genocide in Srebrenica."
Celebrations In Sarajevo
News of the arrest sparked spontaneous nighttime celebrations on the streets of the Bosnian capital, Sarajevo -- a city Karadzic's Bosnian Serb forces mercilessly shelled for 43 months from 1992-96. Residents poured onto the streets and drivers jubilantly honked their horns.
Karadzic has been twice indicted for genocide by the International Criminal Tribunal for the former Yugoslavia (ICTY) in The Hague -- for the siege of Sarajevo, which claimed 12,000 lives, and for orchestrating the massacre of some 8,000 Muslim men and boys at Srebrenica in 1995.
The arrest came on the eve of a key meeting of EU foreign ministers in Brussels, which is scheduled to discuss Serbia's bid to join the European Union.
"I think [the operation] has been very well done by the Serbian authorities," Solana said. "Remember that the elections in Serbia -- the presidential and parliamentary elections -- took place not long ago. And I think they have proven their will to cooperate fully with the International Tribunal, and that's something I welcome very much."
Failure to arrest Karadzic and Mladic were key issues blocking the full implementation of the Stabilization and Association Agreement the EU signed with Serbia in April. Meeting the terms of the agreement, which was frozen pending "full cooperation" with The Hague, is seen as a key step for Serbia to be considered for eventual EU membership.
Karadzic is the 44th war crime indictee that Serbia has sent to The Hague.
French Foreign Minister Bernard Kouchner, whose country holds the EU's rotating presidency, said it was too early to "prejudge anything," stressing that "Karadzic has been arrested but Mladic has not."
We are truly committed to peace and international rule of law -- be it when it comes to our cooperation with The Hague tribunal or be it in our defense of our sovereignty over Kosovo.
Arriving at the EU meeting, Serbian Foreign Minister Vuk Jeremic stressed Belgrade's commitment to international law.
"We are very serious about our future in the European Union. We demonstrated this yesterday," Jeremic said. "We want to be a member of the European Union. We want to be a cornerstone of peace. We want to be a regional player for regional stability. We are truly committed to peace and international rule of law -- be it when it comes to our cooperation with The Hague tribunal or be it in our defense of our sovereignty over Kosovo."
Serbian government officials say Karadzic was arrested on July 21, but did not provide details.
Karadzic's attorney, Svetozar Vujacic, says he was actually arrested on July 18 while taking a bus between two Belgrade suburbs and held for three days before the announcement.
During a press conference in Belgrade, Rasim Ljajic, the minister in charge of cooperation with the ICTY, said Karadzic had been working at a medical clinic under a false name and had tried to conceal his identity with a white beard.
Karadzic's arrest came just weeks after Serbia's parliament approved a coalition government after pro-Western parties made gains in general elections in May. The new government is an alliance of a pro-Western coalition led by Tadic and the Socialist Party of former Serbian President Slobodan Milosevic.
'Important Day For the Victims'
The capture of Karadzic also came just weeks after the 13th anniversary of the Srebrenica massacre.
Dozens of ultranationalists protested the arrest overnight in front of the Belgrade court building where Karadzic is being held.
Karadzic was handed over to Serbia's Special War Crimes Court, which has ruled that the conditions for his transfer to The Hague have been met. Karadzic's lawyer reportedly plans to appeal the decision.
Hague prosecutor Serge Brammertz called the arrest "an important day for the victims" and for "international justice" that showed that "nobody is beyond the reach of the law."
The United States hailed the arrest in a statement released by the White House, saying it demonstrated Serbia's "determination to honor its commitment to cooperate" with The Hague tribunal.
Russia's Foreign Ministry, however, warned that Karadzic's trial should be "impartial," accusing the UN war crimes tribunal of "an often biased approach."
More About Karadzic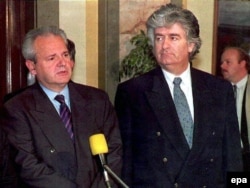 'Real Racist Believer'
Richard Holbrooke, the American diplomat who brokered the Dayton Accords, believes Radovan Karadzic was the "worst" of the "three evil men" of the Balkans. Who is the man known as the "Butcher of Bosnia"? More