Fatemeh Karrubi, a prominent Iranian political activist and wife of opposition leader Mehdi Karrubi, is calling on Supreme Leader Ayatollah Khamenei to ensure that those responsible for the torture of postelection detainees are brought to justice, after revealing that her son is the victim of such abuse himself.
In an open letter posted today on the Sahamnews website, Karrubi says 37-year-old Ali Karrubi, who was detained on February 11 during rallies marking the 31st anniversary of the Iranian Revolution, was beaten and threatened with rape while in custody.
She says her son was detained after he had tried to intervene after security forces and plainclothes agents attacked his father. Ali Karrubi was then taken to Amir al Momenin mosque. She says security forces, after realizing his identity, separated Ali Karrubi from the other detainees and beat him severely.
Fatemeh Karrubi writes in her letter to Khamenei that her son was also threatened with rape "in the house of God." She says Ali Karrubi was later taken away by a special guard unit, which videotaped his further torture. When his release was ordered, she says, the commander became upset and told Ali, "If you'd been here for 24 more hours, I would have delivered your dead body."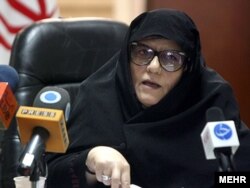 Fatemeh Karrubi
Fatemeh Karrubi says the point of her letter is not to highlight the treatment of her son. She said he's being taken care of and is with his family. She says she wrote the letter in an effort to convince the supreme leader to issue a call for justice for detainees -- especially for the young ones and those less prominent -- before it's too late. She is calling on Khamenei to find a solution before other detainees die at the hands of "these irresponsible people."
At least three postelection detainees are known to have died under torture. Others have said they were physically and psychologically tortured. A number of detainees have said they were raped while in custody.
Iranian Nobel Peace Prize laureate Shirin Ebadi
is calling for urgent international help
to counter a growing list of rights abuses in the Islamic republic.
-- Golnaz Esfandiari