Kazakh TV Journalist Attacked In Almaty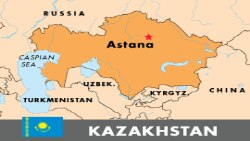 A group of unknown assailants attacked a Kazakh journalist in Almaty on November 17, RFE/RL's Kazakh Service reports.
The TAN television station's administrative director, Yelena Ilyichevskaya, told RFE/RL that TAN journalist Nurbol Kyzykbaev was attacked at around 1900 near the company's office. She said the attackers ran away after Kyzykbaev's office colleagues heard him scream and rushed to help him.
Ilyichevskaya said she does not know the motive for the attack. She said it might have been an attempted robbery and not connected to Kyzykbaev's professional activities.
Ilyichevskaya said Kyzykbaev, 23, suffered minor bruises and abrasions and has returned to work. Police are investigating the incident.
Read more in Kazakh.
About This Blog
"Watchdog" is a blog with a singular mission -- to monitor the latest developments concerning human rights, civil society, and press freedom. We'll pay particular attention to reports concerning countries in RFE/RL's broadcast region.
Journalists In Trouble
RFE/RL journalists take risks, face threats, and make sacrifices every day in an effort to gather the news. Our "Journalists In Trouble" page recognizes their courage and conviction, and documents the high price that many have paid simply for doing their jobs. More