It's no secret that Kazakhstan's every step will be scrutinized now that it has taken over as chair of the Organization for Security and Cooperation in Europe (OSCE) for a one-year stint, the first former Soviet republic, and also the first Muslim country, ever to do so.
In the months and weeks before it assumed the post on January 1, numerous Western specialists and human rights organizations argued that Kazakhstan was unqualified, given its authoritarian leadership and bad track record on human rights.
Those failings do not, however, automatically render the Kazakh Foreign Ministry incapable of discharging the formal functions of the country occupying the OSCE chair.
Indeed, a senior OSCE official in Central Asia tells RFE/RL on condition of anonymity that the Kazakh Foreign Ministry -- whose head, Kanat Saudabaev, is tasked with carrying out the duties of chairman in office in his capacity as foreign minister -- is making every effort to demonstrate that it is up to the task.
Changing Focus
As its name suggests, the primary focus of the OSCE is promoting economic and security cooperation between its 56 member states. Those aspects, for better or for worse, frequently take precedence over the human rights component -- what is known as the "Basket Three" of the 1975 Helsinki Accords that established the Conference for Security and Cooperation in Europe. (The organization was renamed in 1994.)
Kairat Abdrakhmanov, who is Kazakhstan's ambassador to the OSCE, played up the economic and security components during a December 30 roundtable conducted by RFE/RL's Kazakh Service.
"Today [at this roundtable] we mainly focused on the third, humanitarian, dimension of the OSCE. That is understandable. We have to admit it," Abdrakhmanov said.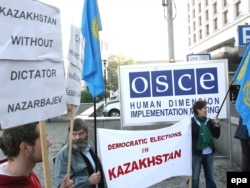 Members of Poland's Kazakh community protest in Warsaw in 2007 against Kazakhstan heading the OSCE.
"But the organization that we're about to chair is mainly focused on important issues, like military and political aspects of security, like increasing the effectiveness of this organization in terms of solving the economic and environmental aspects of the OSCE's goals. As chair, we have a lot of issues to solve."
First up will be organizing the Annual Environmental and Economic Forum, held in two stages in January and May, for which the OSCE chair proposes a specific theme.
For 2010, Kazakhstan has proposed: "promoting good governance at border crossings, improving security of land transportation, and facilitation of international transport by road and rail in the OSCE region," according to the OSCE official in Central Asia.
The chair country also hosts conferences on security and human rights, and the annual meeting of OSCE foreign ministers in November that focuses on all aspects of the organization's activities.
In addition, Foreign Minister Saudabaev will visit selected member states to discuss the work of the OSCE as a body and, if necessary, to highlight failures to comply with the OSCE's core values, especially human rights.
Post-Soviet Arbiter
Kazakh officials have argued that their country is uniquely qualified to help mediate in disputes between other former Soviet republics.
Saudabaev told Azerbaijan's Trend news agency last November that as OSCE chairman, Kazakhstan "will actively participate in the negotiation process under the aegis of the OSCE Minsk Group" that since 1992 has sought to mediate a formal solution to the Nagorno-Karabakh conflict.
Kazakh President Nursultan Nazarbaev has twice tried to bring Armenia and Azerbaijan to the negotiating table -- in 1991 and again in 1992 -- but both those bids came to nothing.
In addition, Kazakhstan's chosen economic focus offers it the opportunity to expedite an improvement of the strained relations between Georgia and Russia by urging both countries to open the Verkhny Lars border crossing.
Foreign Minister Saudabaev is scheduled to address the OSCE Permanent Council in Vienna on January 14, when he will outline Kazakhstan's priorities as chairman in greater detail.