Who would want to be in Shahram Amiri's shoes? As homecomings go, the reception that awaited the Iranian nuclear scientist's arrival on native soil -- after more than a year in the hands of U.S. intelligence agents -- could politely be described as uncertain.
Having depicted him as the victim of a kidnapping orchestrated by the U.S. Central Intelligence Agency (CIA), Iranian officials could be expected to exploit the propaganda coup of his return by greeting him with a blaze of fanfare -- at least publicly.
Yet Amiri's thoughts on board the long flight back to Tehran may well have been laced with apprehension about his longer-term fate.

For the possibility exists that -- whatever embarrassment U.S. intelligence officials might now be feeling over the high-profile departure -- his disclosures while in their hands may have done his native country some real harm.
U.S. officials have -- understandably -- stayed mute about what they may have learned from Amiri. But Mark Fitzpatrick, a former U.S. State Department official and senior fellow at the International Institute for Strategic Studies in London, believes the scientist may have provided confirmation about the existence of a second Iranian uranium-enrichment plant that gave the essential momentum for a fourth round of UN Security Council sanctions, approved last month.
"It seems clear to me that he did provide important information to the United States about Iran's nuclear program," says Fitzpatrick, a specialist in nuclear nonproliferation. "In particular, it appears that he confirmed the existence of the nuclear enrichment facility at Fordow near Qom. And although U.S. intelligence agencies had suspected that plant, it was important to have confirmation by somebody who had actually been there and had firsthand knowledge of the plant."
Intelligence Value
That assessment addresses questions over just how useful Amiri -- at the age of 32, a relatively junior figure in the nuclear program -- could have been to the United States.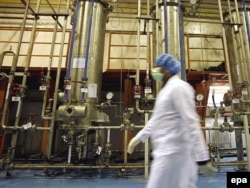 How much did Amiri know about Iran's nuclear program?
Accounts on the nature of his expertise differ. Amiri worked at Malek Ashtar University, an institution believed to be linked to the Islamic Revolutionary Guards Corps (IRGC), and was reported by Iranian media to have been working on a nuclear reactor developing medical isotopes.
But an exiled Iranian opposition group, the National Council of Resistance in Iran, reported this year that Amiri worked at a site it called "Mojdeh", which it said was a nuclear nerve center dressed up as an academic site. Some Western news media have reported that he may also have worked at Lavizan, a military-research base near Tehran that was demolished in 2004 as Iran faced close scrutiny from the International Atomic Energy Agency over its uranium-enrichment activities.
The lack of clarity has fueled speculation that Amiri has provided insight into the military details of a program that the United States and its allies believe is a cover for developing nuclear weapons.
However, Fitzpatrick plays down that possibility. "There were early indications that Amiri might have been involved in the design of nuclear weapon or such sensitive matters, but that may not be the case at all," Fitzpatrick says. "It may just be that he was able to confirm the existence of the [Fordow] plant and, who knows, maybe some other key information and after that perhaps his usefulness was exhausted."
Timing Is Key
Certainly, the timeline suggests that Amiri may have been instrumental in corroborating the existence of the second enrichment facility.
Amiri disappeared -- or was kidnapped, according to Iranian accounts now supported by him -- during an Islamic pilgrimage to Saudi Arabia in May last year at a time when the United States still held hopes of a rapprochement with Iran based on President Barack Obama's offer to "reach out a hand" to the Islamic regime.
By the time Obama revealed U.S. knowledge of the Fordow plant last September, those hopes had subsided amid Western condemnation of the bloody suppression of mass protests following President Mahmud Ahmadinejad's disputed reelection.
Several days after the plant's disclosure -- which gave added impetus to U.S. diplomatic efforts to pressurize Iran -- the Iranian foreign minister, Manuchehr Mottaki, publicly raised Amiri's disappearance and claimed to have "documents" proving U.S. involvement.

Kidnapped, Or Defected?
If Amiri's usefulness to the United States is becoming clearer, the circumstances behind his arrival on American shores -- and his subsequent behavior once he got there -- remain a mystery.
Amiri's claims that he was abducted in the Saudi shrine city of Medina are dismissed by seasoned observers such as Sir Richard Dalton, a former British ambassador to Tehran.
"I think it's unlikely because I don't think intelligence services operate in that way given the possibility of severe embarrassment to them at a later stage of the exercise," Dalton says. "So my guess is that if he was indeed in possession of useful information and did indeed end up in the United States in the hands of U.S. authorities, then it was a voluntary matter on his part."
Amiri's erratic behavior in the United States -- where he issued a series of contradictory video statements -- may have been a consequence of psychological pressure exerted by Iranian agents, who are said to have threatened his family in Iran. At least one Western report has suggested that intelligence officials intercepted a phone call Amiri made on the Internet to his wife to tell him she would be tortured if he did not return home. Fitzpatrick says it is not unknown for defectors -- cut off from family and friends in a strange environment -- to undergo changes of heart, and he believes Amiri, who also has a 7-year-old child, may have been especially vulnerable.
"Some of them have second thoughts," Fitzpatrick acknowledges. "In his case, he had a family back in Iran and I'm sure that the Iranian government put pressure on the family and he would have been in contact with his family, and you can just imagine the father, the mother, the wife pleading with him to come back and to play along with the purported story that he was kidnapped against his own will. You can easily imagine that he was persuaded that this was the best way to be reunited with his family and not to be killed by Iranian authorities in the process."
Another Spy Swap?
The intriguing possibility remains, however, that Iran -- concerned over the defection of other, more high-profile officials such as Ali Reza Asgari, a former deputy defense minister who disappeared in Istanbul in 2006 -- may have planted Amiri as a double agent tasked with misleading the United States and learning more about its intelligence operations. Seasoned observers stop short of dismissing the theory, far-fetched as it appears.
What is more certain is that the issue of the United States and Iran holding each other's citizens in custody remains live and present. As Amiri departed Washington on July 13 -- "freely," U.S. officials were at pains to point out -- Secretary of State Hillary Clinton raised the fate of three American hikers languishing in Tehran's Evin prison and accused of spying.
That appeared to hint at a potential swap, but also seemed at odds with U.S. insistence that Amiri left of his own accord.
With Iran now wallowing in the propaganda value of its scientist's return, some analysts have portrayed the episode as a blow to the CIA's standing. Amiri's second video -- in which he contradicted earlier claims of being abducted and tortured by saying he was free and safe -- paints a picture of a man being pacified by handlers desperate to avoid the embarrassment of having him abscond.
Yet that may be a small price to pay if Amiri's information was valuable, Fitzpatrick says. "In the last couple of days, Iran got a bit of a propaganda victory, but who cares," he says. "If he turned over the key information that the United States needed -- and it appears that he did -- that's the bigger picture here. And having done that, Iran was put under considerable pressure when the Fordow plant was exposed and it's been under pressure ever since. That was a key factor that led to UN Security Council sanctions.
"So, okay, Iran has a small propaganda victory now. I hope that Dr. Amiri is not treated too harshly when he gets back to Iranian soil. But I wouldn't want to be in his shoes right now."