Kosovar and Serbian government officials have both rejected a proposal by an influential think tank that a land swap between Kosovo and Serbia may help resolve the two sides' dispute over Pristina's independence.
The proposal is included in a report issued on August 26 by the International Crisis Group (ICG), which lists possible options for resolving the standoff between Pristina and Belgrade.
Serbia, which considers the territory of Kosovo part of its historic and cultural heritage, has steadfastly refused to recognize Kosovo's independence, even after a UN court said the 2008 declaration by Pristina did not violate international law.
In its
report
, the ICG called on both sides to enter negotiations on normalizing ties, and suggested that a swap of northern Kosovo for parts of Serbia's Presevo Valley was a conceivable solution for Serbia's continued objection to Kosovo independence.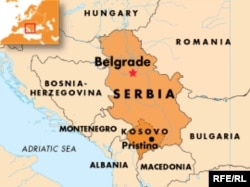 Northern Kosovo is mainly populated by ethnic Serbs; the Presevo Valley is home to a number of Albanian communities.
But Kosovo's Prime Minister Hashim Thaci has rejected the suggestion, saying Kosovo's integrity was guaranteed and that "there will be no territory swap."
Thaci said his government would adhere to the 2007 plan of former UN envoy Martti Ahtisaari to promote greater integration of Serbs and create a functioning multiethnic society in Kosovo.
Oliver Ivanovic, who heads Serbia's ministry for Kosovo issues, dismissed the proposal as well, telling RFE/RL's Balkan Service that northern Kosovo is already under "de facto and de jure control of the Serbian community, and there is no reason to contemplate any exchanges."
Sabine Freizer, who heads the ICG's Europe program, told RFE/RL that the best possible option for resolving the dispute would be an agreement to grant northern Kosovo greater autonomy.
Barring that, she said a territorial swap would be the next best step -- and that neither the European Union nor the United States should attempt to prevent the two sides from striking such a deal.
"If eventually they do agree that a territorial exchange is necessary and the best way forward, then what we think is that the international community should not be the one to stand in the way and to stop Serbia and Kosovo from agreeing to this mutually agreed solution," Freizer said.
Serbia is hoping to forestall negotiations with Kosovo by introducing a resolution at next month's United Nations General Assembly that would reopen the issue of Kosovo's status.
But the ICG report has urged Kosovo and Serbia to enter talks as quickly as possible, saying it is the only way for both countries to unblock their paths toward European integration.
Any further delay on talks "could freeze the conflict for several more years," said Marko Prelec of ICG's Sarajevo office. He added it could also strengthen nationalist sentiment and undermine efforts to combat corruption in both countries.