Lying 1,600 meters above sea level in the "Heaven's Mountains" of eastern Kyrgyzstan, the glistening waters of Issyk-Kul have long been a point of national pride and global ecological significance.
Surrounded by the snow-capped peaks of the northern Tian Shan range, the lake is celebrated for its sky blue-to-dark indigo color, which results from a unique combination of transparency and bright sunlight.
But the lake's unearthly beauty could prove its downfall if tourism and growth continue unchecked.
Looking to avoid such a fate, an international financial institution and the Kyrgyz government are working together to ensure Issyk-Kul's future health.
The lake was a popular vacation destination in Soviet times, and led to the development of resorts sprawled along its northern shore. Today, its waters continue to attract up to 1 million tourists annually, including many from Kazakhstan, Russia, and Uzbekistan.
But critics of the trend warn that Issyk-Kul can't handle much more of this type of adoration.
Bobur Alimov, Asian Development Bank (ADB) portfolio management specialist in Kyrgyzstan, tells RFE/RL that the existing infrastructure cannot handle the combined strain of a growing full-time population and the annual influx of tourists.
"During [summer], the number of tourists exceeds the residents' population by a factor of four, so there is excessive pressure on existing infrastructure," Alimov says. "Sewage and sanitation facilities were built 20-30 years ago [and] there are now dilapidated. That presents a significant threat to the lake's [water] quality."
An ADB report claims that current sewage-treatment facilities can handle the effluent of only one-third of the population of the three main cities along Issyk-Kul's northern shore -- Balykchy, Cholpon-Ata, and Karakol. Sewage plants are deemed "nonfunctional," because they release untreated water into the lake, while a "substantial portion" of the population living near the lake uses outhouses.
Most hotels and resorts have septic systems in place, but Alimov says their discharge is not properly monitored. Meanwhile, the ADB says, dumps are "unsecured, lacking liners and leachate capture and treatment."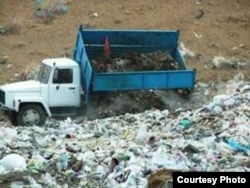 Dumping trash near Issyk-Kul's shores (photo: Asian Development Bank)
All of these factors potentially contribute to the contamination of watercourses, groundwater, and soil.
In a significant effort to tackle this threat, the ADB and the Kyrgyz government are collaborating in a new $37.5 million project expected to both improve the quality of life of the residents and ensure environmental preservation of the lake.
The Issyk-Kul Sustainable Development Project covers Balykchy, Cholpon-Ata, and Karakol, and is to be completed in 2015. It envisages the rehabilitation and expansion of sewage systems, construction of new sewage-treatment plants, improving the solid waste management system, construction of sanitary landfills, and rehabilitation and expansion of water-supply systems.
It's about time, according to Temirbek Choduraev, a professor of geography at the Kyrgyz State Pedagogical University in Bishkek and head of the environmental nongovernmental organization Tabiat (Nature).
"[Issyk-Kul] is a world's treasure, and international organizations know that," Choduraev tells RFE/RL's Kyrgyz Service. "We have to preserve and develop it. We are passive on that. All of us -- the people, the government, NGOs -- have to raise these issues. We've got this incredible lake."
Slightly salty, Issyk-Kul -- "warm lake" in Kyrgyz -- never freezes, contributing to its importance as a wintering site, stopover, or feeding ground for tens of thousands of birds recorded annually. The lake and its surroundings are also home to a wide variety of mammals and endemic fish species such as the Naked Osman.
Apart from pollution, this biological diversity is being threatened by habitat degradation and conversion.
In order to help preserve this unique natural environment, the lake has been included in a biosphere reserve, consisting of several preserves, national parks, and wetlands. But financial shortcomings make it very difficult for governmental nature-protection offices to handle such an extended area, equivalent to the size of Switzerland.
Thomas Tennhardt, vice president of Germany's Nature and Conservation Union (NABU), says the region could develop tourism, if executed in a sustainable way.
"We have had over [the past] 10 years a very good running project on ecotourism [in the Issyl-Kul region]," Tennhardt says. "If you look at Switzerland, how many tourists are there in the mountains? It's a much higher density than in Issyk-Kul. I think [that] if you have proper and nature-friendly tourism development, it might be acceptable also for the lake."
The ADB says many flora and fauna species have pulled back from settlement and economic activity areas at the shores and lower foothills to the mountain ranges or upper foothills. Some waterfowl and migrant birds, whose habitats and nesting areas were along the shoreline, are endangered.
Due to domesticated animals, waterfowl, and near-water living habitat fowls, most wild mammals are also pushed back from the shore area and are not observed in settlement areas.
Issyk-Kul's pristine state is at the heart of critics' objections to excess tourism.
Environmentalists say intensive irrigation development has led to reduced water levels and the drying of many of the incoming streams that the endemic fish species had previously used for spawning.
The introductions of some alien fishes are also blamed to have caused the disappearance of the endemic fishes, which have all been recorded in Kyrgyzstan's Red Data Book of threatened species.
In a move criticized by the local fish breeders, the State Agency for Environmental Protection and Forestry last December banned operation of nurseponds until they have switched to breeding endemic fish species instead of Rainbow Trout.
Fishermen and environmentalists claim that the trout, which is native to tributaries of the Pacific Ocean, have escaped from their cages, causing damage to endemic species.
RFE/RL Kyrgyz Service contributed to this report