Kyrgyz Human Rights Defenders Planning Mass Protest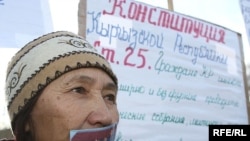 Human rights defenders in Kyrgyzstan say they are planning to hold a mass protest action this summer.
Aziza Abdyrasulova
, chairwoman of the Kylym Shamy human rights center in Bishkek, told RFE/RL's Kyrgyz Service that Kyrgyz human rights activists are concerned about restrictions of freedom of speech in the country.
The current Kyrgyz leadership is "turning the nation into a speechless and obedient society," she said.
It is necessary, Abdyrasulova said, to be more active to unite all the human rights organizations in Kyrgyzstan.
About This Blog
"Watchdog" is a blog with a singular mission -- to monitor the latest developments concerning human rights, civil society, and press freedom. We'll pay particular attention to reports concerning countries in RFE/RL's broadcast region.
Journalists In Trouble
RFE/RL journalists take risks, face threats, and make sacrifices every day in an effort to gather the news. Our "Journalists In Trouble" page recognizes their courage and conviction, and documents the high price that many have paid simply for doing their jobs. More