BISHKEK (Reuters) -- Kyrgyzstan's opposition has described the death of a politician in a crash as political murder ahead of a presidential poll but the government said the death was being used by them for political purposes.
Medet Sadyrkulov, a former presidential chief of staff, is believed to have died at dawn on March 13 in a head-on collision with another car outside the capital, Bishkek, police said.
Opposition leader Omurbek Tekebayev said Sadyrkulov, 55, developed close ties with the opposition lately and planned to join them soon to counter President Kurmanbek Bakiev's rule.
"It was a political murder," said Tekebayev, leader of the Ata Meken opposition party. "He planned to join the opposition along openly with a group of government officials...He was capable of raising funds to organize mass protests."
The government said the opposition was trying to use his death for their own political reasons.
"We have yet to receive the results of forensic tests. It is premature to call it a political murder," said Almaz Turdumamatov, a Bakiev spokesman. "The opposition wants to use this case for its own political purposes."
Police say it may take weeks to identify the charred body but the case has already stoked tensions in the ex-Soviet state. Two other people are also feared dead in the crash.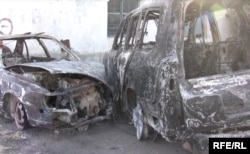 The accident in which Sadyrkulov died
The car crash was the latest in a string of incidents in the mainly Muslim nation ahead of a presidential poll expected either this year or next. The opposition has accused Bakiev, who plans to run, of trying to remove potential rivals in the runup. The government has denied opposition allegations.
A disputed parliamentary election in 2005 triggered violent protests in Bishkek that forced long-serving leader Askar Akaev to flee the country and brought Bakiev to power.
'Gray Cardinal'
Sadyrkulov, who quit as head of Bakiyev's administration in January, has never publicly criticized Bakiev and often mediated efforts to mend bridges between him and the opposition.
Described in domestic media as the "gray cardinal" of Kyrgyz politics, he later turned down a Bakiev offer to become his foreign minister but remained active in politics.
Earlier this week, Alikbek Jekshenkulov, a former foreign minister and a Bakiyev critic, was charged with complicity to murder in a case the opposition said was politically motivated.
In another case, an opposition journalist was badly stabbed by unknown attackers outside his office this month.
Kyrgyzstan has been described as relatively liberal compared to some of its more authoritarian neighbors.
But Bakiyev has tightened his grip on power in past years, overseeing a 2007 parliamentary poll in which his party won the majority and which was criticized as rigged by the opposition.
"The reign of terror is taking over the country," said Cholpon Jakupova, a human rights defender. "All dissent is being eliminated."
Journalists In Trouble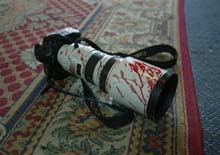 RFE/RL journalists take risks, face threats, and make sacrifices every day in an effort to gather the news. Our new "Journalists In Trouble" web page recognizes their courage and conviction, and documents the high price that many have paid simply for doing their jobs. More