Kyrgyz President Kurmanbek Bakiev has threatened to kick U.S. troops out of the strategic Manas air base near Bishkek unless more money is offered for use of the facility.
Bakiev has not specified a date that U.S. troops would be asked to leave Manas.
But the intensity of the message and the perception that Moscow might have put the squeeze on Bakiev to prompt the move appear to have heightened concern among Western officials.
The base is vital to the supply route aiding U.S. and NATO forces in nearby Afghanistan, and analysts say the threat poses serious challenges to the administration of U.S. President Barack Obama in its relations with Russia and Central Asia.
Speaking during a visit to Moscow on February 3, Bakiev said the issue came down to the price the United States is willing to pay for continuing to use Manas as part of an "air bridge" of cargo planes flying quickly in and out of Afghanistan to supply U.S. and international forces there.
"We have repeatedly discussed with our American partners the issue of economic compensation to Kyrgyzstan in return for hosting the base, but unfortunately we did not reach an understanding with the United States," Bakiev said. "We have been saying for three years already that we must reexamine the conditions of this agreement, that those questions of economic compensation don't meet the requirements of Kyrgyzstan in any way."
The lease agreement obliges Kyrgyzstan to give the United States 180 days' notice to leave, and U.S. officials say no eviction notice has been received.
Western Challenge
The U.S. Embassy in Kyrgyzstan on February 4 responded to Bakiev's comments by saying that it would continue talks on allowing U.S. troops to use the air base. The possibility of a closure could prove a signficant challenge as the Obama administration prepares to send as many as 30,000 additional troops to Afghanistan this year.
But signaling its desire to proceed with the closure, the Kyrgyz government on February 4 sent draft eviction legislation to the parliament, where a vote is expected next week. News agencies quoted Kyrgyz National Security Council chief Adakhan Madumarov as saying the decision was final and that "there is no way back."
NATO responded by saying it would be a worry if Russia were found to have had a role in Kyrgyzstan's decision to close a U.S. military air base which supplies U.S.-led troops fighting in Afghanistan.
"If it were to be the case that a Kyrgyz decision to withdraw U.S. access to Manas was as a result of Russian engagement that would be of concern," NATO spokesman James Appathurai told a news briefing on February 4, according to Reuters.
Appathurai said any Russian interference would be out of line with Russia's repeated statements that it supports the international effort in Afghanistan and its position as a U.N. Security Council member that approved the mandate.
Appathurai's comments came just before NATO Secretary-General Jaap de Hoop Scheffer and Russian Deputy Prime Minister Sergei Ivanov were due at a February 6-8 conference to resume political contacts frozen by NATO after Russia's intervention in Georgia last year.
Bakiev's announcement followed his talks with Russian President Dmitry Medvedev in Moscow. In those talks, Medvedev said he offered loans and aid to help Kyrgyzstan meet budget shortfalls and finance energy development.
"Russia will supply Kyrgyzstan with $2 billion of credit and $150 million in financial aid," Medvedev said. Those funds, he said, would go toward stabilizing the Kyrgyz budget and the development of key infrastructure projects, including the joint construction of the Kambarata-1 hydroelectric power station in Kyrgyzstan.
In Bishkek, the Kyrgyz political opposition criticized the government's moves regarding the base.
Alikbek Jekshenkulov, a former foreign minister and a leading member of opposition For Justice movement, told RFE/RL's Kyrgyz Service that the government had suddenly reversed its position on the U.S. presence at Manas. He said that that inconsistency diminishes the authority of President Bakiev and the country's leadership as a whole.
Stay Tuned
Paul Quinn-Judge, a Bishkek-based expert on Russia and Central Asia, says that Bakiev's announcement appears to be part of ongoing negotiations rather than an irreversible decision based on changing geopolitics.
"Don't assume the base is going to close until you see the American troops packing up and leaving. I suspect there is going to be still a lot of haggling going on," Quinn-Judge says.
Scenes from outside Manas air base, which hosts hundreds of soldiers from the international coalition battling Taliban and Al-Qaeda-backed fighters in Afghanistan, about 1,000 kilometers away. (Video by RFE/RL Kyrgyz Service correspondents Mirlan Toktaliev and Sabyr Abdymomunov; shot with the permission of Manas authorities.)
Quinn-Judge suggests the Kyrgyz side's decision is based on financial considerations, not ideological ones.
"They are in serious economic trouble. They have an energy crisis," Quinn-Judge says. "They want to make sure they have some money to keep their own population quiet come this spring, when most people think there are going to be some form of public protests -- and also to make sure that President Bakiev, should he decide to run for early reelection, has enough money to throw around for that purpose."
"Despite Russia's own tremendous financial problems, it is interested in reasserting its position in Central Asia," he says. "Until now, Russia hasn't really been that interested in Kyrgyzstan. It hasn't been a big fan of [Bakiev] or of his policies, and has sometimes complained about how Russian business interests here have not been able to get a foot in the door."
Quinn-Judge also says the Russian offer is an "intriguing" suggestion that Medvedev supports the closure of Manas -- and could set a tone for relations between the Kremlin and Obama's new administration,
"This looks like the first serious power play [by Moscow] with regard to the new administration in Washington," he says. "It's a pretty clear sign that Russia is not inclined to be nice to President Obama. I don't think that we are going to have the two presidents looking into each others' souls in the near future. On the contrary, it looks as if the Russians are going to try to do what they have done in the past -- which is to try to use a little muscle first and see how far it gets them."
Medvedev appeared to try to soften the blow of the Manas closure, saying Russia and its post-Soviet allies want to help the United States stabilize Afghanistan.
Speaking at a Moscow
meeting of the Collective Security Treaty Organization
(CSTO) -- which brings together Russia, Armenia, Belarus, Kazakhstan, Kyrgyzstan, Tajikistan, and Uzbekistan -- Medvedev said Russia is ready for "full-fledged" cooperation with Washington.
He dismissed "the question...[of] the number of bases planted along the entire perimeter" of Afghanistan.
"If that actually reduced the number of terrorists, that would probably be very good; but the fight against terrorism is not limited to building up a military force [in the region], although that's very important, too," Medvedev said. "I think [the fight against terrorism] should be comprehensive. Russia and our CSTO partners stand ready for this kind of work."
Fears Of U.S. Intelligence
Pavel Felgenhauer, a Moscow-based military analyst, tells RFE/RL's Kyrgyz Service that both Russian and Chinese military officials have been unhappy about the presence of U.S. troops in Kyrgyzstan since they moved into Manas following the September 11, 2001, terrorist attacks in the United States.
Felgenhauer says that's because the base could be used by the United States for intelligence-gathering in a region where both Russia and China test weapon systems.
"As it is clear that it was Moscow that insisted on it, this closure will cause a deterioration in Russian-U.S. relations," Felgenhauer says. "Everyone thought that with the coming of the new U.S. administration, Russian-U.S. relations might improve. But it's becoming obvious that no such improvement is likely to take place. Instead, there will be a further deterioration."
But others say Russia has its own concerns about Islamic militancy in Chechnya, the Caucasus, and Central Asia.
Tim Ripley, a defense analyst for "Jane's Defense Weekly," says that he does not see a new Kremlin policy emerging with regard to the United States, Central Asia, or the issue of logistical support for international forces in Afghanistan.
"Certainly the Russians have been very helpful to the United States and [European] NATO nations, who have been talking about opening up train and land routes to Afghanistan through Central Asia and the Russian-European land mass," he notes.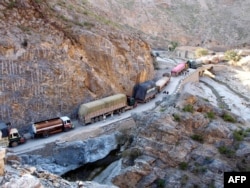 The recent destruction of a bridge on a key NATO supply route through Pakistan highlighted one of the obstacles to international operations in Afghanistan.
Nevertheless, Ripley says the closure of Manas would be a major problem for the U.S. air supply bridge to Afghanistan, which now relies heavily on a northern route over Russia to transport supplies to the Bagram air base and military facilities in Kabul and Kandahar.
Ultimately, Ripley agrees, the issue comes down to the fact that Kyrgyzstan wants more money. In recent months, supply routes through Pakistan to Afghanistan have come under attack, making U.S. and allied forces increasingly reliant on air transport.
"The threat to the road route from Karachi has increased the importance of the air bridge. So that makes it more vulnerable," Ripley says. "And that makes it more likely that the [Kyrgyz] government might want to raise the price for the use of its facility, which suddenly has become more valuable."
Meanwhile, the political opposition in Kyrgyzstan says the closure of Manas would be a mistake.
Miroslav Niyazov, an opposition politician and former secretary of Kyrgyzstan's Security Council, said that if Bishkek forces the U.S. troops out, "it would bring about a huge negative impact and a lot of shortcomings for the security of Kyrgyzstan.... The air base is a factor for [Western] investment, because the existence of the air base means security for [foreign] investments."
Regardless of the domestic politics behind Bakiev's announcement, the threat to close Manas to U.S. troops has regional and global implications. With Kyrgyzstan's draft eviction legislation already submitted to parliament, leaders from Washington and Moscow to Beijing and Kabul surely will be watching Bishkek closely for further developments.
RFE/RL's Kyrgyz Service contributed to this report from Bishkek and Prague