WATCH: Ismail Isakov's sentencing in the Bishkek Military Court to eight years in prison for corruption sparked scuffles. Isakov's supporters shouted "Damnation! Damnation" as he was led from the courtroom.
That the rights situation in Kyrgyzstan is growing worse is no secret. There have been plenty of examples just in the last few weeks that demonstrate the deterioration of the rights situation in the country, once held up by Western democracies as a model for neighboring states to follow.
On January 11, Ismail Isakov, who served as defense minister under President Kurmanbek Bakiev from 2005 until 2008, and then as secretary of Kyrgyzstan's Security Council until October that year, was found guilty of abuse of office and sentenced to eight years in jail.
Many in Kyrgyzstan have great respect for Isakov and several of the witnesses at his trial testified in Isakov's favor. A statement from the opposition United People's Movement today noted that even the judge in the trial praised Isakov's work as defense minister.
In fact, no one seemed to question Isakov's work or his loyalty until he joined the United People's Movement in October 2008. Charges against him surfaced just days later. Speaking in the courtroom at his sentencing, Isakov warned of growing oppression in Kyrgyzstan.
"No one among the [Kyrgyz] people could be indifferent to these kinds of cases," Isakov said.
"If we do not stop the oppression, the despotic willfulness, the politics of repression against their own nation, the politics of rejection of their own people's views, then tomorrow it will be too late."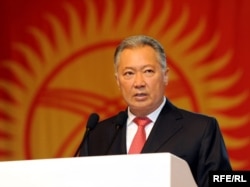 President Kurmanbek Bakiev has been accused of centralizing all power in his own hands.
Kyrgyzstan is indeed headed in the wrong direction, according to Freedom House, the U.S.-based human rights watchdog. Dedicated to monitoring how governments respect basic rights and freedoms, it downgraded Kyrgyzstan's status for the first time from "partly free" to "not free" in a
report released today
.
And Freedom House is not the only international rights group to arrive at that conclusion, after a series of events over the past year raised serious questions about President Bakiev's government.

Kyrgyzstan 'Not Free'
Christopher Walker is the director of studies at Freedom House. He says that freedom has been on the decline in Kyrgyzstan for the last few years. He describes the move from "partly free" to "not free" as "one of the key category shifts globally."
He says the country "lost the promise that it had shown starting in the spring of 2005 and this capped a decline over the last couple of cycles where we had reviewed Kyrgyzstan where we had identified a constriction of political space in that country."
Walker says events in Kyrgyzstan finally reached the point where his organization felt the country could no longer be designated as "partly free."
"The trigger this year to move the country over the threshold from 'partly free' to 'not free' was a combination of the consolidation and concentration of power in the executive branch, along with observable irregularities in the presidential elections," Walker says.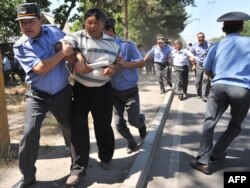 Kyrgyz police responses to opposition rallies have become more heavy-handed.
"We also noted some very, very worrisome violence against journalists with the year ending with two Kyrgyz reporters being killed under unclear circumstances. But it was a piece of the broader concerns that are emerging in Kyrgyzstan where independent institutions and opposing voices seem to be coming under increasing pressure."
Violence, Criminal Charges
That process appears to be continuing, with another former top official under President Bakiev who switched sides to the opposition facing charges.
Alibek Jekshenkulov was foreign minister from 2005 to 2007, and then in February 2008 he joined the United People's Movement. In March 2009, he was detained on charges that a pistol belonging to him was allegedly used in a murder in late 2007. His trial will reconvene on January 15.
Other opposition leaders who were once members of Bakiev's government have either been so marginalized as to represent no challenge to Bakiev or have been transferred to diplomatic posts outside the country.
The former head of the presidential administration, Medet Sadyrkulov, resigned from his post in January 2009 and was reportedly considering joining the opposition. He died in a mysterious car crash in March.
At the same time the political opposition has been suffering one setback after another, independent journalism has been hit even worse.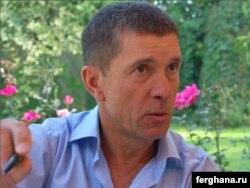 Journalist Gennady Pavlyuk was killed across the border in Kazakhstan.
Two journalists were killed toward the end of 2009. One, Gennady Pavlyuk, who was critical of Bakiev's government, was killed in neighboring Kazakhstan last month when he was thrown from a high-rise building with his hands and feet bound. Kazakh investigators said the killers came from Kyrgyzstan.
Several other independent journalists were beaten, some severely, during 2009, and some journalists and several political opponents of Bakiev took refuge abroad.
Broken Promises
Beatings and killings of journalists and political opponents were practically unheard of in Kyrgyzstan before Bakiev came to power.
When Bakiev became Kyrgyzstan's leader following the so-called Tulip Revolution in March 2005, he promised to implement a number of reforms aimed at strengthening democracy in the country.
Among those reforms were making all the country's media independent, strengthening the role of the political opposition in Kyrgyzstan, and changing the constitution so that power, which rested mainly in the hand of the executive branch of government, would be more equally distributed to the judicial and legislative branches.
Instead, independent media has been harassed and harried in the last year, a new political party Bakiev helped to create, the Ak Jol (Best Path) Popular Party, holds an absolute majority in parliament, and a restructuring of the government Bakiev undertook in late October subordinated almost all government offices and institutions under the president.
Bakiev also plans to introduce amendments to the constitution that would formalize the new powers he enjoys under the restructured government.
RFE/RL's Kyrgyz Service Director Tynchtykbek Tchoroev and correspondent Ilimbek Januzakov contributed to this report