A top official in Kyrgyzstan's interim government warns that the continued closure of borders by the country's neighbors could lead to "economic catastrophe."
Acting Deputy Prime Minister Omurbek Tekebaev says that if the "unintended blockade" by Kazakhstan and Uzbekistan lasts one or two more months, "a social explosion is waiting."
According to Kyrgyz officials, Kazakh President Nursultan Nazarbaev had promised to reopen his country's border by today. The border was closed in early April for security reasons immediately after clashes between antigovernment protesters and police in the northern Kyrgyz city of Talas spread to the capital, Bishkek, and forced President Kurmanbek Bakiev into exile.
Independent journalist Bakyt Orunbekov told RFE/RL's Kyrgyz Service that the border is still closed.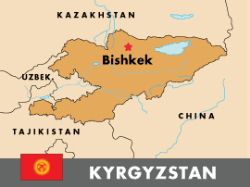 "I arrived here today around 10 a.m. About 500 people and lots of cars had already been waiting," Orunbekov said. "But border guards from the Kazakh side told people that they didn't have any orders, any information about it, and they are still blocking people from [crossing into Kazakhstan]."
Tekebaev said he understood how security concerns could be a reason for Kazakhstan to keep traffic from crossing from Kyrgyzstan into Kazakhstan. "However, they are not even permitting shipments from Kazakhstan into Kyrgyzstan," he said.
Flights Still Operating
During a visit to Kazakhstan last week,
Michael McFaul
, a senior foreign policy adviser to U.S. President Barack Obama, said that reopening the border would help stabilize the situation in Kyrgyzstan. More than 70 percent of imported goods reach Kyrgyzstan via Kazakhstan.
Tekebaev noted that a similar situation took effect following the Tulip Revolution in March 2005, when Bakiev's predecessor, Askar Akaev, was ousted. Kazakhstan and Uzbekistan temporarily closed their borders then, too.
According to Kyrgyzstan's border guard service, flights from Kyrgyzstan to Kazakhstan and Uzbekistan are still operating and citizens of Kyrgyzstan are being allowed to travel by rail through Kazakhstan to "third countries."
Orunbekov said some of those waiting at the border crossing today returned to Bishkek to voice their frustrations.
"Some people had been waiting here since last night," he said. "So today they sent their representatives to Bishkek to talk to the interim government. They want them to explain why the border is still closed."
The Kyrgyz-Uzbek border is often closed or restricted. Uzbek authorities are worried about the possibility of militants crossing into Uzbekistan and are also uneasy about the mass uprisings that have deposed leaders in Bishkek.
written by Bruce Pannier