Laicite On The March?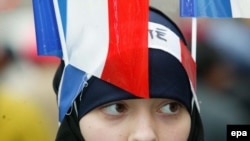 Hot on the heels of Switzerland's baffling
minaret ban
, French President Nicolas Sarkozy's party is taking aim at the niqab and burqa, according to
Reuters
:
PARIS (Reuters) -- France's ruling UMP party plans to present a bill to parliament in January on banning full Islamic veils in all public places and not just in certain buildings, a senior party official have said.

The bill would be accompanied by a resolution related to respect for women, Jean-Francois Cope, the parliamentary party leader of President Nicolas Sarkozy's UMP, told a news conference.


-- Andy Heil
About This Blog
Written by RFE/RL editors and correspondents, Transmission serves up news, comment, and the odd silly dictator story. While our primary concern is with foreign policy, Transmission is also a place for the ideas -- some serious, some irreverent -- that bubble up from our bureaus. The name recognizes RFE/RL's role as a surrogate broadcaster to places without free media. You can write us at transmission+rferl.org