The authorities in Russia say they're tackling the country's endemic corruption. But many Russians believe the very law enforcers who are supposed to fight abuses of office are actually among the country's most corrupt officials. In the second of a
three-part series
on Russian corruption, RFE/RL's Gregory Feifer reports from Moscow on a situation many believe is spiraling out of control.
MOSCOW -- Yevgeny Tkachuk was away on a business trip when the police paid a visit to his suburban Moscow apartment building late one night.
"It was horrible," Tkachuk says. "First they went to my mother-in-law's upstairs. They turned the place upside down. Then they started banging on my door. My small child was inside, and they were yelling that they were going to break down the door."
Tkachuk, the director of a small wholesale trade company, had been accused of fraud. He says the allegations were "completely false," and surfaced only after he'd rebuffed an attempt by one of the company's partners to extort money from him.
He says he was powerless in front of corrupt law enforcers. "When I questioned the investigators' logic, I was told, 'We are always right,'" Tkachuk recalls.
"The so-called power vertical the authorities have built in Russia is controlled from the very top," he says. "Those at the bottom know their superiors will always cover for them and protect them."
That's such a common story in Russia that many agree law enforcers' main activity isn't really solving crimes, but using their official positions for profit.
From drivers forced to pay routine bribes to traffic police, to business owners paying to keep government inspectors from arbitrarily shutting them down, the government itself estimates people in Russia shell out $300 billion in bribes each year.
'Sense Of Impunity'
Kirill Kabanov, a former security service officer who heads a private group called the National Anticorruption Committee, says state bureaucrats are among the wealthiest people in Russia.
"You're appointed to an official position," Kabanov explains. "You're given status, a state post, and you don't have to do anything but collect the money you're in a position to take. Bureaucrats have the most expensive cars and mansions. And above all, the sense of impunity."
That extends to police, who, to cover their activities, are said to regularly fabricate or set up crimes rather than investigating actual crimes. Police are also believed to spend much of their time falsifying statistics to meet Soviet-era quotas for cases they're required to solve -- sometimes by framing innocent people.
Earlier this month, a police major in southern Russia
came to national attention
after posting YouTube
videos
describing a culture of massive corruption. Aleksei Dymovsky criticized his superiors for ordering him to arrest innocent people or be punished by being required to work overtime without pay.
Dymovsky appealed to officers to confront their superiors about corrupt behavior. He was suspended and is now under investigation.
Another whistleblower investigating corruption in the Far East port of Vladivostok recently fared even worse. Police Colonel Aleksandr Astafyev was arrested last summer before he was due to release an officially sanctioned report about criminal takeovers of businesses with the help of corrupt officials. He was charged with illegally accepting a gift of three air conditioners and a computer, and is now awaiting trial.
Law Against 'Extremists'
Kabanov, of the National Anticorruption Committee, carries a pistol to work. Investigating corruption is like "going to war," he says. But abuses of office can be traced only so high in the official hierarchy, he says, because "any further and it's seen as harming the interests of the state."
Kabanov says any doubts were removed by a recent law against extremism outlawing the discrediting of officials. "Now if you call a bureaucrat a thief, you can be prosecuted as an extremist," he says.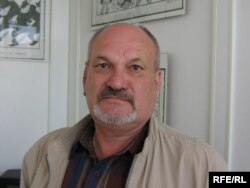 Lawyer Vladimir Volkov
Experts say the Kremlin enforces the system of corruption through the courts. Lawyer Vladimir Volkov, a former senior investigator, says former President Vladimir Putin put the country's prosecutors under his control when he came to power a decade ago by systematically firing those with questionable political loyalty. They included Volkov's former colleagues who refused to drop criminal investigations into corrupt officials.
"How can there now be a single investigator in the Prosecutor's Office with an opinion of his own, different from that of his boss?" Volkov asked.
Officials often have to buy in to the system of corruption to gain entry. Volkov says a former colleague who took a job in Russia's lucrative customs service was informed he'd have to pay $200,000 to keep the post shortly after taking it. After insisting he couldn't possibly come up with the money, he was fired.
Dangerous Officer
That kind of corruption came under public scrutiny last summer, when a Moscow district police chief went on a shooting spree, killing three people at a supermarket.
Russian television news reported the police officer had a history of aggression and corruption. There were also rumors he had bought his job, helping prompt public soul-searching about the serious danger posed by unqualified police.
President Dmitry Medvedev responded by dismissing Moscow's police chief, part of a promised major crackdown on corruption. But activists say the Kremlin's numerous anticorruption drives are really aimed not at combating law-breaking, but at getting rid of critics and poor earners within the system.
Kabanov claims not a single case of high-profile corruption has been prosecuted in recent years, saying state officials are "no longer afraid of anything." "They believe by taking control of all the money flows and putting loyal people in control, they can create a closed space they can control by force," Kabanov says.
Kabanov says he's most worried by the failure of young Russians to question the system of corruption. "It's difficult to convey to them that they have rights as citizens," he says, "and that it's in their interests to defend them."
As a result, Kabanov says, Russian bureaucrats continue to buy yachts and real estate around the world, even during the global financial crisis.
In Russia, he says, "there's no such thing left as the idea of a professional reputation to protect."