Leaders of 21 countries gathered on November 13 and 14 in the Japanese city of Yokohama for a two-day summit of the Asia Pacific Economic Cooperation (APEC).
They hope to reach new agreements to keep the fragile global economic recovery on track and increase free trade in the region following a largely inconclusive meeting of the Group of 20 major economies in Seoul, South Korea.
U.S. President Barack Obama, speaking to Asia-Pacific business executives on November 13, urged surplus economies such as China and Japan to end their "unhealthy dependence on exports and take steps to boost domestic demand."
"Going forward, no nation should assume that their path to prosperity is simply paved with exports to America," Obama said.
Follow-Up To G20
Obama failed to win backing in Seoul for measures to prevent China from devaluating its currency to boost Chinese exports. He was also unable to clinch a deal with South Korea on a new free-trade pact.
At the APEC summit, the U.S president also restated his goal of boosting U.S. exports to Asia's fast-growing markets.
Obama, who is completing a 10-day tour of Asia aimed at helping create jobs in the United States, said healthy competition should not cause rifts between nations, adding that both sides will actually benefit from stronger trade relationships.
Chinese President Hu Jintao responded by reaffirming China's commitment to expanding domestic demand growth and reforming its exchange rate.
But he said economic policy change would come only gradually.
APEC countries together account for more than half of the world's economic output. One of their main objectives in Yokohama is the creation of a Free Trade Area of the Asia-Pacific (FTAAP).
Tensions Among Leaders
This weekend's summit, however, is overshadowed by simmering political tensions between some of the leading APEC members.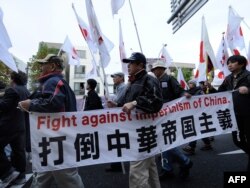 More than 1,000 protestors marched on November 13, holding Japanese national flags and banners denouncing China during the Asia-Pacific Economic Cooperation (APEC) in Yokohama.
A dispute over isles in the East China Sea have soured relations between Japan and China, Asia's two biggest economies. Thousands of demonstrators rallied in Yokohama on November 13 to protest the Chinese leader's visit.
Hu and Japanese Prime Minister Naoto Kan, nonetheless, held brief talks on November 13, the first formal meeting between the countries' leaders since the territorial row broke out in September.
Japan's ties with Moscow also chilled after Russian President Dmitry Medvedev visited an island claimed by both countries last month.
On November 13, Medvedev and Kan sought to iron out tensions at a bilateral meeting on the sidelines of the APEC summit, during which the Russian leader said his country was ready for a "comprehensive dialogue" with Japan.
compiled from agency reports